Screens have become an essential part of your child's life but being in front of them excessively can be very bad for them. If you have young kids and you are worried about their average screen time, continue reading. Here, we will talk about the negative impact of too much screen time for kids and discuss the recommended screen time for kids so you can implement that on your children.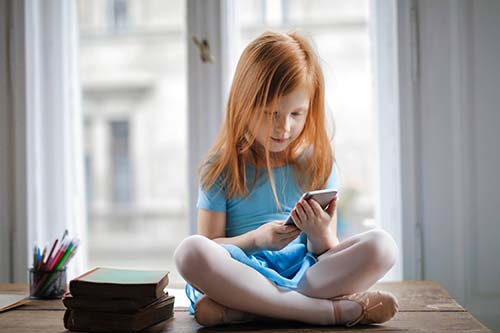 How Much Screen Time Should A Child Have Daily?
Often parents wonder how much screen time kids should have. To make sure your kids lead a healthy lifestyle; a responsible parent should limit screen time for kids. According to the screen time recommendations by age chart 2022, the recommended screen time for kids at different ages is given below: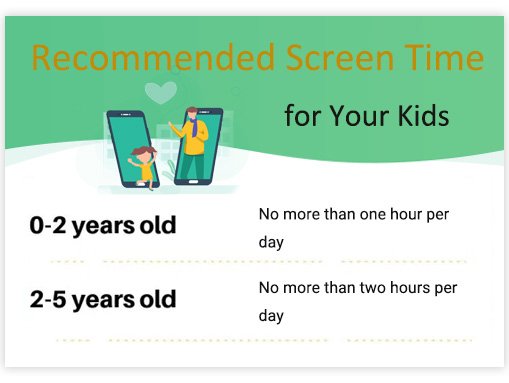 What Can Parents Do to Reduce Kids' Screen Time?
If your kids spend more screen time than the recommended hours we offered above, then you need to take action right now. In order to keep your kids away from the screen for the most part of the day can be a tough job. Here is the question: How to reduce your kid's screen time? There are certain screen time apps for kids that can add screen time limits for kids. This will allow the kids to use their phones for only a limited amount of time and the parents can sit back and relax. One of these helpful screen time limiting apps is FamiGuard
How Can FamiGuard Limit Screen Time On Your Kids' Phone?
Parents can make use of this app to limit their child's screen time with the help of the amazing features FamiGuard offers;
Set screen time: By using this app, you can set a limited screen time on your child's phone. When the limit is reached, the screen will be locked automatically.
Set time limits on specific apps: FamiGuard also allows you to set specific and varying time limits on different apps. Once a limit is set for a certain app, it will only be accessible to your child within the limit.
Advantages of Using FamiGuard Screen Locker
This app works 100% of the time with automatic features

Initially, several rules are offered that can save you a lot of time while setting up screen time

FamiGuard is very easy to use with an intuitive interface

It offers a free trial for three days

It has been tested and recommended by parents all over the world

How to set up screen time with FamiGuard?
Using this screen locker app is very easy and convenient. All you have to do is follow a few simple steps to be able to effectively set up screen time on your kids' phone.
Step 1: Register an account on the FamiGuard website or on the app on your own phone.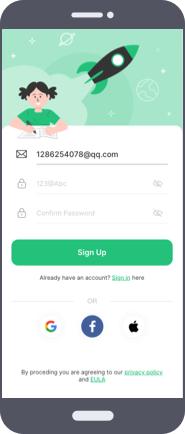 Step 2: After you have registered, download FamiGuard on your child's phone through Google Play Store and log in to your account on that phone. You will receive some instructions on the screen that you have to follow in order to configure your child's device.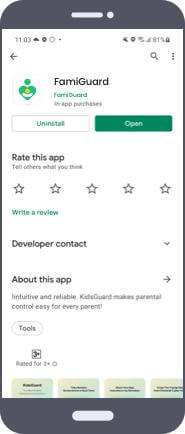 Step 3: Now, you can select the screen time option in the app or on the website to set screen limit and repeat these limits on different days. This app also allows the parents to immediately lock the child's phone with the Pause Phone feature.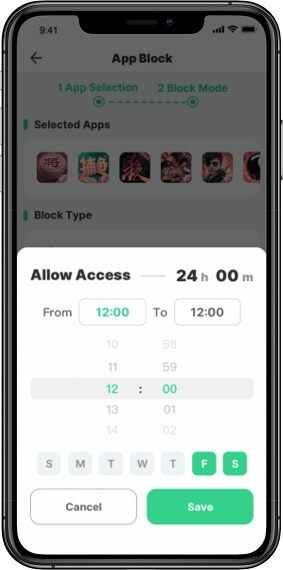 Other Useful Tips to Help Limit Screen Time for Your Kids
Apart from limiting your child's screen time using screen time apps for kids, here are some other things you can try to wean kids off screen time.
Tip #1: Talk to your kids about the dangers of too much screen time
Children are at that age where they are constantly learning, picking, and understanding things at a fast pace. You can try to educate your child regarding the dangers of spending too much time in front of the screen. This will help develop a sense of understanding and responsibility in your child. This may help your kids be more obedient to your instructions if you communicate with them more effectively.
Tip #2: Spend more time with your kids and play with them
Parents should spend as much time with their kids as possible. It is a healthy practice for both parents and the kids to spend time, play with each other, and involve themselves in exciting activities together. This doesn't just help minimize your child's screen time, but it also helps strengthen the bond between the family members.
Tip #3: Find new hobbies and activities for the kids
Coming up with new hobbies and activities that your kids can do can help decrease your child's screen time and get them engaged in healthy activities that encourage learning while being fun at the same time.
Tip #4: Ask your child to charge their devices outside their bedrooms at night
This is another helpful way to keep your child away from the screen. The more time they spend away from their phones the better. Having them charge their devices outside their rooms will prevent them from being in front of the screen while the device charges as well.
Tip #5: Set a good example for your children
Children learn from their parents. If their parents are on their phones or tablets all the time, the children will also make this a habit. You need to set good examples for your children to follow. Having a healthy and active lifestyle with minimum time spent in front of the screens can help your child develop good habits too.
The Harmful Effects of Too Much Screen Time for Kids
It is very dangerous to leave your kids in front of the screen for hours. As parents, you need to understand the negative impact on your child. Being in front of a screen most of the time may keep your kids engaged and give you more time to focus on your activities. If your kids spend too much time in front of the screen, they may suffer from the harmful effects mentioned below.
1. Damaged relationships
Children who spend hours in front of the screen every day barely have the time and energy for real-life relationships. They have trouble making real-life friends and their bond with the members of their family may not be very strong. They are likely to become introverted and antisocial. Their communication skills are also bad.
2. May contribute to obesity
Children have a lot of energy and the ideal way of using this energy is going outside and playing real games. Outdoor time is very important for a child's growth and learning. But, too much screen time for kids can reduce the time spent outdoors resulting in laziness and eventually obesity.
3. Develop unhealthy habits
Exceeding the recommended screen time for kids may result in the development of unhealthy habits in children. Their sedentary lifestyle regulates their life choices. These habits may be staying in bed, sleeping too much, showing no interest in books, avoiding physical activity, avoiding real-life communication, etc.
4. Academic struggle
Spending too much time in front of the screen can have a damaging effect on a child's learning. They no longer find interest in learning new things and do not feel the need to focus on their studies. They become restless during study time and cannot wait to get back to their gadgets. This leads to the kids struggling with their studies which results in poor grades.
5. Disrupted sleep
Children need an ample amount of sleep every day to be their 100% in school and other parts of their life. Too much screen time for kids can mess up their sleep schedule and brain activity which can disrupt their sleep. This results in excessive tiredness, decreased energy, mood swings, and insomnia in a child.
6. Visual impairment
This is a well-known fact that screens can damage the eyes. Exposure of the eyes to the light coming from the screen for longer periods of time can lead to visual impairment. Longer exposure can strain a child's eyes and cause permanent blurred vision. To keep your child safe from such a harmful effect, it is important to limit the screen time for kids.
Conclusion
Too much screen time for kids on their smartphones and other gadgets can have a negative impact on your child's physical as well as mental health. Creating a balance is necessary so your children spent enough time on other healthy activities during their day as well. There are many ways that can help parents limit screen time for kids. Utilizing screen time apps like FamiGuard can greatly help the parents minimize their child's screen time. And as you can see below, it can offer more for parent controls.
You may also be interested in:

By Tata Davis
professional in software and app technology, skilled in blogging on internet
Thank you for your feedback!