This digital age can be pretty challenging for parents of young children who spend hours on their smartphones. With networking and interactive apps like Snapchat, WhatsApp, Kik, etc. Kids generally tend to get addicted to using them. Eventually, they stop going out and socializing with people and this leads to them being isolated at their home living a virtual world. Over a period of time, they become so detached even with their family members and that is when the behavioral, physical and mental issues start cropping up. This majorly hinders their growth and development in a huge way. Moreover, with the increase in such networking apps among young kids, they have been exposed tocyber-crimes like cyber bullying and internet fraud.
Lately, the cases like this have seen a drastic rise. With a drastic rise in several issues in young children, parents need to think about how they can improve the condition and lead their kids towards a better lifestyle. Parental control apps can go a long way in ensuring that the kids develop healthy phone habits, and stay protected online. Here are some of the top rated free parental control apps for Android, which can help parents save a lot of trouble in managing and controlling child's online activity
Table of Contents
A good parental control app must include the maximum number of features that transfers the control over to the parents. FamiGuard app is one such app which has almost every other advanced feature which you can expect from a good parental control app. This best free parental control app is loved by many parents all over the world. All the features are pretty effective and give full control to the parents to manage the activities of their children on their phones. This app can give the parents a fair idea about how to set up parental controls on Android.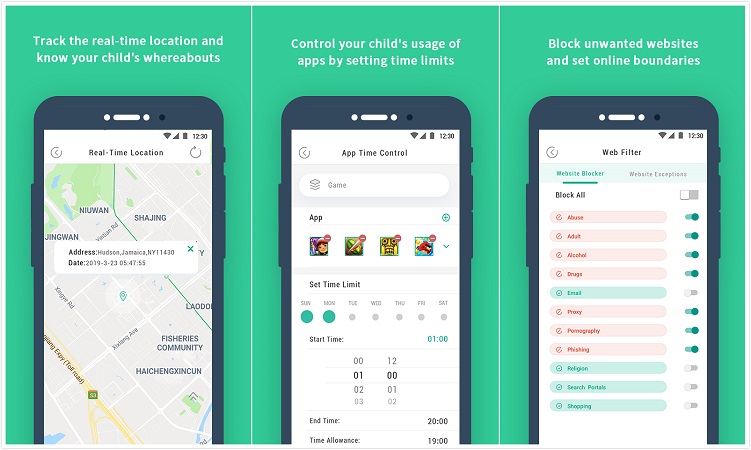 Features:
Check app usage

Check browser history

Real-time location tracking

View location history

Set geofence and get alerts

Set screen time

Set app usage time

Block websites
Pros

User-friendly

Easy to install

Excellent pricing

Quick rules for daily use

Dual platform management: control from mobile phone or computer
Cons

Does not support iOS devices currently.
Rating: According to several parental control app reviews, 4.9/5 Stars
This Android parental control free app is curated with a highly intuitive design and comes with an advanced web-filtering technology which is pretty useful for the parents. Net Nanny has been serving responsible parents for more than 2 decades, and has been an industrial leader since then. It has been one of the first software companies who offered Internet filtering to its customers.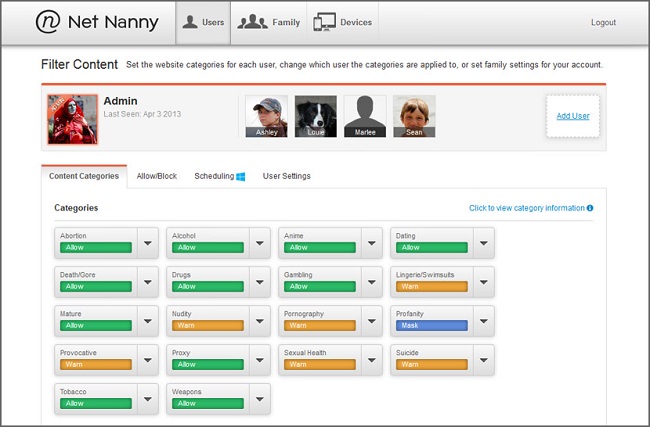 Features:
Track real time location history

Display location history

Schedule time allowances

Web filter and Adult content blocker

Generate online activity report

Block inappropriate apps

A family feed with a real-time activity report of every family member
Pros

Innovative design

Web filtering feature is excellent

Near parity between iOS and Android versions
Cons

Does not support iOS devices currently.
Rating: 4.8/5 Stars
Norton Family Premier is one of the best free parental control apps for Android which is known for the excellent packages for internet security. It is an excellent app that parents can use to monitor their kids' activities remotely on their smartphones. This app has almost every advanced feature which any parent may find useful.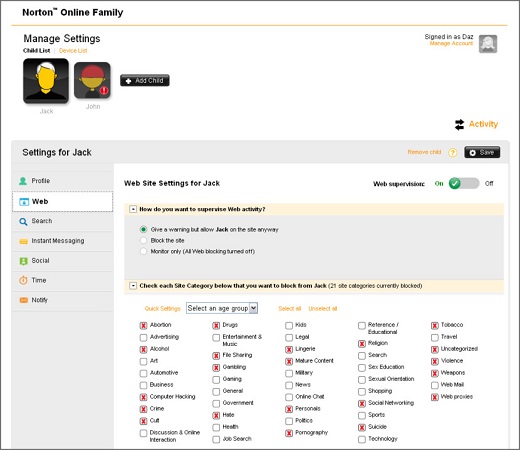 Features:
Location tracking

Time scheduling

Web filtering

Web monitoring

App management

Video supervision
Pros

Web filtering feature is great

Great monitoring features as well

Can work on unlimited devices

Works with Windows as well
Cons

Geo-fencing feature is absent

Battery drains fast when the app is running
Rating: 4.5/5 Stars
With the help of Kaspersky Safe Kids app parents can check what their kids are doing on their cell phone remotely from anywhere. Kaspersky is another well-known name among the internet security providers and this app is as good and effective as the other internet security packages provided by the developers of this app.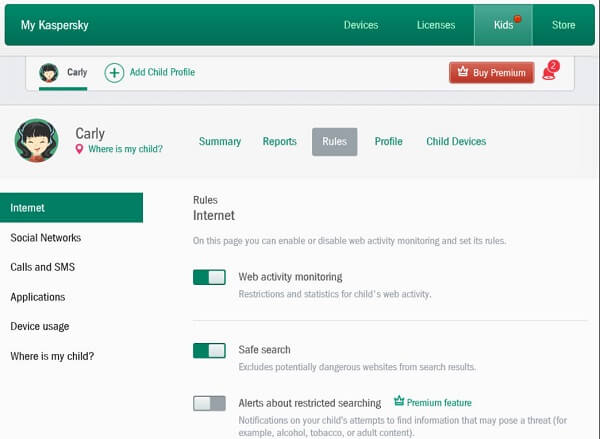 Features:
Real time location tracking

Geofencing

Web monitoring

Device scheduling

Battery level indicator
Pros

The full version of this app is pretty affordable

Several free features

Can be used to monitor PCs and Macs as well
Cons

The user interface is pretty confusing

The web portal of this app is slow at times
Rating: 4.3/5 Stars
Qustodio is counted among the best featured parental control apps. This app can be used effectively for monitoring Android, iOS, Windows and Mac devices. With the help of this app you can set individual limits for the individual devices separately. This app has several advanced parental control features which can be great to keep your kid's online and offline activities in control.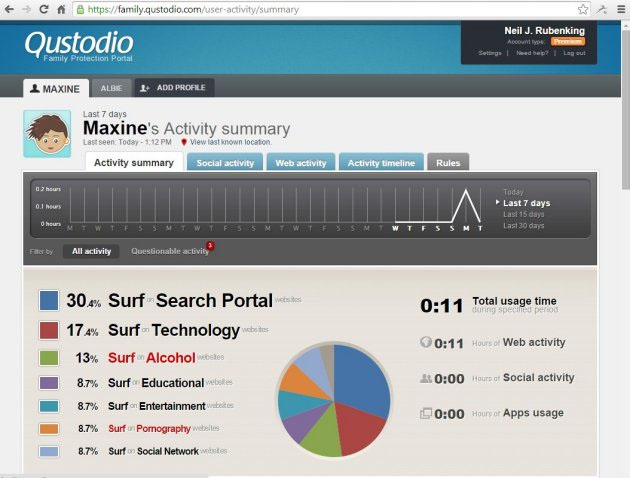 Features:
Location tracking

Manage apps

Web filtering

Monitor text messages

Screen time management
Pros

Wide set of features

Powerful monitoring functions
Cons

The premium version is very expensive

Geo-fencing is not there

The web portal is outdated
Rating: 4.2/5 Stars
OurPact is famous for its powerful app blocking, which can block any app till date. It is also famous for its easy navigation and simple user interface. It has the most features and functions among the other parental control apps.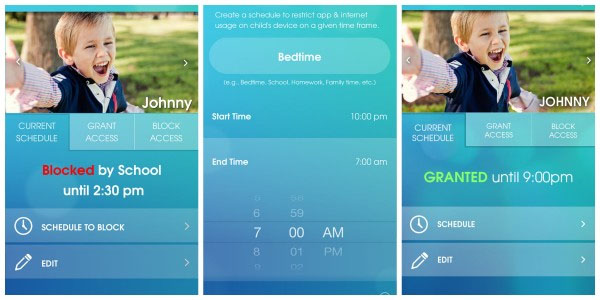 Features:
App management

Location tracking

Web filtering

Geofencing

Family locator

Screen time management
Pros

Wide set of features

Powerful monitoring functions

Simple and beautiful user interface
Cons

The premium version is a bit expensive

Not many options in web filtering
Rating: 4.0/5 Stars
Conclusion
As the smartphones keep getting advanced, more and more features get added to it. These features and apps are pretty interactive which makes the children get hooked on to their phones. This can lead to severe health concerns and can hinder the growth and development as well. Moreover, the increase in cellphone usage among kids has also lead to an increase in cases of cyber bullying and harassments online. Children are also exposed to adult content before the necessary age. This is why parents should make use of the several best parental control apps for Android to control the behaviour of their kids on their phones. FamiGuard is the best app among all the others as its features are very effective in functionality and therefore it is highly recommended.
You may also be interested in:

By Tata Davis
professional in software and app technology, skilled in blogging on internet
Thank you for your feedback!