The world has become too competitive; so much so that it has become very difficult to check on your kids all the time. As both parents are working and looking out for the future of the family, sometime the kids get neglected. It makes the parents very worried but they are unable do anything.
But not anymore, the advancement of technology helped to invent apps which can help in parental control and monitoring. ESET parental control is specifically designed to help parenting and everything in between. You can learn about its key features below and also the pros and cons at first before you using it to protect your children.
Table of Contents
Part 1: Key Features of ESET Parental Control
ESET Parental Control is one of the best Android based software, you will be able to monitor and regulate the activity of your kid. It is a very simple application where all the essential features are integrated. There is an ESET Portal, from here parents can monitor and even track the all the activities of their kids with ease via any browser of their choice.
You simply need to download the ESET Parental Control software on your phone as well as on your kid's phone from the website, then you have to create an account and then you can start monitoring. The ESET Parental Control is a very convenient software that helps you to protect your kid's online in a child-friendly method. The program is packed with quite a few features, they are listed below.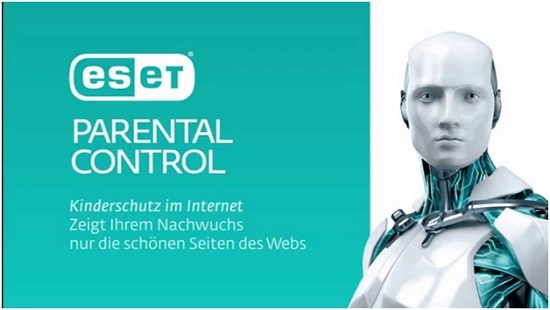 1. Application Guard
ESET Parental Control comes with an age-based filter capability that helps you to manage your kids. This Application Guard feature comes with two options; The Application Block and Application Time Limit. The first one lets you block the applications that may harm your kids and the second one will let you set time limits for applications, so that they can be used only for a certain amount of time.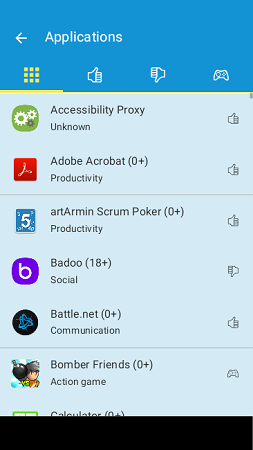 2. Web Guard
These days it is important for the kids to learn the use of internet at a very young age. It is also good for their upbringing. But you have to let them use the websites like Funbrain.com, babytv.com etc. These websites are excellent, helps to improve their skills. But the internet also has a dark side and it is not always possible to protect them. So, if you get ESET Parental Control you will be able to enter the age of your kid and the websites on gambling, pornography, violence will get blocked.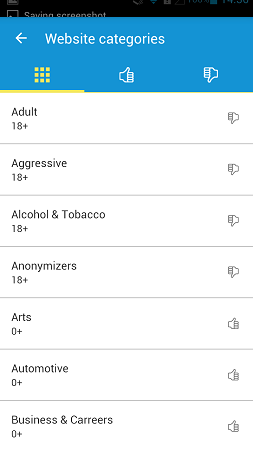 3. Child Locator
The child tracker is available with most of the parental control programs. If your kid is late or is not responding to your texts, it will obviously make you worried. So, the ESET parental Control's child locator feature will provide you with the accurate location of your kid so that you can track him or her in real-time. Also comes with SOS button in case of any emergencies.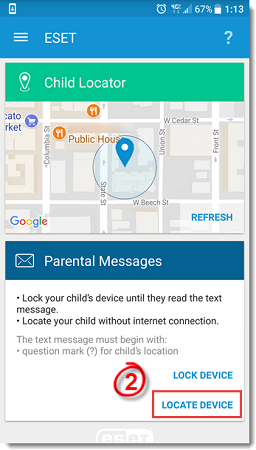 4. Parental Mode
The parental mode is a simple customization feature but very helpful. You can customize your own rules and personalize the settings that help you to keep an eye on your kid.
So, overall this is a great parental control program that will help you protect and keep an eye on your kid, effectively. So, let's have a look at its strengths and weaknesses.
Pros
ESET is a very compatible Parental Control app with an easy installation procedure.

It allows to you make safe search on web browsers.

The program comes with features like filtering, monitoring and even reporting that falls under the Web Guard Protection.

Zone limitations are available, if you kid enter those restricted zones you will be notified.

Along with ESET spam filter, another unique feature of the program is the SOS button. When activated, it allows your kid to send emergency message that comes with the location attached.
Cons
The ESET parental control for iOS or more specifically ESET parental control for iPhone is not available.

The text and call blocking feature is absent from the program.

When updating the program, there is a possibility of losing the licensing information.

It has limited features with the free-trial version.

It cannot set time limits for kid's cell phone.

It cannot pause the phone's usage instantly.

It cannot customize white list or blacklist in web filtering.

All the app cannot be categorized.
Compatibility:  The ESET Android parental control obviously works on Android devices but you can also use it on Windows and Mac devices.
Price: The premium pack of ESET Parental Control program will cost your between $49.95 and $87.95, for a year. But it also comes with a 30 day trial period, which is free of cost and comes with all the features.
To Sum-Up:
As we mentioned above about its shortcomings, as a parental control application, there are many functions that are not perfect of ESET Parental Control, and these functions are exactly what parents need most. Therefore, it is time for us to find a perfect alternative to meet the needs of parents and then better protect the safety of children online.
Part 2: FamiGuard - The Best Alternative to ESET
ESET Parental Control is not the only parental control program, there are a lot of programs competing for the top position and one of the top contenders is the FamiGuard parental control app. And it is one of the most notable alternatives to ESET parental control.
There are simply a lot of parental control programs out there but only a handful of them come packed with excellent and notable features. Here, take a look at the features of FamiGuard:
1. Location Tracking
The FamiGuard program is capable of real-time location tracking.
It can provide the accurate location co-ordinate of your kid any time, and also shows the places they have already visited. So, basically you can get the location history along with the real time location at any point of time.

The advanced technology used helps in updating the real-time location every few minutes even if your kid is on the move. Thus making it one of the best and accurate location tracking mechanisms out there!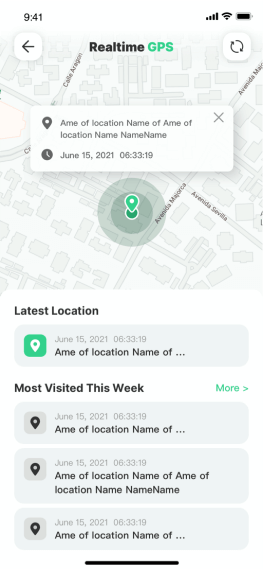 2. Screen Time
It is no secret that the mobile usage among kids has increased significantly over the last few years, it is still increasing. It is the time of concern, as our kids are spending more and more time on the internet, wasting their potential. So, the screen time or the time feature was created to know exactly how much time they are spending on their smartphones.
You can also set a time limit, once it exceeds, the mobile will get deactivated.

With the help of Famiguard, you can pause phone usage immediately anytime so that your child can't use it.

Also, you can impose a daily screen time limit to restrict excessive phone usage. Whenever that specified time limit has been reached, your kid will not be allowed to use the phone anymore. This way you can prevent addiction and distraction and promote a healthy way of living by following a proper time schedule.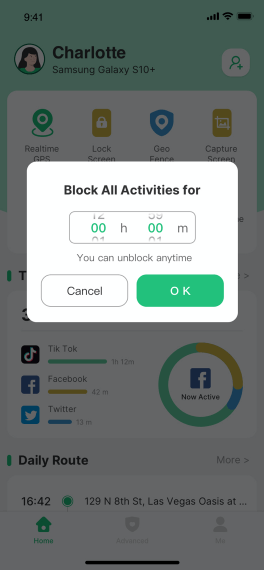 3. App Time Control
One of the most effective features of the program is the App Time Control.
It can block certain apps for a certain amount of time, based only on the usage data. Basically, if your kid is spending too much time social media apps like Facebook, WhatsApp, and Instagram, or playing games you can block those apps during their study period. This can significantly help your child to focus more on studies and other important things.

Also, Famiguard comes with 2 main blocking categories, namely, social media and games.

You can systematically manage the apps and block them whenever you want with just 1-click. The categories are customizable as well!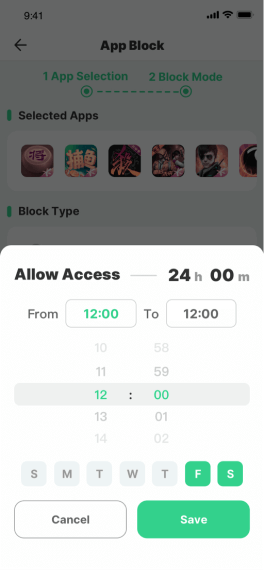 4. Web Filter
FamiGuard comes with an exclusive web content filtering feature. This is a very important feature as you can basically block any kind of inappropriate websites. This can potentially help in preventing your child from online threats such as violence, pornography, cyber bullying, cyber crimes, and related issues.
As we all know, the internet is filled with contents that are not even remotely suitable for kids. Thus, with FamiGuard you can block websites in terms of categories.

There are 30 common categories and you can block any website all at once. 1-button blocking is available!

Also, you can decide or manage websites by whitelisting and blacklisting them. You can blacklist by entering the website URL and block them instantly.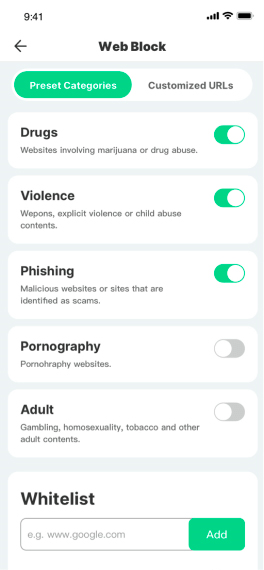 5. Geofence
The next most interesting feature of this program is called Geofence. You can basically keep track where your kids can go or cannot go with this feature.
The Geofence creates a virtual fence to prevent your kid's access to a few specific locations. Very useful in case of emergency! The moment they cross the radius, the alarm goes off.

In simple terms, you can create a safe zone or radius on a map. This can be his/her school, home, and tuition etc.

You can customize the guard time accordingly and whenever your kid enters or leaves the safe zone, you will be notified immediately.

As a parent, you will receive a detailed info on the places and time your kid has entered or left that specific geofence.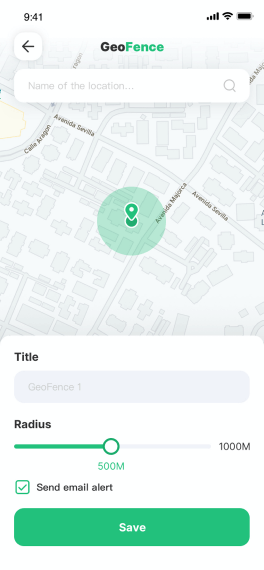 6. Activity Summary
The activity summary is just a report of all the activity made via the smartphone by your kid. The activity summary mainly consists of your kid's:
App activity like which apps are used and how long they are being used.

Web activity like which websites are visited and what type of content is being watched along with a summary report.

Comprehensive Geofence Report to track movements, location history etc.
The activity summary can be daily, weekly and even monthly, depends on the app you are using.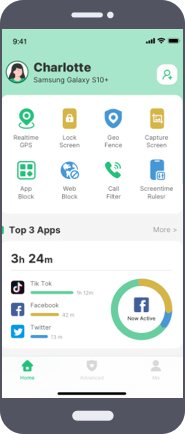 So, these are all the features provided by one of the best competitor of ESET Parental Control, and by far, it seems extraordinary.
Compatibility: Support all android phones running Android 4.1 and up. And it will support iOS soon.
Price: And on the other hand, FamiGuard with all the above premium features included comes at only $49.99 yearly. That means only $4.16 monthly. Thus, it is a very feasible alternative to ESET Parental Control.
Why Choose FamiGuard?
Look, there is no doubt that ESET Parental Control is one of the best parental control programs in the market. But it still lacking a few things!
There are few features that are considered essential by the parents and if they are missing from the program of their choice then, it will be very disappointing.
Like the "Screen Time" lock, which is very essential to limit the usage of smartphone but it is completely absent from ESET.

There are also other features like Geofence, phone activity pause, website whitelisting/blacklisting and Activity Summary are absent from the list of features of this program.

Most importantly, FamiGuard is priced much lower than ESET even though the features list is much richer when it comes to FamiGuard.
These are all regarded as essential properties of a parental control program, but they are available with FamiGuard, which is the one and only reason for us to recommend FamiGuard.
Conclusion
So, overall it is clear that ESET Parental Control is a great program, it can track the location of your kids, app and web blocking features are available but it still lacks a few things which are definitely available with FamiGuard, making it the best choice for the parents. FamiGuard is a better value for money alternative and quite effective too. Highly recommended!
You may also be interested in:

By Tata Davis
professional in software and app technology, skilled in blogging on internet
Thank you for your feedback!