As the name suggests, a child protection app is used for a child's safety. These apps are capable of tracking location, content filtering, basic app monitoring etc. Now kids are getting introduced to smartphones at a very young age and parents are busy with work, it is very hard to pay proper attention. That is the reason a proper child protection app is required in order to monitor their activity.
Simply searching the internet you will have access to a lot of kid's protection apps. All these apps advertise to have been developed in order to protect your kid. But protecting your kid is a very serious matter and you can't put blind faith on something you read on the internet.
To be honest, it will be nearly impossible to judge a kid's security app by yourself. There are lots of factors to consider and for that, you will need to have extensive knowledge of such apps, and insight into their operations and lots more. So, in order to help you with your quest, we took the responsibility of searching for the best secure teen app. After due research, we have created a list of 8 apps , capable of accomplishments you are looking for.
1 FamiGuard
Compatibility: It is available on Android.
At the top, we have placed FamiGuard Parental Control app. It is an exceptional app packed with numerous features and it is easily operable. After the app gets installed you will have an accurate GPS location of your kid's smartphone. Alongside accurate GPS tracking features, Geo-fencing and location history are also available. The app lets you even monitor the app usage, block some websites, filter calls; and basically you will get an overall activity summary.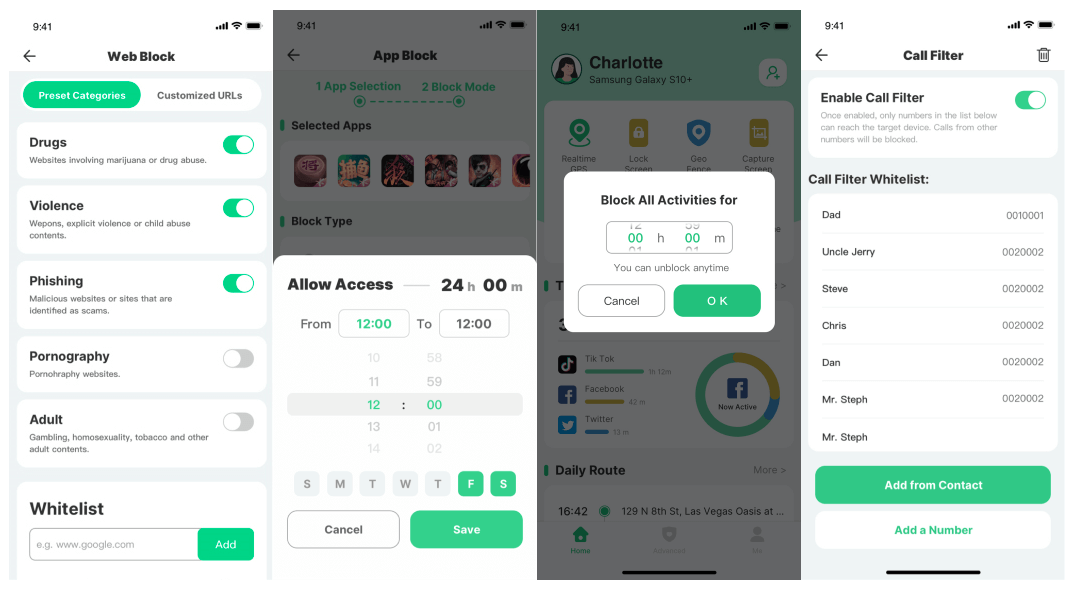 This is simply the best child safety app for Android we have come across. Let's have an extended look into its advantages.
Pros

The built-in GPS provides you will the accurate GPS location any time of the day.

The location history will also be available to you.

Provide you with app usage details of your kid and create a list of frequently used apps.

You can also check the browser history of your kid's smartphone.

You can use the app's screen time limiter feature to set limits for the device usage.

You can block websites by their categories or even create your own customized block lists.

Geofence feature lets you create virtual fences on the map in order to make sure if your kid has reached home or just following the proper route to reach home.
Cons

Currently not available on iOS.
Price
It is available for a 3-day free trial and after that, it is only $4.99 per month if billed annually.
2. Qustodio
Compatibility: Qustodio works on Android and iOS.
Qustodio Parental Control app is one of the best apps to keep your kid supervised. This app offers multiple features that are very intricate for guidance and proper supervision of your child. Qustodio app offers extensive web filtering in order to remove contents that are not eligible for a kid of that young age. You can also limit the device usage so that your kid can focus on their studies.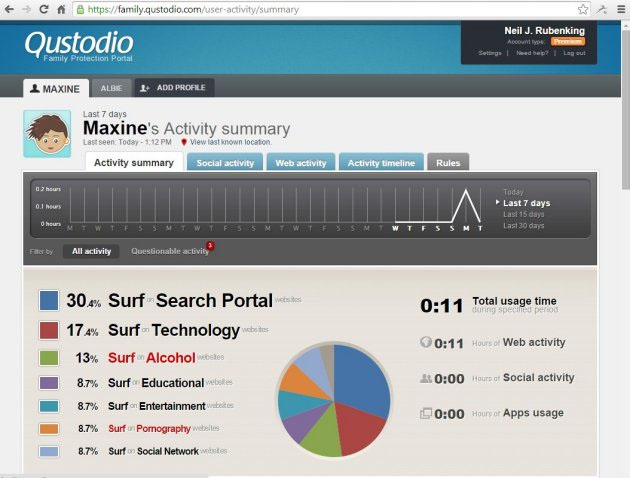 A smooth locating tracking capability is available, along with that social media monitoring is also available. Lastly, you can get an in-depth report on your kid's device activity via email.
Pros

Simple and user-friendly interface.

You can put a limiter on any individual app to make its use very limited..

The detailed call log and SMS log will be within your reach.

Monitoring multiple devices is possible.
Cons

The web filtering features are equipped but it kind of fades compared to other apps of the same genre.

Social media tracking is effective but sometimes it shows an error.
Price
A free version of Qustodio is available for the users but it is limited to one device only. In order to use it on multiple devices, you have to get the paid version of the app, using the paid version you will be able to monitor 3, 5 and 15 devices which will cost you between $39.95, $54.95 and $96.95 per year respectively.
3. ESET Parental Control
Compatibility: ESET Parental Control works only with Android devices.
ESET Parental Control is an ideal Android-based child protection app ever to be designed. It will allow you to monitor and normalize your kid's activities. You just have to install the app on your kid's device, and then on your device as well. After that, you will be able to monitor the target device's activities easily.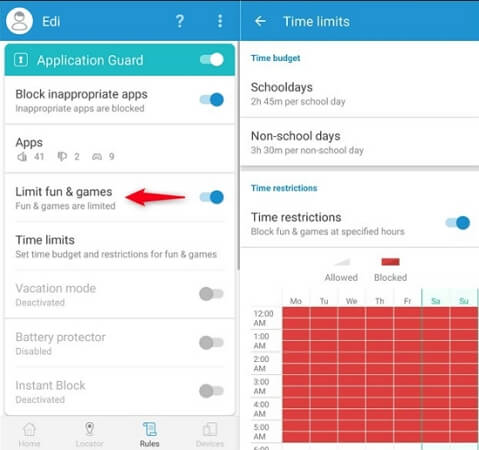 ESET is packed with features like application guard, web guard, locator features. There is even a parental mode, using it you will be able to create your own personal settings.
Pros

Setup and operation are very simple.

Equipped with features like web filtering, monitoring and Web Guard protection.

You can set zones, in order to restrict access to them. If your kid crosses them you will be notified.

There is an SOS button, can be tapped by your kid in case of an emergency
Cons

This is only an Android-based application, there is iOS support.

The app update is very risky, during the update you can lose your license information.
Price
ESET Parental Control costs from $49.95 to $87.95 per year.
4. MMGuardian
Compatibility: MMGuardian app works on Android and iOS platforms.
Another great name among the apps to protect kids is MMGuardian. Although it is an old app, it is still capable of effectively monitoring your kid's smartphone and locating it when required.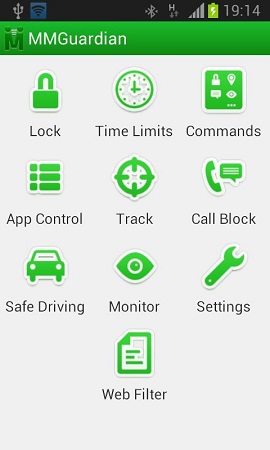 MMGuardian is capable of tracking your kid's smartphone via its web portal. Features like web filtering, call and text blocking are also equipped. You can set time to limit the use of smartphone and even get an alert if your kids install a new app on the device. Detailed reports of smartphone activity are also available for your inspection.
Pros

Accessible on multiple platforms. Even if you have an iPhone you can still monitor an Android device.

Installation and operation are very simple.

Remote device monitoring is available, you can do it via its online web portal.

Rooting or jailbreaking is not required
Cons

Features vary depending on the device you are using. The Android version is packed with features but the iOS version is very limited.

The customer support is really bad.
Price
The Android version of MMGuardian will cost you $3.99 monthly and for the annual subscription, you have to pay $34.99. But you can get the 5-year license for $79.99.
The iOS version will cost you $1.99 monthly and $19.99, annually. The 5-year license is $79.99, same as the Android version.
All these pricing are applicable for monitoring a single device only, the family plan for Android will cost more but there is no family plan available for iOS version.
5. Net Nanny
Compatibility: Net Nanny works on both Android and iOS platforms.
Net Nanny is a great kid protection app. It was designed so that parents can keep an eye on their kids; such as what are they doing with their smartphones. Net Nanny is equipped with quite a large list of features and exclusively dedicated to your kid's protection.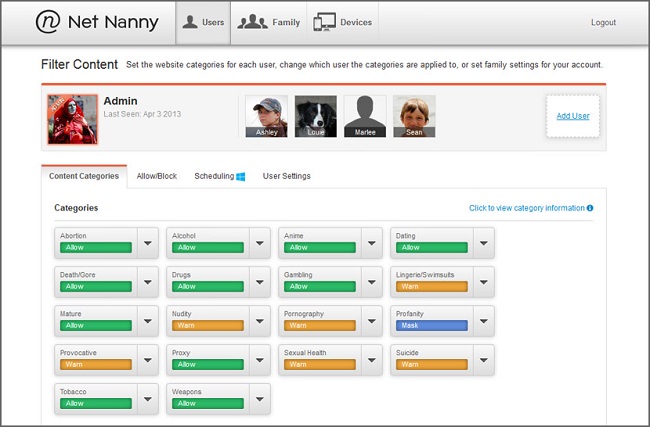 Net Nanny lets the parents keep a constant eye on their kid's online activity; you can use it to block vulgar websites. The time management feature can also be used to prevent them from overusing the internet.
Pros

Attractive and simple interface.

The app is easily accessible. Even from the desktop, you can monitor an Android device.

The website blocking feature is better than other apps

Manage screen time to control over child's online activity.
Cons

Compared to other apps on this list, it is expensive. Advanced features are to be purchased.

This app is not capable of location tracking.
Price
Net Nanny costs $54.99 for the protection of 5 devices.
6. Kaspersky SafeKids
Compatibility: Kaspersky SafeKids works with Android, Mac, PC, and Android devices.
Kaspersky is known for providing securities to your desktops but the developers of that security program have come up with another program called, Kaspersky SafeKids. This is an effective and powerful app designed to keep your kids safe online.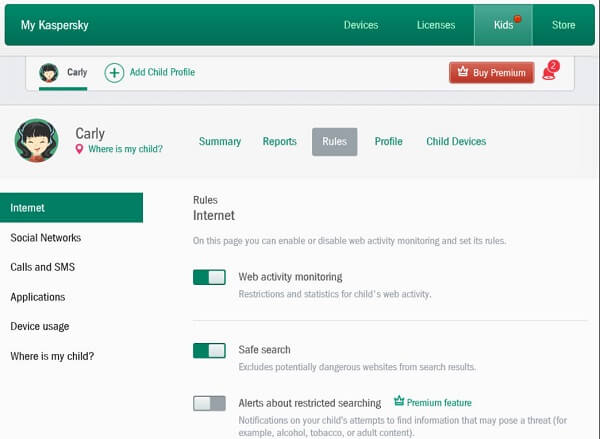 The real-time location is easily available and it is also equipped with limited web-filtering capability. Detailed reports on smartphone usage are available for your convenience.
Pros

Budget-friendly app.

It can be used on multiple devices. Actually, there is no limit to the number of devices.

Installation is very simple.

The location tracking ability is very effective.
Cons

There is a difference in the number of features. The iOS version is very limited.

The interface is very complicated.

The app only works on specific browsers with limited web-filtering capabilities..
Price
Available at $14.99 for a year.
7. Sygic Family Locator
Compatibility: Sygic Family Locator is compatible with both Android and iOS devices.
Sygic Family Locator mainly focuses on the location of your family members. It is a bit different than all the other mentioned apps. It is GPS enabled and in order to use the services of this app, you have to activate the GPS signals on the device and only after that you will be able to link them.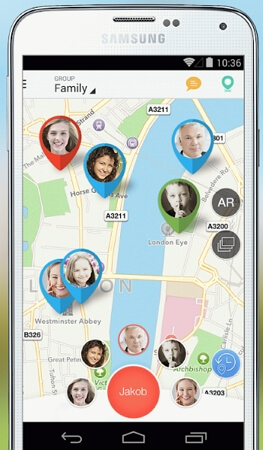 You will get regular updates and you can customize the map to choose zones that must be ignored by your child.
Pros

Detailed location history of the target device will be available to you.

You can create your own restricted and un-restricted zones on the map.

You will be able to track multiple people at the same time.
Cons

Updating the app could be troublesome.

Works only if thee targeted devices have enough battery power.
Price
Sygic Family Locator app is free to download but it also offers in-app purchase.
8. Life360 Family Locator
Compatibility: Life360 Family Locator works on both Android and iOS devices.
Last but not least is Life360 Family Locator. It is also one of the great apps to keep kids safe and track their locations. Using this app you will be able to track the location of your kid effectively and using the messaging service you will be able to chat with them.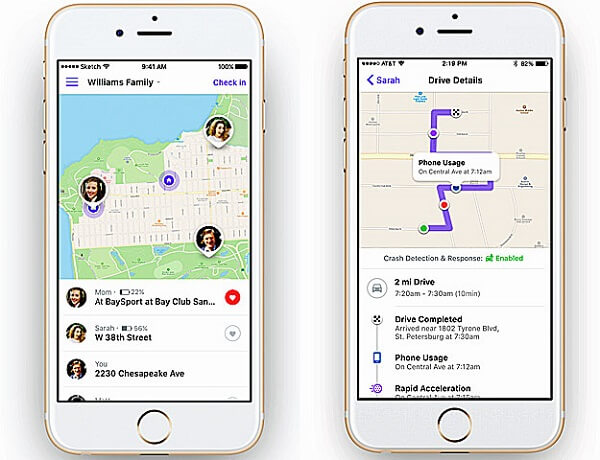 The app's chatting and tracking features are available for free but if you are looking for additional features, you have to get the paid Premium version.
Pros

A multiplatform app works really great.

SOS alerts are available if there is trouble.

An in-built messaging function is available.
Cons

There is no stealth mode.

The owner of the target device will have access to the app and they can change the location tracking settings.
Price
A free version of Life360 Family Locator is available but the Plus version will cost you $2.99 per month.
Conclusion
As parents, we want the best for our kids. We worry when they are outside the house but now with there child protector apps to keep track of the location of your kid's device, filter online content or set screen time limits, we can be peaceful in mind. Among all the apps to keep kids safe mentioned in this article, we were really awed after using FamiGuard; it is exceptional with its fast and accurate tracking and effective parental control capabilities.
You may also be interested in:

By Tata Davis
professional in software and app technology, skilled in blogging on internet
Thank you for your feedback!