Becoming a parent is a very rewarding experience, but it is not at all easy. No matter what age your kids are, raising them and instilling them with the right kind of morals and ethics is not a simple task. With so much going on around, it can be very difficult to keep up. Parenting is undoubtedly one of the most challenging jobs. But, you will be happy to know that there are some apps which can make it much easier for you. May it be managing your family's schedule, educating your child or getting tips to raise a newborn, there are several apps for every aspect of parenting. But not all are made specifically for the same purpose; there are certain apps which can be used to assign chores to kids, monitor baby's sleep, make baby recipes, provide early education, etc. Here, we list some of the best parenting apps which can go a long way in providing you the much needed assistance in applying good parenting techniques.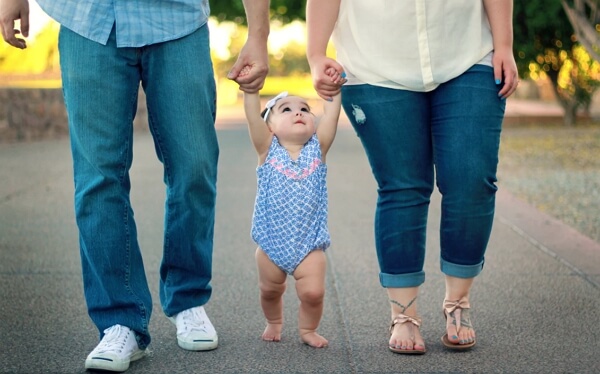 1. FamiGuard App–Best Parental Control App
This app is one of the best parenting apps which provide an excellent parenting technique to keep an eye on your child's activities on their phones. It effectively helps you manage the screen time and also lets you monitor their online activities so that you can interfere and stop any kind of unwanted activity if and when required.
These days, a cell phone is one of the first electronic gadgets which are introduced to the kids. There is so much to do and know through the several apps on the cell phone that kids tend to get hooked on to their phone screens. You cannot completely strip them off of their phones as it acts as a connecting link to you and your kid. To make sure that your kid does not access inappropriate sites or use the unsuitable apps, you can try out KidsGuard app.
Most of the features of this application are designed keeping in mind the safety of your child.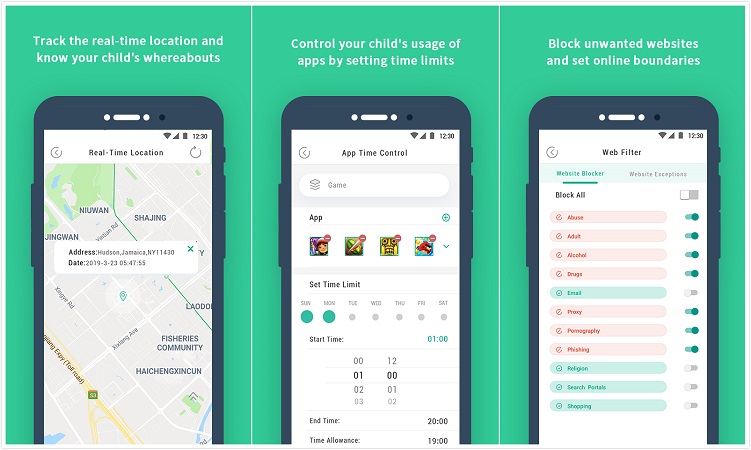 Features:
Geo-fencing and alerts

Real-time location tracking

Geofencing: To set a boundary which in case if crossed you will be alerted instantly.

Screen time restrictions.

App blockingand time limiting.

Web filtering and blocking

View app activities and web activities

Get summary report daily
Price: $4.99/month
You can try out this FamiGuard and enjoy all its features. If you are satisfied with it, you can download the full version.
2. Baby Connect- Baby Tracking App
This is one of the most helpful baby parenting apps for parents of newly born babies. All the essential information like taking care of babies and infants is there which includes medicines, timers, vaccines etc. It also shows you a graphical report as well as the trending charts. This application is extremely easy to use and you need not worry about losing the data stored on this app if in case you lose your phone as all the information is stored on the cloud. It offers an effective platform for sharing all the essential information when you are leaving your baby with your spouse, nanny, babysitter or anybody else.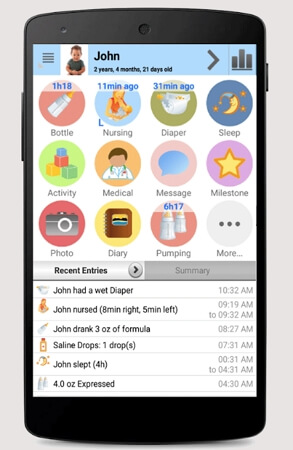 Features:
Easy task tracking

Track medicines and vaccines

Get a graphical representation of baby's activities.

Easy viewing of entries filled up on any day

100 and more built-in activities to choose from

Maximum security as it is password protected
Google Play Store Rating: 4.7
Apple App Store Rating: 4.8
Price: $4.99
3. PBS Parents Play & Run- Kid Development Tracker
This application is created keeping in the core focus of supporting the interaction between parents and kids. This app features several interesting games which parents and children can both engage in. The games are based on many themes which are comparable to the day to day scenarios like restaurant, grocery store, garden etc. Parents can even teach their kids one or two things about the skills involved in day to day life. Your kid's curiosity will definitely spike up and this forms a good base for new learning experiences.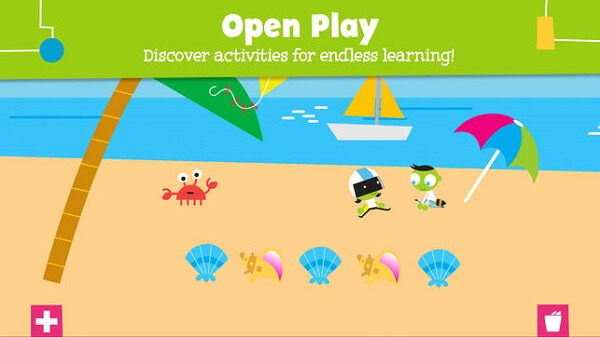 Features:
13 games which are extremely interactive and are adjustable to the level of your child

Builds early literacy and math skills

In two languages- English & Spanish

More than 100 seasonal tickets everyday

Tips for "teachable moments" for your child included

Weekly updation of new resources and activities

Feature of social sharing
Google Play Store Rating: 4.0
Apple App Store Rating: 3.4
Price: Free
4. OurHome App- Chores Organizer App
This is one of those parenting apps for Android and iPhone which uses a comprehensive platform to make it very easy to manage and organize all the tasks for every family member including the kids. Kids will especially find this app very interesting as it has several ways through which they will be motivated to finish their day to day tasks. As and when your child finishes a task you can reward them by for finishing the task responsibly. There is a common calendar with tasks of each family member which makes it very easy for everyone to pitch in some contribution in household tasks in a coordinated manner.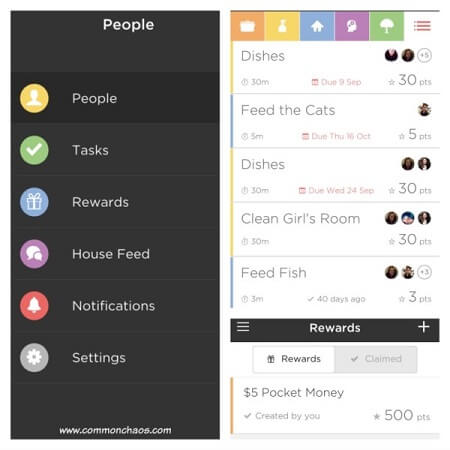 Features:
Schedule and assign chores and tasks

Create goals for kids

Motivate the kids with rewards on completion

View the task progress

Shared grocery list

Shared family calendar

Set reminders

Exchange messages

Stay in sync with your family members
Google Play Store Rating: 4.1
Apple App Store Rating: 4.5
Price: Free
5. Winnie-General Parenting App
This is an excellent free parenting app which focuses on providing the best interaction platform for like-minded parents. You can exchange parenting tips on this app and even get a lot of important information relating to this subject. You can get to know about the locally available amenities which are essential for your kid. There are so many activities in which you and your child can engage in, you can get sufficient information regarding this as well.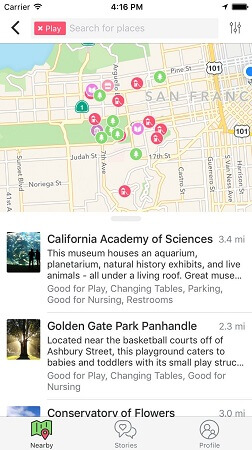 Features:
Join local community of parents

Get important parenting tips

Get information about preschools, family-friendly restaurants, daycares and so much more.

Get help and offer help to other concerned parents

Private photo sharing
Google Play Store Rating: 4.0
Apple App Store Rating: 4.0
Price: Free
6. Talkspace - Online Mobile Therapy App
Many new parents suffer from postpartum depression and anxiety which can adversely affect the wellbeing of the family. With so many unknown things about raising a child, parents often get too worried and struggle through the parenting process. With this app you can talk to a licensed therapist and find that mental peace and calm. This goes a long way in providing you with the much needed headspace to effectively take care of your kids.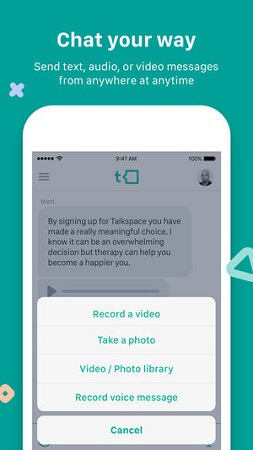 Features:
More than 200 licensed therapists

Solutions to many mental health issues like depression, anxiety, PTSD, stress etc.

Unlimited messaging.

Can be accessed from any part of the world.
Google Play Store Rating: 3.5
Apple App Store Rating: 4.1
Price: Free
7. Cloud Baby Monitor App - Proper Baby Monitoring App
Don't have a baby monitor? You needn't buy one! You can simply transform your phone into a baby monitor with the help of this app. This app has several attractive features like live noise, music and motion alerts. You can turn it on and off according to your preference. You no more need to worry about your baby in the other room. It has very simple user interface, no fancy and complicated controls! This has been constantly listed under the best parenting applications by several well-known websites.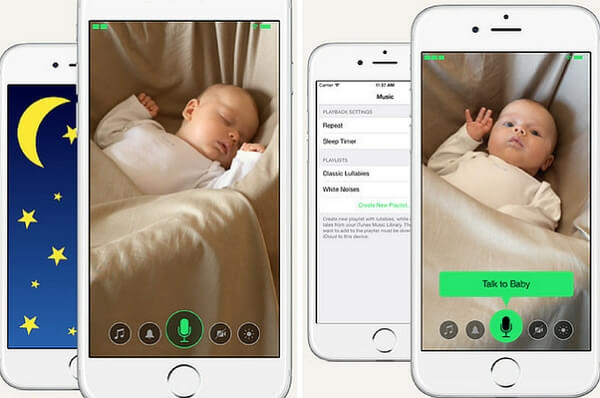 Features:
Motion activity alerts

Two way video and audio noise.

Unlimited range through Wi-Fi.

Works on both phones and tablets without any extra configuration.
Google Play Store Rating: 3.0
Apple App Store Rating: 4.8
Price: $3.99
8. Scholly App - Scholarship Finder Tool
This application is perfect for those parents whose kids are looking for college admissions in the near future. There are several details about many scholarships which can be applicable for your kid. You can access those scholarships through this app. This is an excellent time which saves a lot of time on researching and guessing about the qualification pointers for each scholarship. You simply can filter the results based on your child's talents and interests and find the perfect match for them.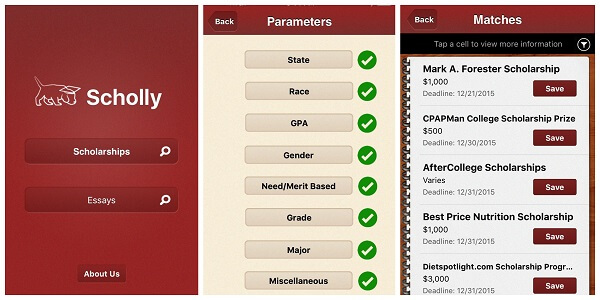 Features:
Personalized scholarship search

AI-powered proofreading.

Easy tracking.

Available for mobile, tablets and desktops as well.
Google Play Store Rating: 4.0
Apple App Store Rating: 4.2
Price: Free to install but has in-app purchases
9. Yummly App - Smart Online Recipe Finder
This app acts your cooking sidekick to curate spectacular dishes which will be loved by your kids. It has several healthy food recipes with methods to make them more attractive for the kids to eat. This way you can trick your kids into eating healthy food and not munch on junk all the time. It improves your cooking skills to a large extent.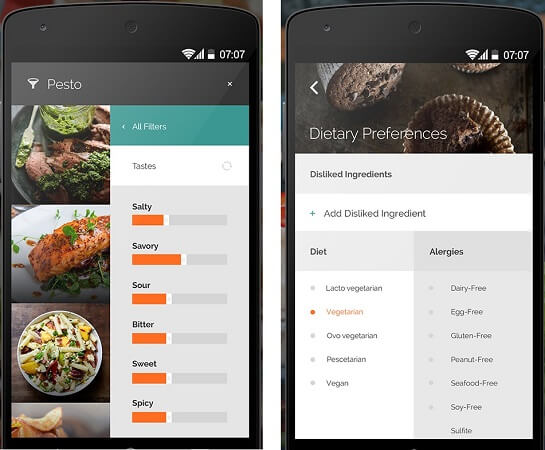 Features:
More than 2 million recipes

Personalized recipe recommendation.

Step by step guides in every recipe.

Save your favourite recipes.

Recipes specific to a particular diet and allergies

Powerful recipe search engine.

Easy meal planning.

Grocery shopping list where you can add in whatever you need to buy.
Google Play Store Rating: 4.3
Apple App Store Rating: 4.8
Price: Free
10. Period Tracker App - General Period Tracking App
Whether you want to start a new family or are trying to expand your family, this application can assist you in that. This app keeps a tab on your periods cycle and based on that will give you the information about your most fertile days. All you have to do is press a button at the start of every month's period and your menstrual cycle will automatically get tracked by this app.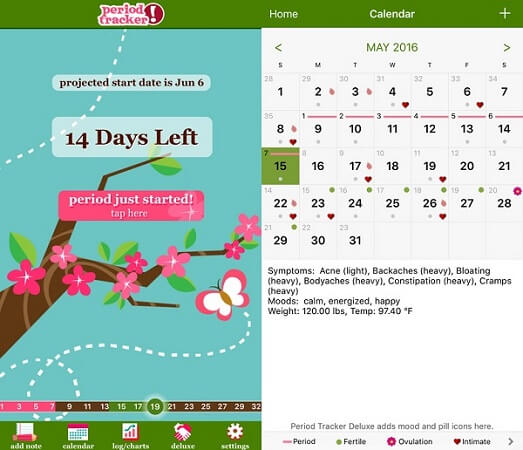 Features:
Daily notes on your mood, symptoms and other details

View the date of commencement of your next period cycle

Get to know the fertile days in every month
Google Play Store Rating: 4.6
Apple App Store Rating: 4.7
Price: Free to install but includes in-app purchases
Conclusion
Parenting involves a lot of effort and hard work; these applications make it easier for you. With so many features, you no more need to worry about what to do and what not to, these apps will assist you and even give you several tips and tricks to make you breeze through the parenting phase. You can try out these applications and choose the one which suits your daily requirement perfectly.
You may also be interested in:

By Tata Davis
professional in software and app technology, skilled in blogging on internet
Thank you for your feedback!