Question:
"Is there any way I can lock my son's phone for a certain period of time? I want him to stay focused when he does his homework or spends time with family". Anyone can help?
The answer is definetely Yes! There should be a way to stop the alarming rate at which phone addiction is taking over this technology-driven world. There are 8 apps to lock phone screen for a certain amount of time, which can help you and your children overcome the phone addiction and lead a normal and healthy e-life with just the right amount of everything. Are you wondering which app would be the best for this purpose? This article will list out top 8 phone lock apps which are very effective in locking the phone for a period of time and in turn improve efficiency.
1. FamiGuard App - Your Best Choice
Rate:
If you want to know how to lock the phone of your family member or a friend through which you can control the screen time of their phones to help them better focus on many important tasks during the day, FamiGuard is the perfect choice for you. This is one of the best phone lock apps for Android and is known to be very efficient in letting you control the screen time of the target phone!
Features:
Directly pause target phone usage and lock the phone.

Set and schedule the screen time for the target phone.

Block attractive apps like games, videos, etc.

Set time limits of certain apps on the target phone.

Record app and web usage and show the detailed report.

Filter web and content, and track real-time location.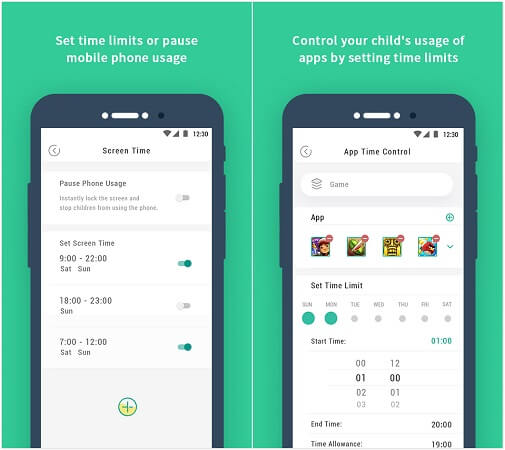 Pros

Free demo is offered to you for experiencing the app.

Easy operation with intuitive user interface.

Effectively boost productivity with amazing screen time control features.

No need to root.

Support web and content filtering, real-time location tracking, etc.
Cons

The iOS version of the app is under developing.

Some function needs to pay.
Compatibility: It's compatible with Android 4.0 - Android 12 devices.
2. Offtime
Rate:
Offtime acts as a distraction blocker by blocking apps and filtering communications. You can either install it on your phone or install it on your teenager's phone. This app helps users set their own set phone usage rules. Whenever you overstep the phone usage limits set, you would get an alert through this app. You will get detailed analytics to curb your habits and improve productivity.
Features:
Customized tailored modes like Me Time, Family, Work etc.

Control screen time and phone usage limits.

Usage comparison.

Manage App blocking/filtering.

Complete analytics of phone usage and activities.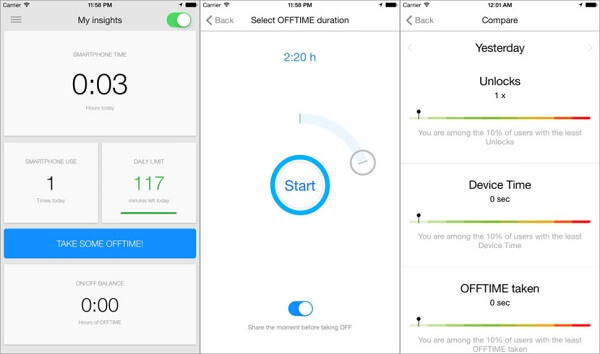 Pros

Easy operation.

Effective time controls features.

A great app to lock apps while studying and can be used for children of all ages.
Cons

The app can't be managed remotely.
Compatibility: It's compatible with Android and iOS devices.
3. SPACE: Break phone addiction, stay focused
Rate:
SPACE is an app that can help you locks phone and encourages the phone user to put their phone down from time to time. This app can be used to lock Android phone as well as iOS phones and tablets. Through SPACE, you can record your phone usage on a daily basis, set limits for this usage and get notified when you go over these limits set by you. It comes with an addiction score that gives you a total breakdown score of all your daily phone activities effectively.
Features:
See the total time spent on phone.

View the apps which are being used the most.

Set daily phone usage limits.

Get addiction score to control overall usage.

Generate phone usage report for better insights.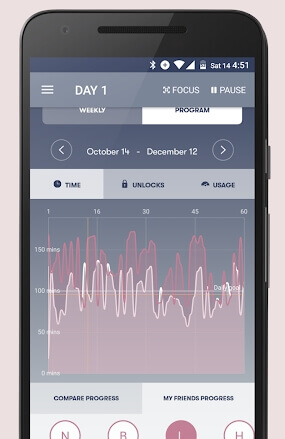 Pros

Generate phone usage report for better insights.

Simple to setup and use.

It doesn't eat much battery life.
Cons

Its free version can be only used in 60 minutes.
Compatibility: It's compatible with Android and iOS devices.
4. Usage Time
Rate:
Usage Time can help you ensures that you or your loved ones do not keep focuing on the phone, which is very effective in hiding attractive apps on the phone. Separate phone usage challenges can be set through this app, which improves the productivity by enhancing the progress of the phone user.
Features:
Detailed daily, weekly and monthly statistics report of phone usage.

Track the total time spent on phone which includes detailed app usage, notifications and screen unlocks etc.

Limit usage of installed apps with a scheduled time interval.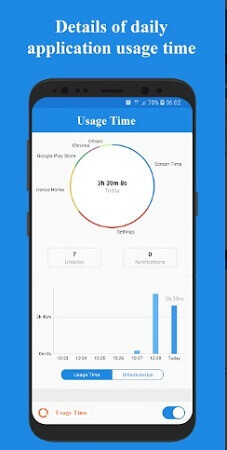 Pros

It is a useful app for parents manage their kids' phone usage.

Provides clear data for further checking.

The app's UI is clean and simple.
Cons

Some features are not accurate, like app usage.
Compatibility: It's compatible with Android 6.0 and up.
5. FocusMe App
Rate:
FocusMe App is regared as a screen time app which can be used by you, your loved ones and even your employees. This app helps people improve their daily productivity by helping them overcome their phone addiction. Through this app you can improve your work efficiency and avoid all sorts of distractions from your phone.
Features:
Scheduler to help plan your entire week well in advance.

Get constant reminders to stop overusing phone.

Pomodoro timer.

Website and app blocking.

Time tracking.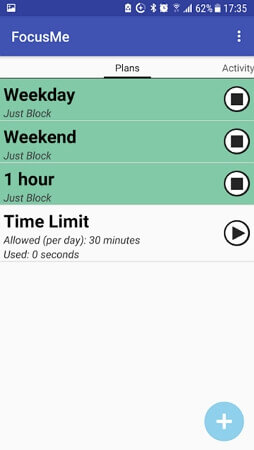 Pros

The price of this app is affordable..

Offers a 60-day money-back guarantee.
Cons

No iPhone edition is currently available.

The customer service is not good.
Compatibility: It's compatible with Mac, Windows and Android devices.
6. Forest App
Rate:
Forest App provides a special way in which you can deal with the phone addiction. This app, as the name suggests, has a forest tree which you virtually plant once you install the app. This tree would keep growing as you keep beating your cell phone addiction. But once you give in to the addiction, it will wither away. This is a psychological way to drive the phone user to curb their urge to play with their cell phones all the time.
Features:
Track phone usage history.

Compete with friends and loved ones.

Earn rewards and unlock several other tree species.

Whitelist customization.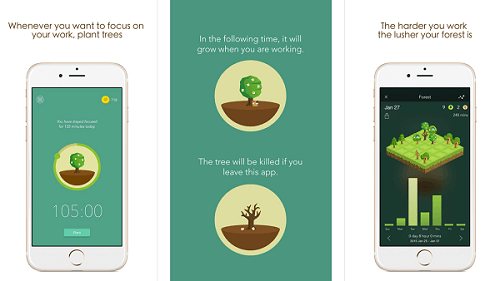 Pros

Intuitive UI and easy to use.

Extensive compatibility.
Cons

The supported features are limited.

The feature about time controls does not work correctly.
Compatibility: It's compatible with Android and iOS devices.
7. QualityTime App
Rate:
You can get a deep and an in-depth analysis of your cell phone usage with the screen time features of QualityTime App. It use actionable graphic features to help you curb the cell phone addiction. You can focus on finishing your tasks, thus becoming more productive.
Features:
Get daily, hourly and weekly reports.

Set time restrictions.

Block notifications.

Reject phone calls and auto reply to text messages.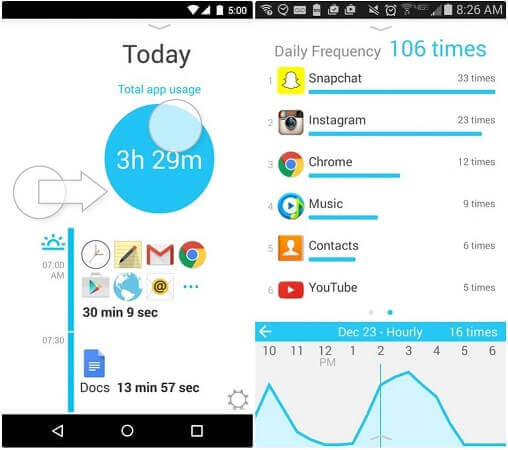 Pros

It is user-friendly with simple UI.
Cons

Sometimes it doesn't work properly.

It eats too much battery.
Compatibility: It's compatible with Android 4.1 and up.
8. YourHour
Rate:
YourHour is an award winning app which helps in tracking your phone usage in real time and encourages you to get dedicated timeouts from the virtual world in phone. The intuitive analytics of this app makes it easier to identify the habits of the phone owner and pushes them to change those habits.
Features:
Monitor usage and goals.

Screen time scheduling.

Floating clock timer to see how much time is spent on apps in real time.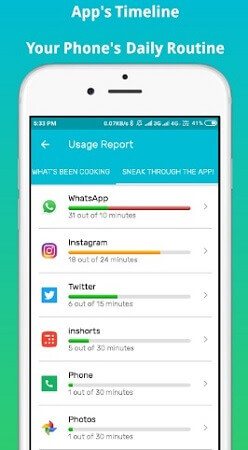 Pros

Very intuitive and good interface.
Cons

The supported features are limited.

The Pro version is a bit expensive.
Compatibility: It's compatible with Android 5.0 and later versions.
Conclusion
These phone lock apps are great to manage time and boost productivity. These apps are very effective in helping phone users get over their cell phone addiction and become much more productive in their life. Out of all the apps, FamiGuard is the best app for parents to lock their chidren's phones as it is equipped with some amazing screen time features, and hence it is highly recommended for all the cell phone addicted folks. Avail the 3 day free trial right now!
You may also be interested in:

By Tata Davis
professional in software and app technology, skilled in blogging on internet
Thank you for your feedback!