Is your child always hooked on to their phone? Are you worried about them being addicted to the smartphone? This is a rising concern among most of the parents these days. The smartphones come with a lot of features, apps and games which are completely addictive. As a result, a child who should be socializing with friends outside or studying is spending most of their time playing games on their phones or browsing the web. Parents should find out a way in which their children can limit the usage of their phones while reaping the benefits of being online.
A balance is required so that the child does not suffer from any long term health issues like obesity, back problems, insomnia etc. So, you must be wondering how you can control this addictive behaviour of your children. Well, there is a way to put your concerns to rest and ensure that your child grows up in a healthy way. Here are some of the best apps to limit phone use which provide a great help in limiting the usage of phones by your children.
When we talk about parental control apps, FamiGuard app tops them all. It is one of the most amazing apps to control phone usage which can be of great help to parents who are worried about their kids spending too much time on their phones. It is highly recommended that you try out this app and see how great the features of this app are. All the features of this app are highly effective in providing you the peace of mind by letting you in on the activities of your child on their phones.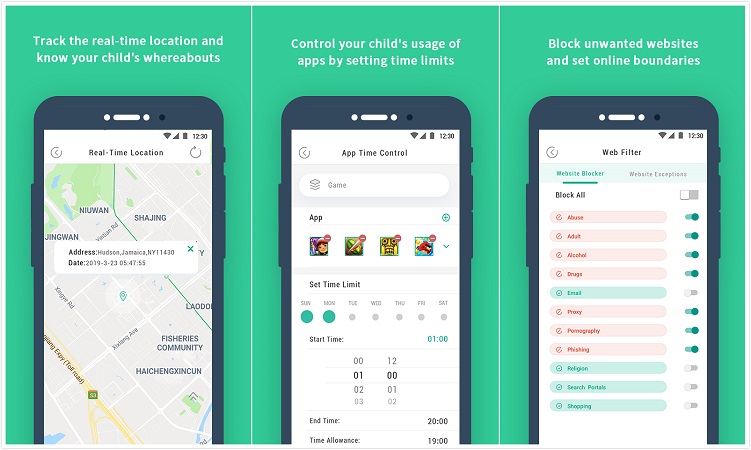 Why FamiGuard Stands out in Limiting Phone Usage
The screen time feature of this app allows the parents to set a proper schedule for their children to use their cell phones effectively.

The screen time feature of this app also comes with a pause button which allows the parents to instantly pause the usage of cell phones by their children. This can be useful when you want your kids to study or sleep

This app also has a great app time control feature which allows you to separately limit the usage of individual apps by your kids

It comes with other great features as well including website blocking, real time location tracking, geo-fencing and so much more!
This app is considered to be among the most powerful parental control apps to restrict phone usage. Manage the content and activities of your child on their smartphones and reclaim all the lost family moments with the help of this app. This app would keep the parents informed about the whereabouts of their child at all times which gives the parents the much needed peace of mind.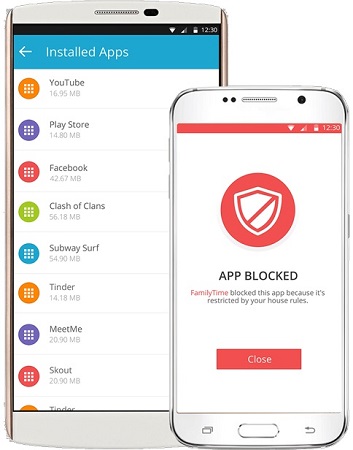 Features:
Block inappropriate apps.

Filter the illicit content on web browser

Comes with an SOS or Panic button

Limit the screen time of your kids smartphone usage

Pause the screen of the target device

Define the allowed speed limits for teenage drivers

Add unwanted strangers to watchlist and get notified when they try contacting your kid

Comes with a time bank which stores the extra time which your kid can use later
With the help of this app, parents can manage and control the time their kids spend using their cell phones. This way you can avoid the addiction of cell phones among your kids and entertain healthy phone usage. By doing this you would avoid several unlikely scenarios and keep your kids safe and sound.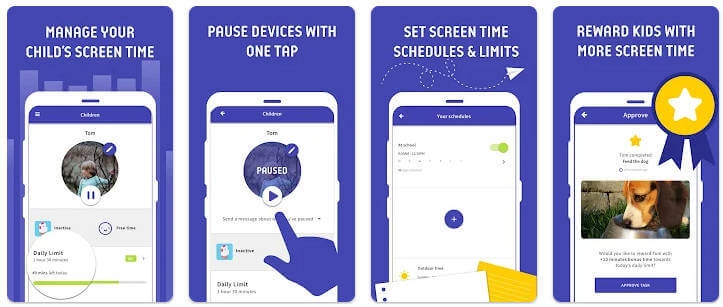 Features:
Set time limits for everyday.

Set a schedule with tasks

Reward your children with more screen time when they follow the schedule set by you

Block separate time for sleeping, doing homework etc

Pause your child's device instantly

Approve or reject any app which gets downloaded on your child's phone

Add unwanted strangers to watchlist and get notified when they try contacting your kid

Keep an eye on the sites visited by your child
FamiSafe is an exceptional parental control app, the user-friendly interface and the exclusive features have awed the parents all over the globe. Famisafe is most popular for its capability to control the internet access and it turn the phone usage of your child. You don't even need to stay close by, you can remotely monitor your kid's device and block vulgar sites.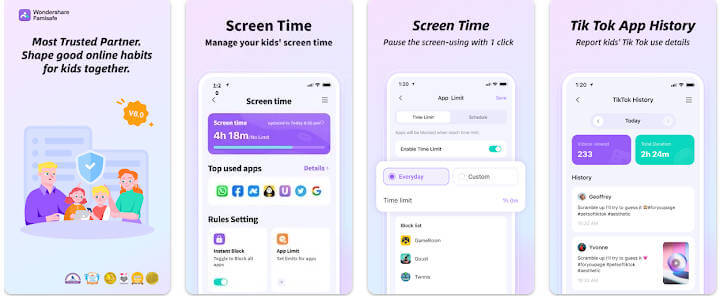 Features:
Screen Time and app blocking facility is available.

Famisafe is capable of tracking the location of your kid accurately

Advance feature like Geofence is available

Control the web content which may seem inappropriate to you

App blocking facility is also available

You will also have control over Scree time along with smart parental control settings
Usage Time is regarded as an ideal app to limit screen time and device usage of your child. It is a very capable and trust worthy app that provides the details of daily app usage and you will be able to set time limit for each application.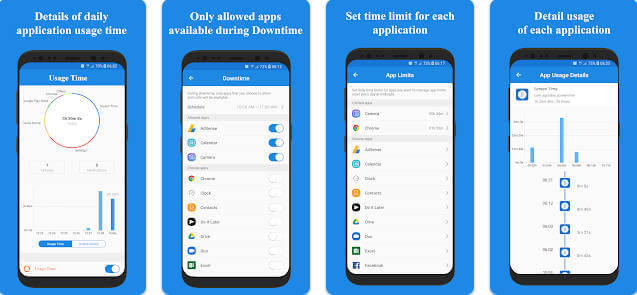 Features:
Usage Time is capable of tracking the total amount of time your kid is spending on their smartphones. You can get details like app usage, incoming notifications and mobile unlocks.

You can set a limit for the app usage

Advance feature like Geofence is available

Set time limit for the use of a specific application

You can even secure that application with pattern of a fingerprint lock
This is one of the best free apps to control screen time available for the parents so that they can keep their kids safe. It is designed in such a way that parents can supervise all the activities of their kids on their smartphones. You can remotely manage and protect your children against the dangerous scenarios online with the help of this app.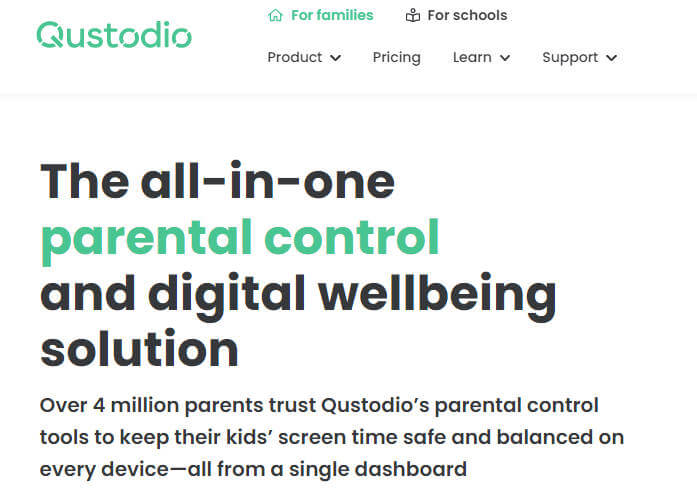 Features:
Check the detailed activity report of your child's cell phone usage on online dashboard

Set healthy limits to the use of smartphone by your child

Filter out all the harmful content online

Keep children safe from cyber threats
StayFocusd is the best app if you want to block websites. It is actually available as an extension to Chrome; available for free this app lets you choose the way you want to block websites. The most-strict option of StayFocusd is called the Nuclear option. Using this you will be able to block all the websites or a few chosen websites depends on your choice.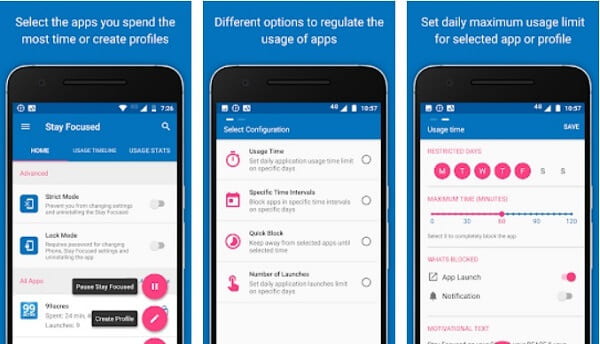 Features:
You will be able to block websites depending on your daily or hourly usage

You can block app for a specified interval of time

The Offtime feature keeps you away from specified app for a set amount of time

You can also check the activity history

You can also get details on how much time you have spent on which app
Mobicip is a great app to control your kid's cell phone activities remotely. It help you in monitoring and filtering content on your kid's phone. The monitoring is done via an online portal, which is very convenient. If your kid even tries to access the restricted websites or the apps, they will be notified via a message that they can't access those sites or apps. The same stuff happens if they use their mobile device out of their time limits.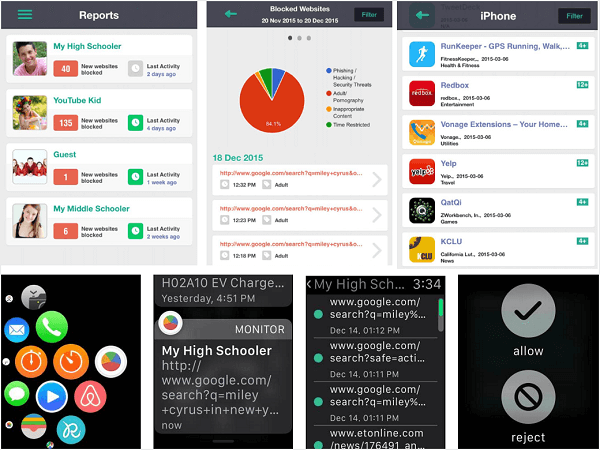 Features:
You can lock all the family device immediately

Conveniently track the location of your kid

You can block apps

You can block websites
Final Thoughts
These limit phone usage apps are a great way to resolve the constant tension in the minds of the parents regarding the smartphone addiction in their kids. They offer an easy way to schedule and manage the way your child spends their time on an everyday basis. Out of all the apps, the most effective one with all the essential features along with a great screen time control feature is, FamiGuard. This app is highly recommended for all those parents who constantly worry about the unhealthy habits of their kids.