Parents give their children cell phones as a way to ensure their safety by being able to contact them whenever required. However, there is no dearth of content and apps online which can ruin your children's mental as well as physical health.
The attractive apps and games on cell phones make our children spend more time on their phones rather than involving themselves in some useful activities which can groom them. As a result, they ultimately get addicted to their phones making it harder for you to treat their unhealthy habits.
This is why parental control should be emphasized now more than ever. Parental control apps are designed to control child's phone, which acts like the "training wheels" to keep your children safe and help them get the basic control over cell phone activities. This way you can help your children develop healthy habits in using smart phones, which is very beneficial for your kids in the long run.
What Kind of Parental Controls Will You Need
The latest health statistics reveal that the kids these days spend a lot of time on their phones. This time is more than what is considered healthy in terms of phone usage. This can result in some serious health issues which can be mental as well as physical. With prolonged cell phone usage, your child gets addicted to using his or her phone, this would lead to obesity, back issues, insomnia, and many such problems which can raise alarming concerns for parents. This is why employing screen time controls to control kid's phone usage is a great idea to avoid all these health concerns.
2. Geofence and Location Tracking
These days, the lifestyle has become pretty busy. This is why parents cannot be on watch 24/7. There may be some areas in your neighbourhood which may be absolutely unsafe for your child to venture into. Also, you would definitely want to know when your kid reaches school or home safely. Geofencing is a feature through which you can set certain boundary limits and get alerted immediately if your child crosses those set boundaries. Also, real time location tracking is extremely necessary so as to get the accurate location coordinates of your kid when he or she is outside.
There are plenty of apps and games these days which can be easily downloaded online. They come with such advanced features and graphical interface that children are bound to find them interesting. They would start spending more and more time exploring the apps or playing interesting games. This may soon turn into addiction and that comes with its own set of problems as mentioned above. This raises the need to find a way to control the addiction of these apps and games by restricting their usage altogether.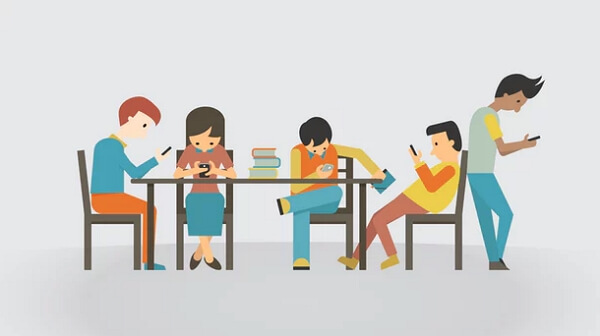 4. Monitor and Filter Web Content
Online world has a plethora of sites which can be visited by almost anyone. Some of this content available online can be pretty dangerous which can affect the mental state of young children. Their young minds would not be able to process all the information in the right way and this may lead to some serious false assumptions by them. The only way you can prevent this is by controlling the type of content which can be accessed by your children and which can be displayed whenever they are using any of the browsers.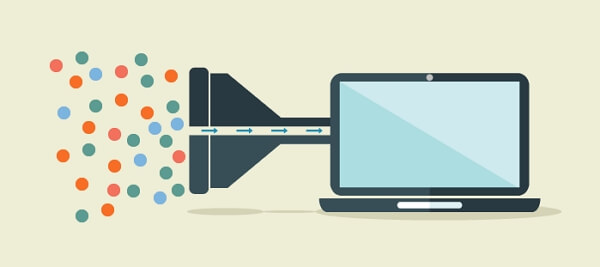 Your child would be exchanging several texts, answering many calls, storing images, videos and audio files. You should definitely be aware of what kind of data is being stored and shared by them. There may be potential predator who may be trying to reach your child in order to harm them and your child may be chatting with them without any clue about their intentions. This is why data monitoring is very important. This way you should be able to view the call logs, messages, videos, audio clips, images and everything else that gets recorded and stored in your child's cell phone.
The Apps We Have Reviewed
In our quest to find the best app to control kid's phone usage, we have carefully picked some great apps and made a detailed review on its features. Some of the highly rated app to control kid's phone are: FamiGuard, Google Family Link, Qustodio App, Screen Time App, Net Nanny App, Norton Family Premier App, OurPact App, Kaspersky Safe Kids App, MMGuardian App, ESET Parental Control App, FamilyTime App, Web Watcher App, Kids Zone App, Bitdefender Parental Control App, FamiSafe Parental Control App, Kidix Parental Control App.
How We Tested and Rated
With some detailed research and expert advice, we rated these above mentioned app to control your child's phone based on the following criteria.
1. Ease of managing and monitoring a child's device
2. Affordable price
3. Advanced features like web and content filtering, location tracking, detailed reports etc.
4. Kid friendly
5. Timely customer support
6. Wide device compatibility
The Winner Android App to Control Kid's Phone - FamiGuard
FamiGuard is one of the best parental control apps in which you can invest in if your child is using an Android cell phone. This parental control app comes with some of the great tracking and controlling features which can prove to be very effective in keeping a close watch on the activities of your child on their cell phones. This way you can ensure that your kid is safe and sound at all times.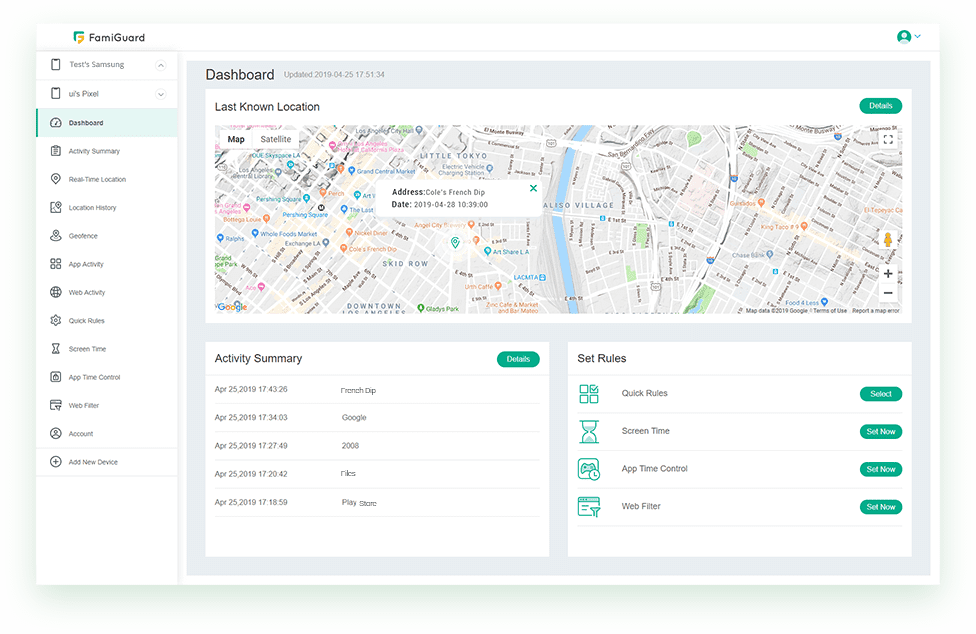 Features of FamiGuard App:
Real time location tracking: To track your child's whereabouts in real time.

Location history: To track which places he or she went in the past along with date and time

Geofencing: To set a boundary which in case if crossed you will be alerted instantly.

Screen time control: To limit excessive screen time usage and improve attentiveness in important things like education, family time etc.

App usage control: To prevent excessive app usage like games, video streaming apps etc.

Web and content filtering: To prevent access to inappropriate content on the web like porn, violence, abuse, drugs etc.

Pause Usage: Pause button to temporarily stop the cell phone usage whenever necessary.
Advantages of FamiGuard App:
There are many reasons why FamiGuard app is highly recommended for all those parents who wish to ensure their kids safety in a safe and secure manner.
This Android control program has been developed in such a way that beginners can easily install and use this app in a simple manner.

It comes with a few quick rules which are very helpful when a user is trying to get started with this app.

The user interface of this app is pretty intuitive with graphical dashboard which not just makes it interesting but also easy to navigate through the several options. Any information which you need to access can be conveniently checked and accessed remotely from any device online.
Due to the many advanced featured along with the effective control which it provides over the children's phone, this app is highly recommended for efficient parental controlling in this technology driven world.
The Winner iPhone App to Control Kid's Phone - Qustodio
If your child uses any of the iOS devices, then Qustodio parental control app is the app you should turn to. There are a very few parental control apps for iPhone which perform as effectively as Qustodio family control app in providing the optimum parental control required by the parents to keep their kids safe and secure.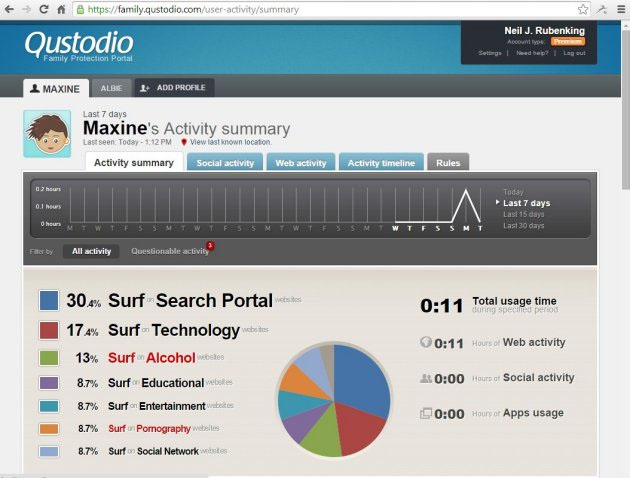 Features of Qustodio:
Web and content filtering

Screen time control

Social media platform monitoring like Facebook

App blocking

Real time location tracking
Advantages of Qustodio Parental Control App:
Very easy to install and can be used by a beginner thanks to an ultra intuitive interface and attractive UI.

Comes with a complete dashboard which can help parents to analyze comprehensive data on kid's phone usage like app usage, web usage, phone usage etc.

Powerful filtering technology to prevent access to any form of harmful content
Conclusion
Although cell phones have made our lives much easier they have slowly taken over the teenagers and younger children. This has resulted in them getting addicted to using their cell phones for a longer time than required. This is why parental control plays such an important role in the growth and development of children. FamiGuard app is one of the best available parental control apps which come with an extensive list of advanced features which can be of great use when you are trying to implement parental control through cell phone monitoring.
You may also be interested in:

By Tata Davis
professional in software and app technology, skilled in blogging on internet
Thank you for your feedback!