This is a time when most people are very much obsessed with smartphones and the problem is that many of these people understand the gravity of this situation but they are unable to do anything. But this is 2022 and there are lots of exciting apps available to help with this specific situation such as the App blocker apps. These are the apps specifically designed to block apps so that you can focus and spend your time with something productive. We have compiled a list of the best app blocker Android, take a look.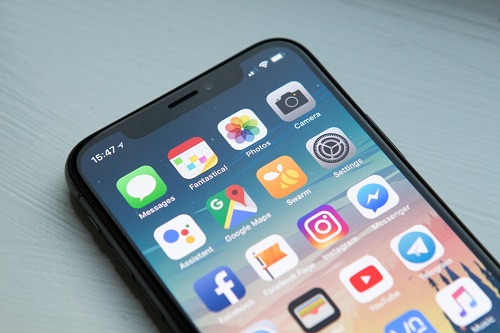 1. FamiGuard
FamiGuard found its place at the top of our list due to its accessibility, simplicity and an effective interface. It is an all round app with loads of useful features and thus it is considered the best parental control app of 2022. The profound parental control features and their effectiveness against child safety have awed its users, creating a significant user base in a short amount of time.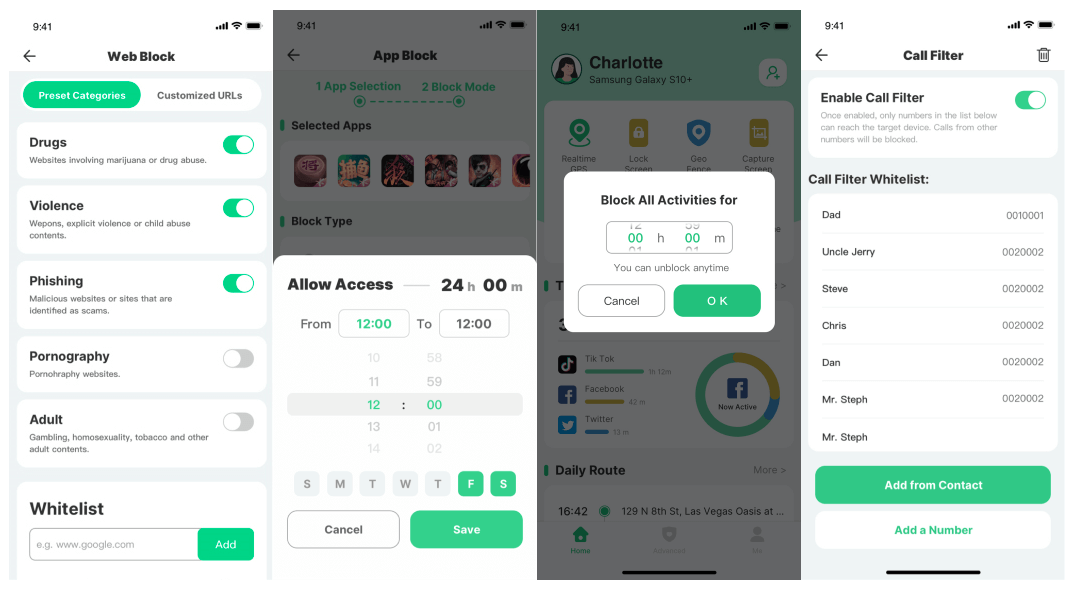 Among its numerous features, app blocking also takes place and it is very efficient. You can block any app by setting time limits without much fuss. So, after the feature is set, the user of that target will never be able to access those apps. Each time they try to access it, a notification will pop-up stating that they are not allowed to use this app at this moment.
The usability is excellent and anyone without any technical knowledge can start off and use it without any issues.
Pros

Block games or social medias remotely to let children focus on study.

Control App usage time by setting time limits.

Manage apps by category, and you can also create new category as you need.

Capable of remotely monitoring the target device and even limit its usage.

Does not require any Rooting like processes in order to install this app.

A 3-day trial period is available for the users
Cons

This app is only available for Android devices.
2. FamiSafe
FamiSafe is another top contender for the top place on the best App blocker Android list. It is obviously one of the best parental control apps in the market whose performance is almost flawless. Its features include remote monitoring of the target device, blocking websites and even apps etc.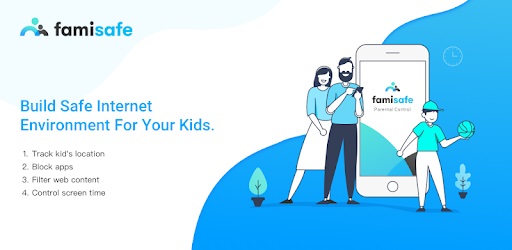 Yes, it can help you block apps which you find inappropriate for your kids. Besides all those features this app also comes with Geofencing which is very effective for parental monitoring.
Pros

App blocking feature is superb.

GPS tracking and other parental features are available.

Not a free app but comes with 3-day fully equipped trial period.

Blocks websites efficiently.
Cons

Text and Social Media monitoring are not available.

Not free.
3. Spyzie
Spyzie does not need any introduction as a remote monitoring app. Considered as one of the best monitoring apps for Android devices; Spyzie provides you the access to a portal where the target can be monitored remotely.
Not only that, the exclusive feature of this app makes you capable of blocking apps on the target device. This feature is known as the App Blocker, one you have install the app on the target device, go to the portal and choose the apps that need to be blocked.
Pros

As it offers more than just an app blocking feature, Spyzie stands out in the crowd of numerous similar apps with its remote monitoring features.

It is very simple and easy to use.

Does not require any procedures such as Jailbreak or Rooting in order to install the app.
Cons

This app is available for Android and iOS devices.
4. Family Time
Family Time is also a similar app with lots of added features for the Safety of our children. There are several effective features of this app, which led to its position on our list. Among them is the App Blocker feature which is our main focus here and it works just fine. Simply install the app on the target device and the app blocker will start its work.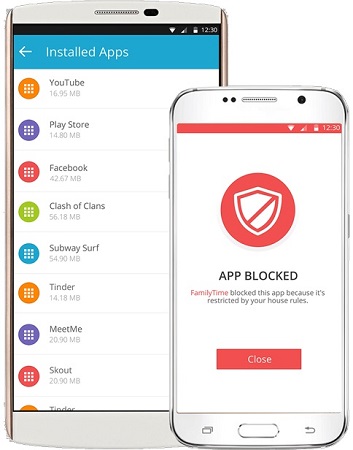 The app blocker works nicely, it is capable of blocking any type of distracting apps including social apps, games etc.
Pros

The UI is really nice and intuitive.

Screen time limits.

The app has everything from creative features like FunTime and even Time Bank.
Cons

The free plan has limited features. You need to buy the Premium version to block apps.
5. AppBlock-Stay Focused
As you can clearly guess by its name, AppBlock is an app designed to block distracting apps on Android devices so that you can stay focused. Alternatively, you can also use it to manage your kid's apps and block certain applications that you think are distracting them like games, social media etc.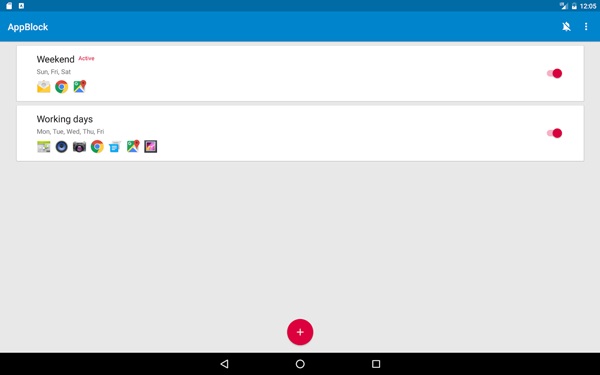 The most incredible thing about that app is the customized preferences. You can choose anything like the app you want to block, the type of app and the AppBlock will stop everything from the launching of the app to its notifications.
Pros

This app is very easy to use.

The customization policy of the app attracts customers who want to block different varieties of apps while they work.

Has a timer to block certain apps for a certain time, date and period.

The app is available for free.
Cons

It has some performance issue with some of the Android devices. The app my suddenly stop working or just crashed.
6. OurPact
OurPact is also another great parental control app that comes with all the necessary tools to block the internet content and monitor the target devices. Basically, you will have the ability to block texts and apps including social media apps. Facebook, Instagram, Kik etc can easily be blocked to ensure it doesn't cause any distractions during family times and other related scenarios.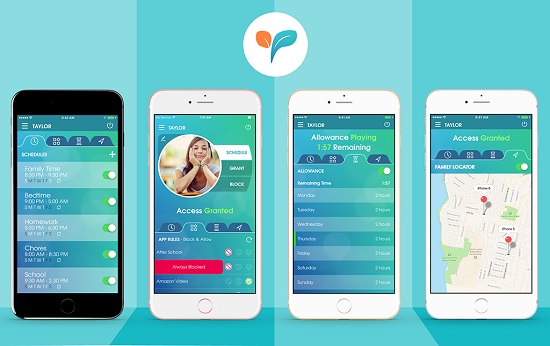 You can also stop internet browsing but only with common internet browsers like Safari and Chrome.
Pros

This is an app that comes with some amazing features like family locator feature.

If you want to fix a daily screen time for your kid then this is the app for you.

The dashboard of the app is very convenient and it lets you monitor the target device, effectively.
Cons

There is a free plan available but it has limited features. If you want to use the premium features then you will have to get the premium plan for $6.99 per month.
7. Zift
Zift is another excellent and productive addition to this list if you are looking for an app blocker Android or to filter certain applications on Android. This app is specifically used for parental control and it is a by-product of the famous Netnanny app. All the necessary content filtering technology of Netnanny has been used into making Zift on the top of its own parental control abilities. It can block any type of app with ease and even filter inappropriate content, monitor calls or texts etc.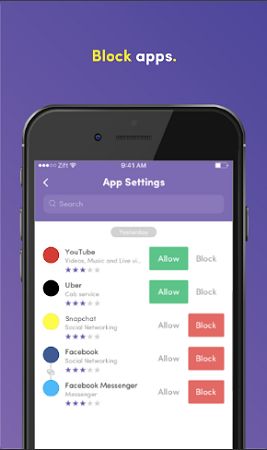 Well, this is a good app that can be customized for every scenario providing you the ability to deal with every situation.
Pros

Great parental control app! Comes with many tracking features.

The customization property of this app is excellent

A very simple interface and easy to use.
Cons

Expensive for a single device.
8. Offtime
Offtime is another stunning app known for its capability to block applications like Facebook, Instagram and various other social media apps which you find distracting. Yes, it is a self-analysis app with the help of which you can assess yourself and block anything that is distracting or restricting you in any form. Beside this outstanding feature, Offtime is also capable of blocking other apps, calls, texts and notifications as well so that you can get focused on your work or spend some quality time with your family.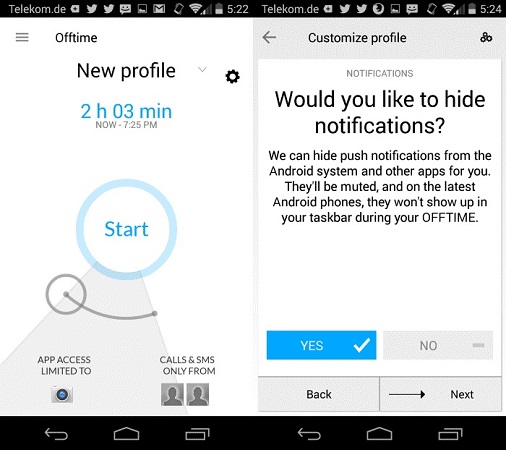 This is an app that displays how much your mobile and the apps are used.
Pros

It shows how much you use your mobile and apps.

It is easy to operate.

You can add a few contacts and app in the whitelist.
Cons

Some users have reported that, this app can lose focus sometimes and even allowed apps that you actually blocked before.
9. Flipd
Flipd allows you to block the apps on your phone for a set period of time if you are looking to unplug. But once you do this there is no going back until the set amount of time has passed. Even restarting your mobile won't reset the app. The working formula is as simple as it gets and that's why it is desirable too!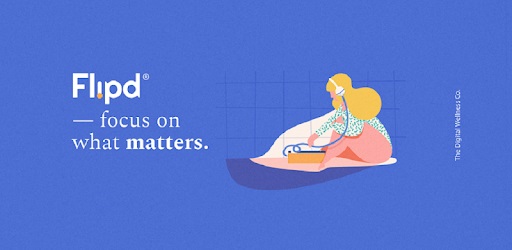 It is a very simple app that helps you focus on your work by blocking distracting materials, including social media websites such as Facebook.
Pros

A very productive app designed for Android.

Blocks not only apps but social media websites too.

Very easy to operate and available on iOS as well.
Cons

Some people have complained that the feature is just too strict.
10. AppDetox
AppDetox lets you be more productive by taking a detox, digitally. It is free app for Android devices and completely customizable. You can make as many rules as you to need. A few options are available that will help you to make the rules like specified date time, number of launches, usage time, activity based. It is also used by many parents as a potent parental control tool to limit screen time of their kid's device.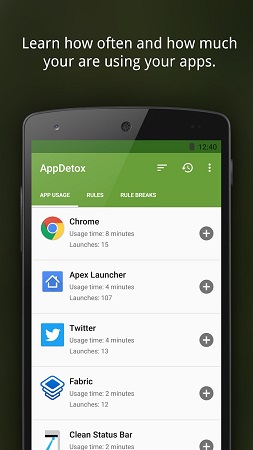 Overall, this is an excellent app blocker that shows you all you app usage in details so that you can make an educated decision.
Pros

The app is available for free.

It can be locked via a passcode to prevent uninstallation.

All the entries are logged into a log book provided by the app.
Cons

You have to provide Administrator privilege to the app in order to use it properly.
Conclusion
Therefore, we have provided you our picks for the best App blocker Android devices. These are all excellent apps but all with their strengths and weaknesses. The weaknesses are not as bad as you may think with respect to the performance of the apps but they are all nit-picking stuff that may or may not bother you. But we do recommend using FamiGuard, it is our pick for the top position, it is best among the best. Fully feature packed and result-oriented!
You may also be interested in:

By Tata Davis
professional in software and app technology, skilled in blogging on internet
Thank you for your feedback!