Did you recently get a mysterious notification on your phone from Tinder with the message "Secret Admirer?" Or maybe you were swiping through the profiles on Tinder and then came across some empty cards to choose between.
Well, you're not alone if you're confused about this new feature on the Tinder dating app. In fact, Secret Admirers are steadily gaining popularity, and more people are becoming curious about it.
So what is a Secret Admirer on Tinder? How does it work and when can you expect to find one? Whether you're dealing with a Secret Admirer for the first time or just want to learn more about this intriguing feature, read on and we'll tell you everything you need to know.
Table of Contents
Part 1. What is Secret Admirer Tinder?
Secret Admirer is a feature on Tinder that presents you with a selection of four individuals who are most likely to be compatible with you as a potential match. These individuals have already expressed interest in you by Liking your profile on Tinder, and the feature randomly selects them for you to choose from.
If you are eligible for the Secret Admirer feature on Tinder, you may receive a notification with the message "Your secret admirer is not so secret anymore...". This notification will provide you with four anonymous Tinder Secret Admirer cards, each containing the blurred image of someone who has liked your profile on Tinder. You can select one of these cards to reveal the identity of the person and decide whether or not you want to connect with them.
If you choose to "like" them back, it will be an instant match and a gold icon will appear next to their name under the conversation tab. If you are not interested, you can simply swipe left and no further action will be taken.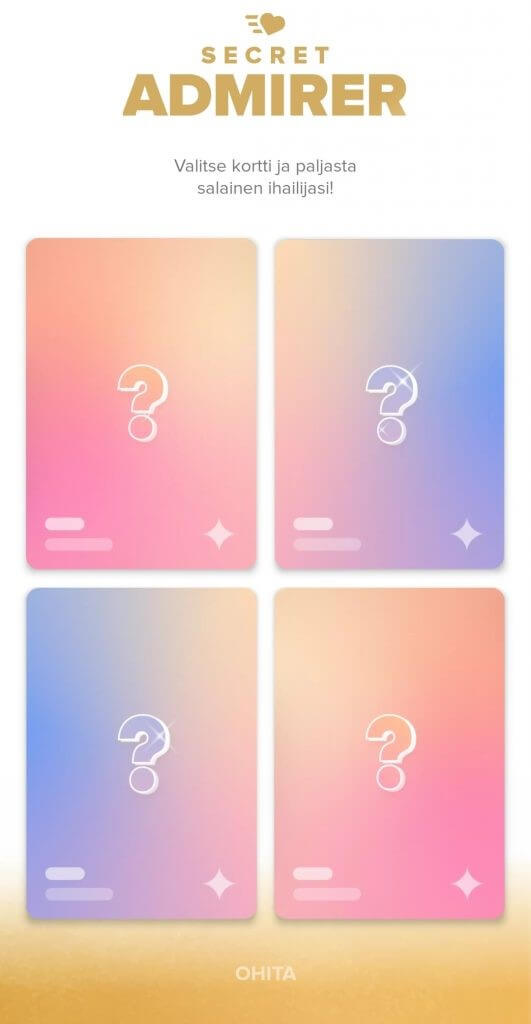 Part 2. How Often Do You Get a Secret Admirer on Tinder?
It's difficult to say how long it will take before you receive a Secret Admirer on your Tinder account. The process is completely random, so some people may get one every day while others may wait weeks or even months before they get one.
It has been observed, however, that the more you use Tinder, the more likely Secret Admirers are to show up in your account. They also tend to show up more often for users who have more Likes. But If you are not very active on the app, your chances of receiving a Secret Admirer may be lower.
Part 3. Why is Secret Admirer Tinder Always the Same?
You may have noticed that the same person keeps appearing in your Secret Admirer list. It's a common question among users, who wonder why so many of their Secret Admirers are the same person over and over again. This can be confusing and leave people wondering about the reason behind this phenomenon.
One reason why you may keep seeing the same profiles is because there may be a bug in the algorithm. Also, because Secret Admirer is designed to match you with people who have liked your profile and have similar interests, it's possible that the same people will keep appearing for you and no other options are currently available.
Part 4. Is Tinder Secret Admirer Free?
The Secret Admirer feature on Tinder is specifically designed for non-subscribers to use freely. However, you must be actively using the app in order to access it.
While utilising this feature, you will be presented with four randomly selected, blurred images of girls who have already liked you on Tinder. However, note that Tinder only allows you to view one profile for free at a time.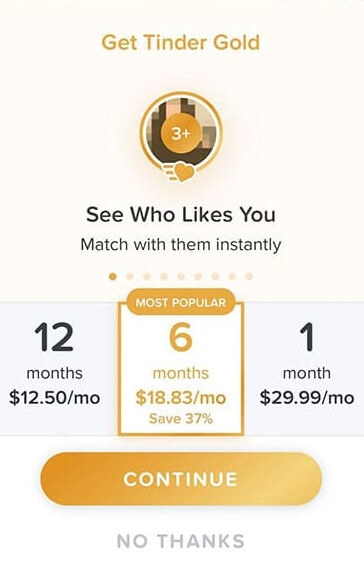 If you want to see all of your Secret Admirers on Tinder, you'll need to purchase a subscription to Tinder Gold. With this subscription, you'll be able to see all of the girls who have liked you and have the option of swiping right, super liking them, or swiping left.
Part 5. Secret Admirer Tinder Failed to Match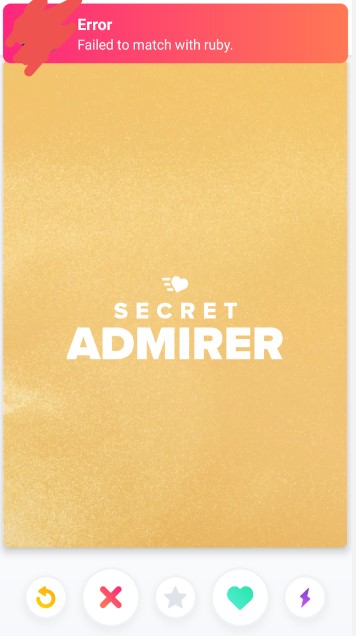 It is common for a match to fail when you reveal the Secret Admirer in your list and swipe right. This can be frustrating, but there are several reasons why this might happen.
For example, the other person may have already removed their account, or Tinder may have banned their account for violating its policies.
In such cases, Tinder will show an error message saying that the match has failed. Unfortunately, there is no way to prevent this from happening - it is simply a matter of luck.
Part 6. How to Know If My Girlfriend is on Tinder?
Tinder is a good way to meet new people and make friendships. However, the app's accessibility can also make it easier for someone to cheat.
If you're concerned that your girlfriend may be using Tinder and potentially cheating, it's important to take precautions and address any doubts or suspicions you have in your relationship.
One of the most effective ways to find out if your girlfriend is using Tinder and track her activities on the app is by using a monitoring app like FamiGuard Pro for Android.
FamiGuard Pro for Android
FamiGuard Pro for Android lets you keep tabs on your girlfriend's Tinder activity - access her chats, messages and shared media files remotely. You can also use this app to record all of her calls, and take screenshots remotely of whatever she is doing on her phone.
The best part about this app is that you can even track your girlfriend's live GPS location on Map, and set up geo-fencing alerts to keep an eye on her activities. And because the app works in complete stealth mode, your girlfriend won't even know she's being monitored.
Features of FamiGuard Pro for Android
Powerful Montioring: Besides Tinder, it can also help you monitor Whatsapp, Snapchat, Messenger, Facebook, Instagram, Calls and Messages on your girlfriend's phone and more.

GPS Tracking: It will track the GPS location of the target in real time and record it. You can also set up geo-fencing.

Online Monitoring: Just download it once on the target device and you can always monitor it online. And it disappears after being installed and the device owner will never find out.
How to Use FamiGuard Pro for Android
To start monitoring your girlfriend's Tinder activity, all you need to do is install the app on her phone. You can think of a reason to take her phone for a few minutes so you can install the app.
After you're done setting up everything and configuring it, the app will start tracking her mobile phone and social media activities in real-time without her ever knowing anything.
It sounds easy, right? Let's see how it works with the below step by step guide.
Step 1: Go to the FamiGuard Pro website and click on the "Sign up" button. Choose a suitable plan and create an account by filling out your details.
Step 2: On the target's phone, open the web browser and go to "an.famiguardapp.com." Install FamiGuard Pro and follow the prompts to complete configuration.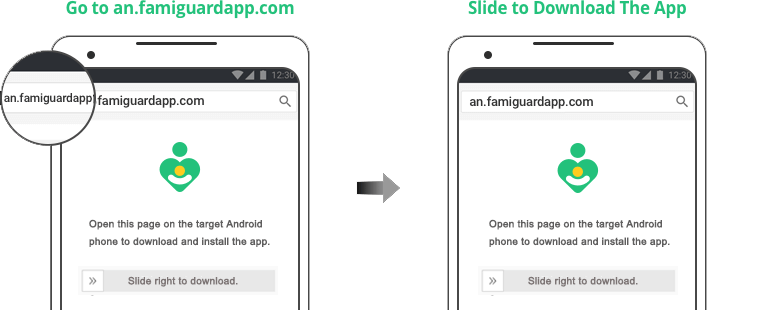 Step 3: Log into your FamiGuard Pro account from your own computer or mobile device. From the left sidebar, click "Tinder" and you will be able to access all of your girlfriend's Tinder activities.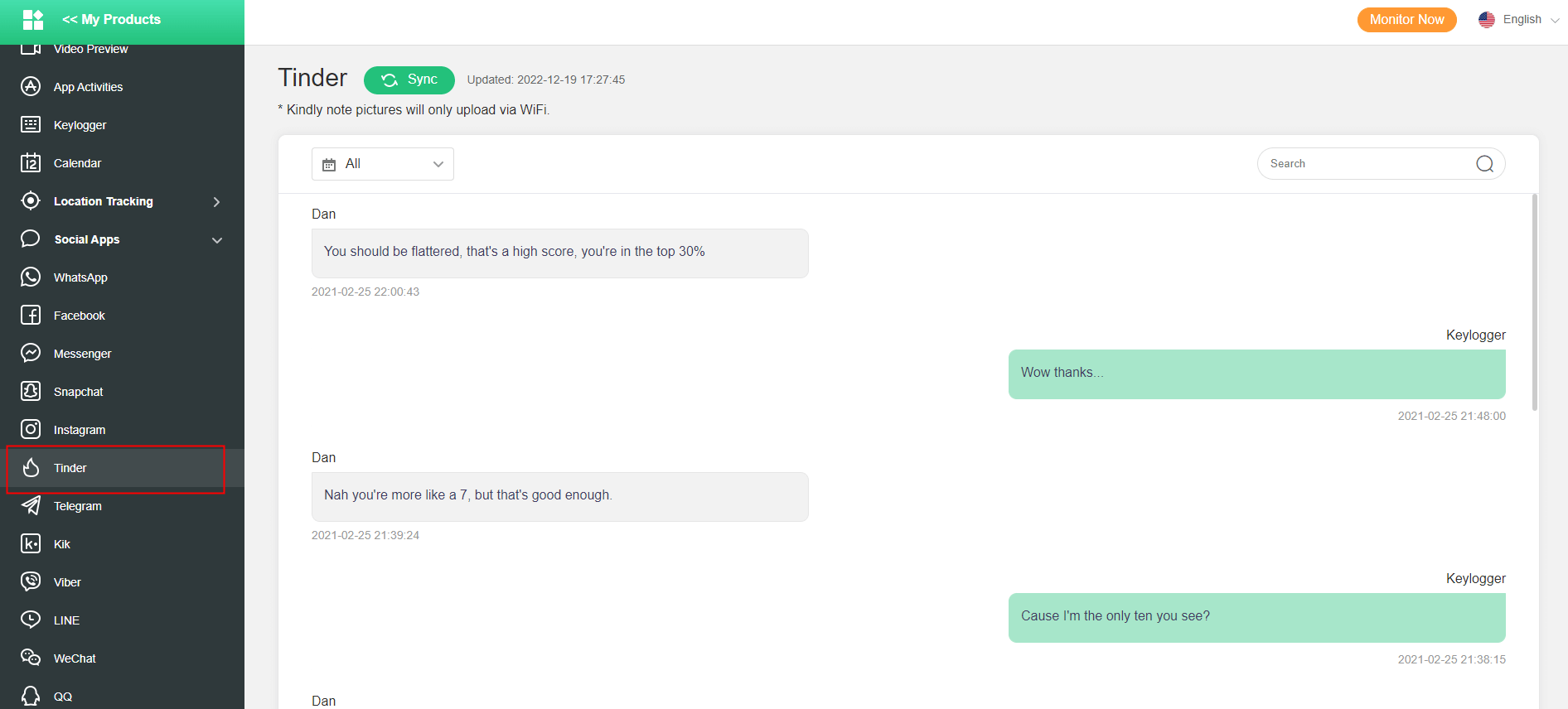 Conclusion
If you can't afford the subscription price for Tinder Gold, Secret Admirers can be a great way for you to see if someone already liked you. Although only one profile can be viewed at a time, it is still a good way to find a new match.
Hopefully, this article has helped you learn more about the Secret Admirers feature on Tinder, and answered all your commonly asked questions about it.
You can also use FamiGuard Pro for Android to track your loved one's Tinder activities and keep an eye on their whereabouts remotely - without them knowing. Just install the app and start monitoring a target's social media activities immediately.
So, go ahead and give it a try!
You may also be interested in:

By Tata Davis
professional in software and app technology, skilled in blogging on internet
Thank you for your feedback!