As digital technology has evolved, so too have the uses for keyloggers. While once reserved solely for malicious intent, these tools now play a critical role in enabling employers to monitor their workers' productivity and parents to keep an eye on their kids' activities.
Keyloggers are monitoring software that secretly records everything typed on a computer, including passwords, chats, and emails. These programs capture and save all keyboard input, allowing you to monitor a user's activities without their knowledge.
This guide will introduce you to the top seven keyloggers for Windows and help you decide which one is best for you. We will cover the features, pros, and cons of each keylogger to give you a comprehensive understanding of your options. So, let's dive in!
Table of Contents
The 7 Best Windows Keyloggers
With so many keyloggers on the market, it can be difficult to decide which one is right for you. Fortunately, we've done all the hard work for you and narrowed down the list of seven best keyloggers for Windows 10/11.
1. MoniVisor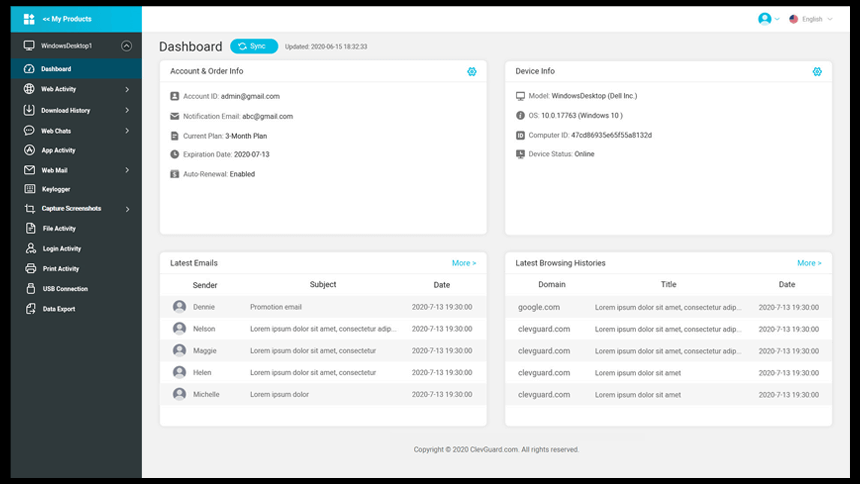 MoniVisor is a comprehensive monitoring solution that allows you to accurately track and log keystrokes on the target Windows PC. In addition to its keylogging capabilities, MoniVisor also offers other useful features like screenshot capturing, web activity tracking, and social media monitoring, making it a versatile tool for a variety of monitoring needs.
MoniVisor's keylogger feature is designed to track and log every single keystroke made on the target computer with exceptional accuracy. This includes everything that is typed, such as passwords, messages, emails, and more. Even keystrokes that have been deleted or typed in incognito browsing mode are still tracked and recorded by this feature.
The program also makes it easy for users to view all keylogging activity with timestamps. You can even use the search bar and date filter options to easily find specific keystrokes. Additionally, it can be installed on all Windows versions, including Windows 10 and 11.
Pros

Intuitive online dashboard

Real-time syncing of data

A free live demo is available

It works in full stealth mode

Tracks deleted keystrokes
Cons

No free trial version is available
2. Spyrix Free Keylogger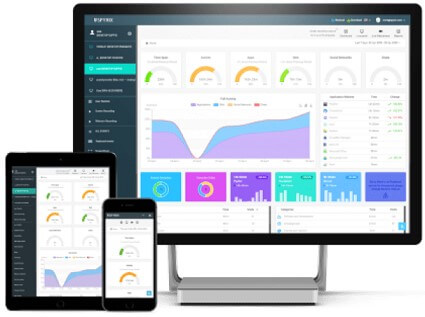 Spyrix is a top-notch keylogging tool that won't cost you anything and can be used for all kinds of monitoring purposes - from parental control to employee tracking. Not only will it provide accurate insight into which applications were typed in, but also give you exact dates and times when the action was performed.
Spyrix also offers many other free monitoring features that allow you to closely track a person's computer activity. These features include screen capturing, event logs, and clipboard value tracking. Plus, the built-in log viewer allows you to review all of the activity reports that have been logged in chronological order.
With this helpful tool, you don't even need to be at the target computer in order to stay informed and updated. All data is seamlessly delivered into a secure online account for easy accessibility.
Pros

100% free keylogger for windows

Instant alert for certain keywords

Uninstall the program remotely

Track active & inactive periods

Captures screenshots for free
Cons

No stealth mode in free version

Stores only last two days of data
3. Actual Keylogger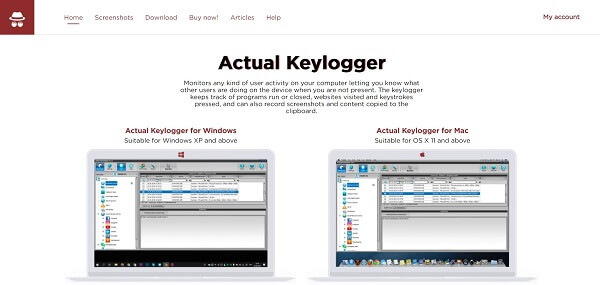 Actual Keylogger is a basic yet effective tool for recording virtually any activity that occurs on a computer. It is suitable for both personal and business use and provides a complete overview of all computer activities, including application usage, keystrokes, clipboard content, printing activity, and more.
Besides basic monitoring options, Actual Keylogger offers a few unique features that allow you to capture screenshots at regular intervals, track visited webpages, and monitor Internet connections. The software also provides password protection for additional security.
Actual Keylogger gives you the freedom to access your recorded data in many ways. You can view it locally or have it automatically sent to you by email. The reports can be sent in text or HTML formats, depending on what is most convenient for you.
Pros

Compatible with all Windows versions

Password protection and encryption

Multiple log formats (HTML and TXT)

The automated clearing of all log files

Lightweight (only 2MB space needed)
Cons

You can't track file activity

No mouse or trackpad clicks are logged
4. Clever Control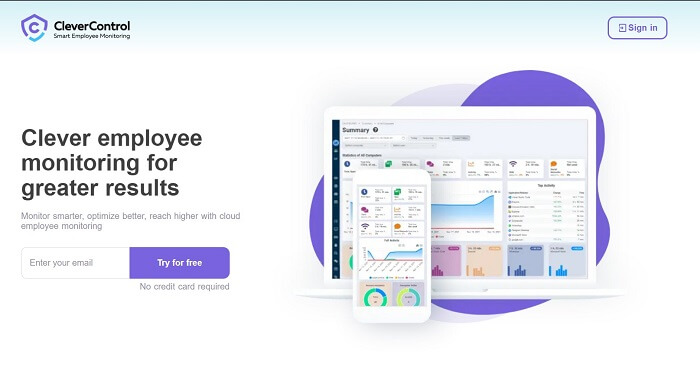 Clever Control is a cloud-based employee monitoring solution that has gained widespread popularity among businesses for its reliable performance and ability to optimize teamwork remotely. The platform has received numerous positive reviews on sites such as Capterra, Sitejabber, and G2.
This tool allows managers to monitor and analyze the activities of up to 300 computers at once, including webcam and microphone usage as well as screen activity. The collected data is presented in a clear and easy-to-understand format, such as charts and graphs.
Clever Control has keylogging capabilities that allow you to track all keystrokes made by a user, including those that have been deleted. It can also help you to check for any alert words that may indicate unwanted behavior in your employees' keystrokes.
Pros

Record all keystrokes & mouse clicks

View the target computer screen live

Tracking of active and inactive hours

Detailed online reports of all activities

Runs discreetly to avoid detection
Cons

New users may find it confusing

More expensive than other options
5. Total Logger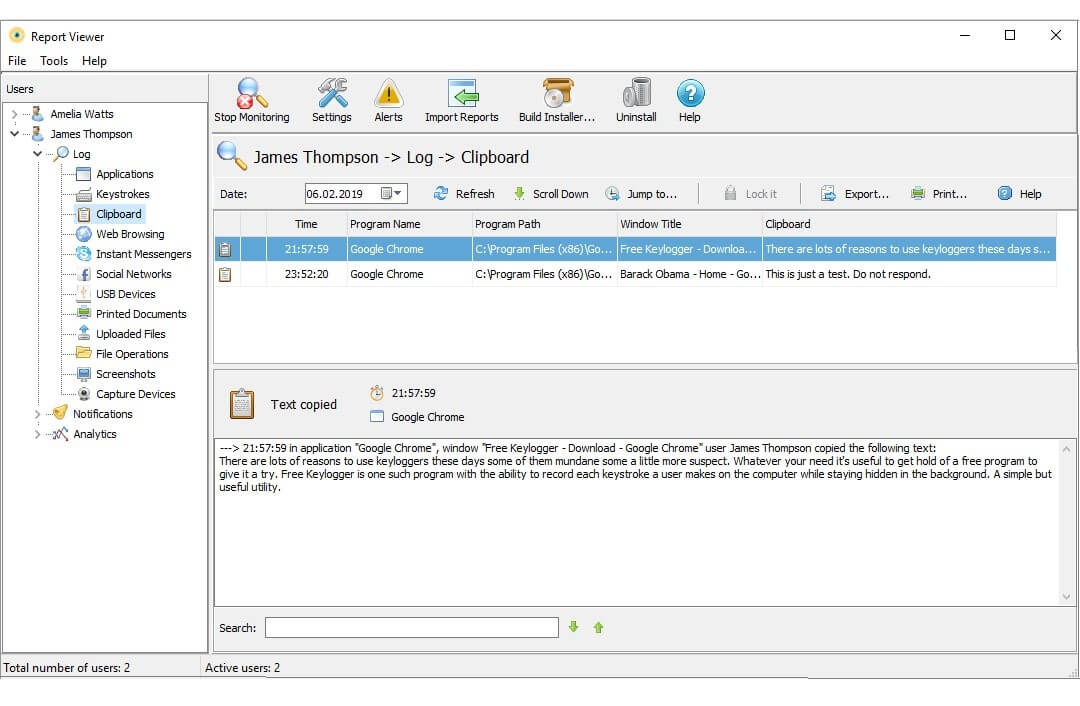 Total Logger is a user-friendly keylogger that parents can use to keep track of their child's online activities without ever having to sit in front of the computer themselves. It offers a suite of powerful features that make it ideal for both novice and expert users.
With the keylogging feature of this program, you can access a complete record of all text entered on the keyboard - from complete sentences to individual letters. This useful tool can accurately uncover usernames, passwords, and other information in any language through real-time reports.
You can choose to have your monitoring reports emailed directly to your inbox, or you can choose a more secure method, such as having them sent to an FTP account or shared local network folder.
Pros

Runs invisibly in the background

A configurable monitoring scheduler

Pre-configured installer is available

Programs & websites can be blocked

Setting up alerts for specific keywords
Cons

No capturing of mouse clicks

Doesn't track system inactivity
6. KidInspector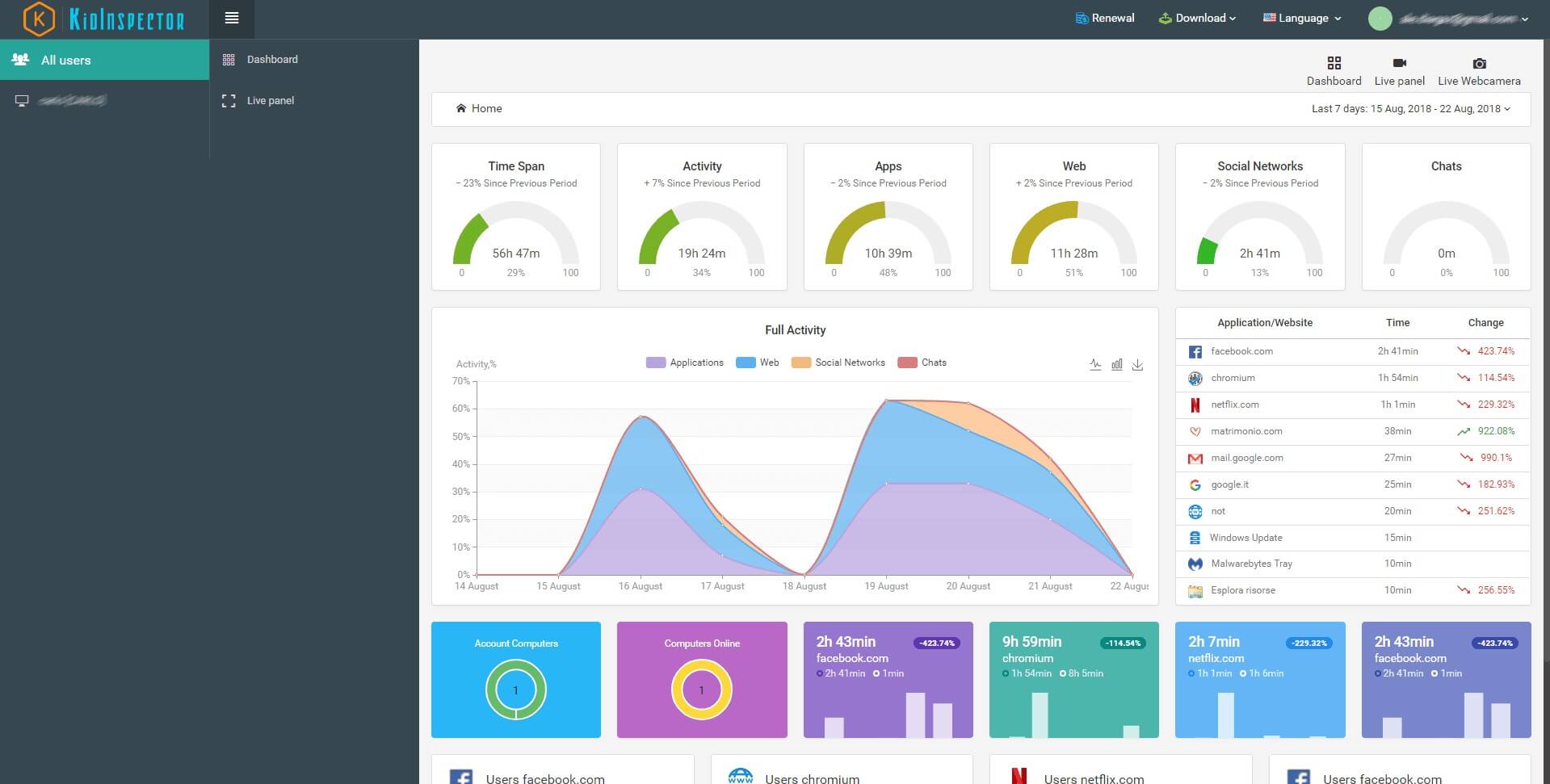 KidInspector is an all-inclusive parental control solution that can be used on Android, iOS, Windows, and macOS devices. It's not just a basic keylogger - it's actually a full-featured monitoring tool that can keep an eye on your kids' activites 24/7.
The program is also pretty good at keylogging. It captures every keystroke made on the keyboard, including any text typed and conversations on social networks and instant messengers. It also takes regular snapshots of the screen to ensure that no activity goes unnoticed.
Plus, this program is packed with some amazing features that make it stand out from the rest. You can record sound and video, stream the webcam or screen feed, and even uninstall the program remotely.
Pros

Compatible with multiple platforms

Hassle-free installation process

Watch the user's screen remotely

Uninstall the program remotely

Deleted keystrokes recording
Cons

One-day free trial with limited features
7. NetBull Keylogger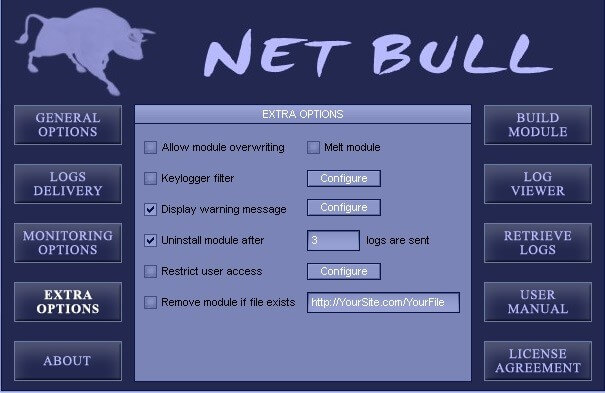 For total and undetectable keystroke monitoring, NetBull Keylogger is the way to go. This powerful tool provides end-to-end logging capabilities with customized settings that make it perfect for both households and businesses.
It doesn't leave behind any traces on a computer, and it's even undetectable by task managers, program files, and most firewalls/antiviruses.
This keylogger program also gives you the power to stay on top of what happens on your monitored computer. From tracking internet browsing habits, keyboard usage, and passwords to capturing emails, chats, and clipboard content - it records all activity in secure logs that are only accessible to you.
Pros

7-days free NetBull trial version

One-click program uninstallation

Not detectable by antivirus programs

Log delivery through email or FTP

View passwords saved in browsers
Cons

It's easy to spot the free trial version

Not very intuitive and user-friendly
Conclusion
There is no denying that keyloggers have become an important tool in today's digital world for tracking computer activity - whether for personal or professional purposes.
We hope that this guide has helped you in finding the most suitable keylogger for your needs among the seven top options that we have evaluated.
According to our recommendations, MoniVisor is the best keylogger for Windows due to its extensive list of features and reliable performance. It is also 100% undetectable, giving you the ability to remotely track all activities through an online dashboard.
You may also be interested in:

By Tata Davis
professional in software and app technology, skilled in blogging on internet
Thank you for your feedback!