Are you concerned about the digital activities of your loved ones and looking for a way to monitor their iPhone usage? Or perhaps you are just curious about what activities take place on your own phone when you are not around?
Either way, the answer lies in a keylogger. A keylogger is a tool that can be installed on any device to track user activities through a process called keystroke logging. You can watch everything that the target user types - including text messages, websites visited, passwords, and more.
In this guide, we'll explore some of the best keylogger apps for iPhone users. We'll discuss the features, pros, and cons of each app to help you choose the right one for your needs. So if you're ready to get started, here we go!
Table of Contents
Top 8 iPhone Keyloggers
A quick search for keylogger on Google or the App Store will bring up hundreds of options, but how do you choose the right one?
That's where we come in. After a thorough review, we've selected 8 of the top-rated keylogging apps for your iPhone. Let's take a look at each one of them.
1. FamiGuard Pro for iOS

FamiGuard Pro for iOS is an excellent solution for staying informed about the online activities of your loved ones. This top-notch monitoring app not only gives you the ability to track all typing activities of the target but also provides many other advanced monitoring features - up to 20!
With this impressive app, you can remotely monitor the target's phone and get access to all text messages they've sent and received, even those that have been deleted by the user.
You can also view content added to Reminders, Calendars, and Notes, and stay up-to-date with conversations from popular messaging apps like WhatsApp, WeChat, Kik, and more. All of that without needing to jailbreak the device.
Pros

Intuitive and simple interface

A free live demo is available

Works stealthily on computer

Tracking of locations history

No battery drain problems

100% safe & risk-free to use
Cons

No free trial is available
2. iKeyMonitor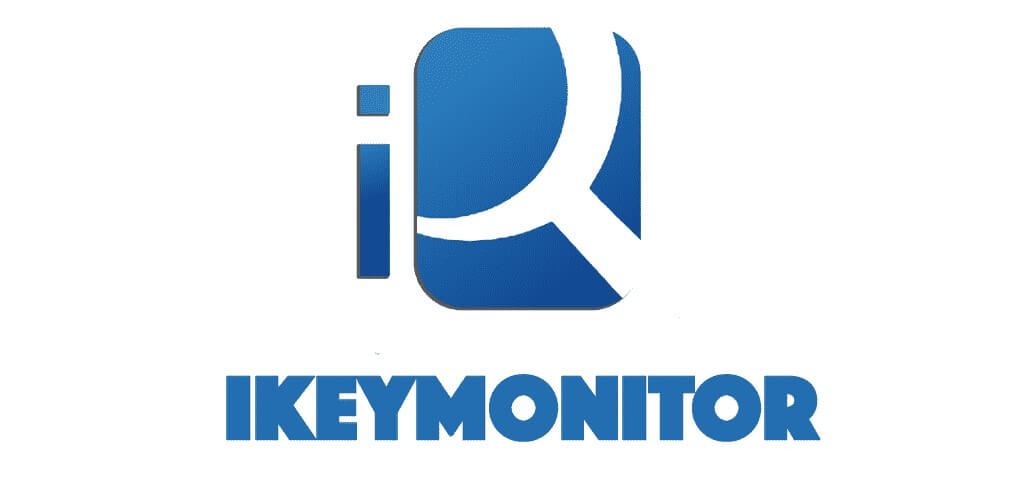 iKeyMonitor is a complete solution for parents who want to monitor, track, and control the device usage of their children. Trusted by over 400,000 satisfied parents, iKeyMonitor offers a wide range of features to ensure comprehensive monitoring of the target device, giving parents peace of mind and the ability to keep their kids safe and responsible while using their devices.
The iKeyMonitor app gives parents and employers complete control over the mobile devices of their children and staff members. With its long list of powerful features, from keylogging and tracking GPS location to monitoring social media activity and phone call recording, this application can ensure that no detail goes unnoticed.
Pros

Packed with 45+ tracking features

The only free keylogger for iPhone

Instant logs delivery through email

Screen time management features

Cross-platform compatibility
Cons

Use a lot of battery power

Some features need jailbreaking
3. FlexiSPY
Flexispy is undoubtedly one of the top options for spying apps, boasting an impressive 150 features that make it a powerhouse amongst competitors. Recently receiving high attention from parents and employers alike for its performance capabilities, Flexispy has truly established itself as a leading mobile monitoring tool.
With FlexiSPY, you can discreetly and remotely monitor all activity on your target device. From passwords and messages to websites visited, this powerful app logs everything for easy review in case of any suspicious behavior. It also includes an alert feature that informs you when certain words or actions are used or taken.
Pros

Runs in 100% undetectable mode

You can remotely uninstall the app

Alerts for specific words & actions

Record keystrokes with timestamp

Remotely control the phone camera
Cons

More expensive than other options

Jailbreaking is required for iPhone
4. uMobix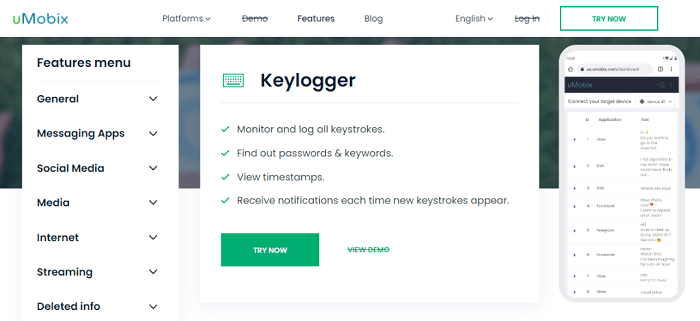 UMobix is another excellent spy application that allows you to monitor the activity of the mobile phone on which you have installed it without your target user knowing.
With UMobix, you can silently track the target user's location via GPS tracking, or stay up-to-date with all their social media activity and chats without them ever knowing. You can even view incoming/outgoing text messages as well as monitor phone calls for complete coverage.
uMobix also has a powerful Keylogger feature that takes your tracking to the next level - monitoring all keystrokes made on the target phone, even in incognito mode. And with its innovative automatic reports synced every 5 minutes (or customized according to preference), it's like having real-time updates of the target phone whenever, wherever.
Pros

View deleted calls and text messages

Record all content copied and pasted

The data syncing speed is impressive

Installation process is quick and easy

Remote installation (for iOS without 2FA)
Cons

Doesn't offer a free trial period

iCloud credentials are required
5. Highster Mobile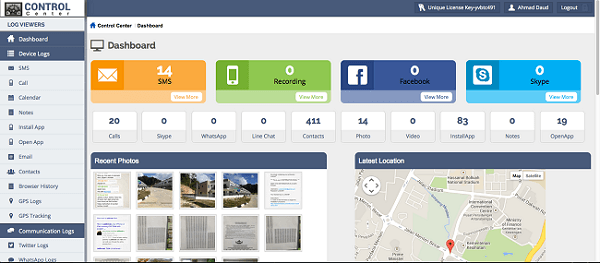 The Highster Mobile app is designed to be a simple and convenient way to monitor your children or enforce a productive work environment. It provides various basic monitoring features through its user-friendly online dashboard. Using the Highster Mobile app, you can securely monitor and access recorded data from a target device in real time.
Employers can now keep a vigilant eye on their employees' online activity on the devices they use at work with this innovative app. Meanwhile, parents will be able to rest peacefully knowing they have full control over the safety and security of their children with call monitoring, browser history checking, and location tracking - all for one low-cost lifetime subscription fee.
Pros

Compatible with all platforms

Easy one-time payment setup

Simple and intuitive dashboard

Remotely control phone camera

Monitor all social media chats
Cons

Stealth Mode is not available

No free live demo is provided
6. Pumpic iPhone Keylogger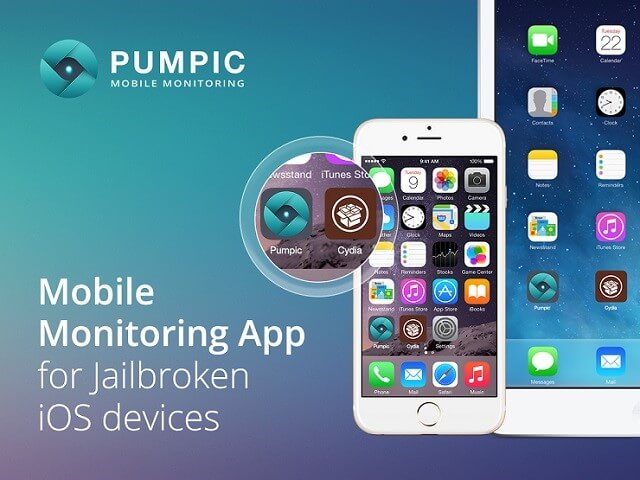 Pumpic iPhone Keylogger is the perfect solution to empower parents in the digital age. This parental control app has all the tools you need to keep an eye on your kids' phone usage and protect them from potential online threats while still allowing them to have autonomy.
Pumpic provides parents with a comprehensive package of 24+ features to help their children stay safe online. With this app, you'll be able to stay in the loop on all aspects of your kids' lives - including where they go, what they look at online, and who they chat with. And since Pumpic relies on iCloud to monitor data, no jailbreaking or app installation is required.
Pros

A convenient online control panel

Remotely lock or wipe the device

Track target's location on the map

Monitor deleted SMS and iMessage

View Calendar, Contact, and Notes
Cons

Jailbreak needed to unlock all features

Lacks some features like call recording
7. MobileSpy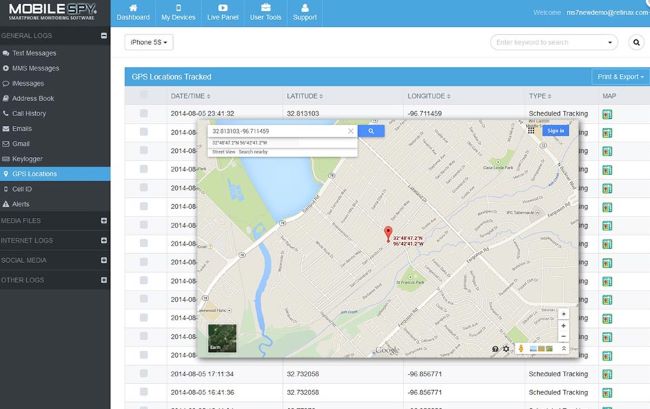 Parents who aren't tech-savvy can now stay in the know about their loved ones' activities with MobileSpy's easy-to-use tracking features for iOS devices. This app brings the power of a keylogger, along with numerous other features like social media monitoring, call and SMS tracking, activity time control, and geo-fencing capabilities - all without requiring any jailbreaks.
MobileSpy can be used by parents and employers, as well as those seeking to catch a cheating spouse. It allows you to keep tabs on cell phone activity without being detected. With virtual geographic borders and customizable alerts such as profanity or contact notifications, MobileSpy makes discreet monitoring easier than ever before.
Pros

Flexibility to hide or show the app icon

Doesn't need to root or jailbreak device

Real-time notifications and Instant alert

The app works in complete stealth mode

Access multimedia files stored on device
Cons

iOS version can monitor limited activities

Require iCloud credential of target device
8. eyeZy

Eyezy is the perfect Keylogger for parents who want to stay connected with their digitally-savvy kids without spending hours trying to master a complicated tech product. It's packed full of clever features but still remains incredibly simple and user-friendly - giving moms or dads peace of mind that they can monitor their children's online activities effortlessly.
With eyeZy's keyboard logger, you can observe every tapped key on your child's device - even if they delete it. This app offers in-depth insight into their digital activities like no other. Even better is its dashboard which organizes all of this tracking data and makes it a breeze to understand with ease.
Pros

Get keyword alerts instantly

Live device compatibility tester

Record all keystrokes accurately

Multiple options to install the app

Provides live screen recording
Cons

Has a hefty price tag

iCloud syncing is slow
Conclusion
The seven keylogger apps for iPhone mentioned above are all highly recommended options. Each one offers a range of useful features that can help you monitor the user's activities in various ways. Consider your specific needs and choose the app that best matches them.
For an ultimate iPhone monitoring solution, FamiGuard Pro for iOS is a great option to consider. Its advanced features and user-friendly interface make it easy to track and monitor your loved ones' activities right from your own phone - all without them knowing.
Try it today!
You may also be interested in:

By Tata Davis
professional in software and app technology, skilled in blogging on internet
Thank you for your feedback!