Technological advancements have drastically changed our lives for the past decade. We have seen a huge surge in the number of cell phone users with an equal rise in the mobile apps and other platforms on the internet.
Young children are often subjected to such dangerous scenarios online including cyberbullying and catfishing. As a parent, this sure is a worrisome scenario as with so much going on online it is very difficult to keep a tab on all the activities of your kid online.
Several parental monitoring apps have made it very easy for the parents to keep a check on their kids and also to prevent any such dangers from reaching them. Here are some of the best iPhone monitoring apps which work very effectively to help you establish a healthy way of parenting.
Table of Contents
Part 1: Top 6 Monitoring Apps for iPhone
1. Qustodio App
Qustodio App gives you the control of knowing what your kid is doing on their phone at all times. You can establish blocks on certain apps and games which you may feel is not suitable for your child or are making them addicted to their phones. You can even set up screen time restrictions as well so that it is ensured that your child involves themselves in carrying out other day to day activities.
This app also allows you to monitor the social media platforms which are constantly being accessed by the children these days. The online dashboard gets updated quickly and reports the parents of the entire day's activity of their kid on their phone.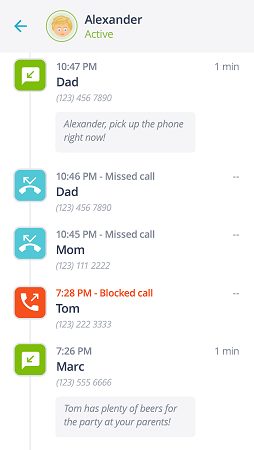 Pros

This app has authoritative tracking report.

Provides useful statistics of your child's cell phone usage.

You can customize the app by setting the alerts and limits according to your preference.
Cons

The premium version of this app is pretty expensive.

Out of all the social media platforms it can only track activities on Facebook.

This app is great for Android phones but tends to malfunction at times when used on iOS devices.
2. Norton Family Parental Control App
Norton is a well-known name in the digital world. It is popular for giving us the best antivirus software. From the same family comes Norton Family Parental Control App which works great for child monitoring iPhone.
You can restrict the content online to which your child may have access through this app. It also helps parents in reducing the addiction of their child being on phone always by allowing them to create screen time limits. The online dashboard can be used to see the detailed activity of your child on their phones.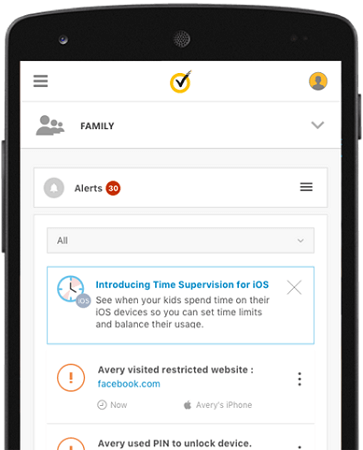 Pros

The filtering and blocking feature is very effective.

It provides the parents the scope to build a good rapport with their children.

The online dashboard can be navigated easily.
Cons

You cannot check your child's online chat conversations.

The webcam sessions cannot be monitored.
3. Pumpic App
Pumpic is a new app which is effectively compatible with both Android as well as iOS phones and tablets. One of the best iPhone monitoring software, Pumpic has an excellent social media monitoring as through this the parents can check on their kid's Snapchat, Instagram, Kik, WhatsApp, Facebook and Viber activities.
This is very important as social media is the one place which the children visit often and it is also the place with the most number of dangerous predators. Apart from this, this app can be used for text message monitoring, real time location tracking, accessing call log and so much more!

Pros

It has several advanced monitoring features which prove to be very essential.

Can be used on any Android or iOS phones and tablets.

Can be used to monitor kid's activities on several social media platforms.
Cons

The price is very high.

At times, the phone on which this app is installed tends to lag and become slow in response.
4. Spyera App
Spyera App records the phone calls on the target phone and lets you listen to them live. The instant messenger chats can also be tracked using this app. The calls logs and also the internet browsing history can be accessed by the parent. If you wish to, you can change the password of your child's phone too.
If in case your child switches the SIM card you would get notified immediately. It also gives out the real time location of your child through the GPS feature. This can be very helpful in tracking your child during emergencies and can also be used if in case your child loses their phone.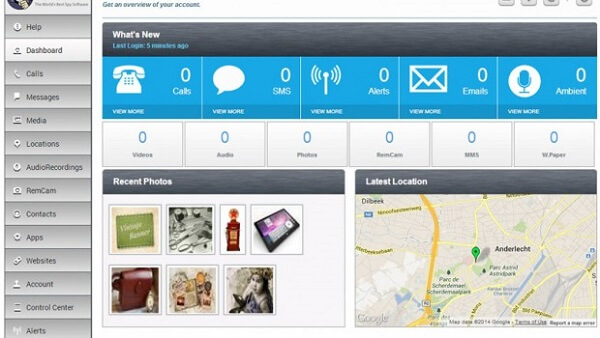 Pros

With just a few clicks, you can easily monitor your child's smartphone.

You can even check on the VoIP apps as well on the target phone.

The camera can also be accessed through this app.
Cons

It is one of the most expensive phone monitoring apps for iPhone.

The activities of your child on their phones take time to get updated to this app's dashboard.
5. Netsanity App
Netsanity App is another child monitoring iPhone app which is already being used by several parents online. It is compatible with both Android as well as the iOS phones and tablets. It informs the parents about the most visited websites by their child on their phone.
You can even block certain inappropriate apps and games on your child's phones. You also would get to access the real time location of your kid at all times.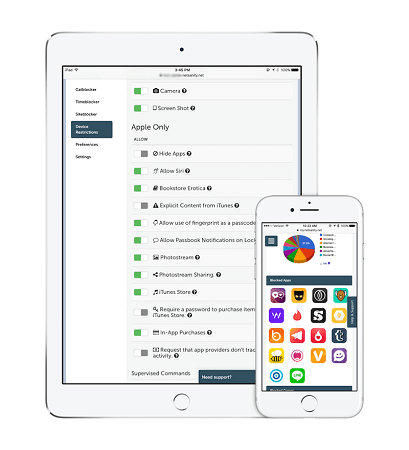 Pros

It is a very powerful management tool.

It can give you the real time location of your child pretty quickly.

Supports all the versions of iPhone.
Cons

The trial version of this app is for a very few days and does not give access to the main features of this app.
6. FamiGuard Pro for iOS
This iphone monitoring application is exceptionally potent, boasting numerous advanced features. Once you're content with the functionalities, you have the option to upgrade to the premium version for a more comprehensive experience.
With this tool, you can view someone's Text Messages, Call Logs, Social Apps and Browser History on his iPhone secretly with only a click.

Part 2: FamiGuard Pro for Android - The Best Android Parental Control App
If your child has an Android phone, then instead of choosing any of the above mentioned iPhone monitoring apps, you must make use of FamiGuard Pro for Android . This is a highly effective Android phone monitoring app which has several advanced features. It comes with a free trial version which can be used by you and once you are satisfied with the features, you can opt for the premium version of this app.
Features:
Can monitor all files on the device.

Keep an eye on 30+ Apps activity.

Track and record GPS Location.

Built-in Keylogger.

Remotely control the device to take photos, record phone calls and take screenshots.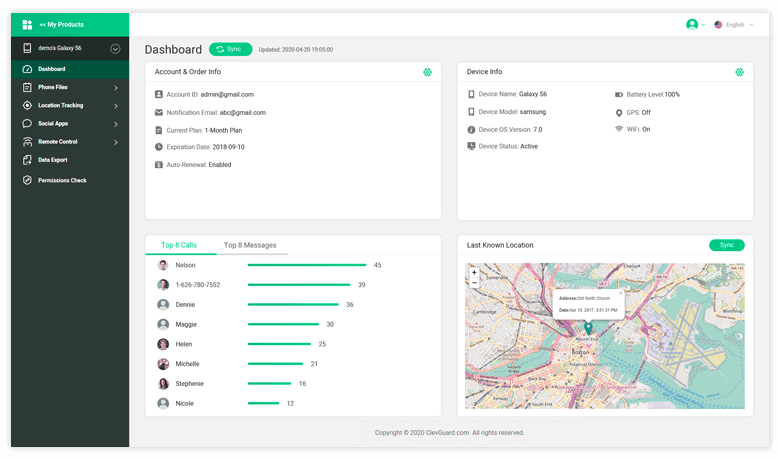 Pros

Managing the activities on your child's phone becomes very easy.

Has a very user-friendly dashboard.

Very easy to set up & customize.
Conclusion
Phones are being widely used by several kids worldwide. Keeping a check on their activities becomes a necessity as there are many dangerous scenarios which your kids may face. You can make use of any of the best iPhone monitoring software mentioned above for this purpose. If your kid is using an Android phone then it is highly recommended that you use FamiGuard Pro for Android which is one of the most efficient apps for this purpose.
FAQs: Hot Questions about iPhone Monitoring Appst
Q1: What are iPhone monitoring apps?
iPhone monitoring apps are software applications designed to track and monitor various activities on an iPhone. They can provide insights into calls, messages, social media usage, location, and more.
Q2: How do iPhone monitoring apps work?
iPhone monitoring apps work by installing a software on the target iPhone. This software gathers data from the device and sends it to a secure online dashboard. Users can then log into the dashboard to view the collected information, such as call logs, text messages, browsing history, and more.
Q3: Can I monitor an iPhone remotely?
Yes, many iPhone monitoring apps allow remote monitoring. Once the app is installed on the target device, you can access the monitoring dashboard from a remote location using a web browser or a dedicated app.
Q4: Do I need to jailbreak the iPhone to install monitoring apps?
In the past, some monitoring apps required jailbreaking the iPhone to access certain features. However, many modern apps offer no-jailbreak solutions, which are safer and easier to install. Always check the app's requirements before proceeding.
You may also be interested in:

By Tata Davis
professional in software and app technology, skilled in blogging on internet
Thank you for your feedback!