Table of Contents
I bought a new Android, can I transfer all the data and files from my old Android to my new one? The answer is yes. This article will easily teach you how to clone your Android phone in a minute with several methods. Also, it will mention how to clone someone else's Android phone secretly. If you want to know the data and files in your family/loved one's Android in real time, then be sure to read this article.
Method 1. How to Clone Someone's Android Phone Secretly
If you want to clone someone's Android phone easily and secretly, then I recommend you to prefer FamiGuard Pro for Android . It is highly recommended by millions of Android users for cloning Android phones. Three major features make it the first choice for Android users looking to transfer large amounts of data: simple workflow, widest file coverage, and real-time file cloning.
FamiGuard Pro for Android can effectively help you clone all the files and data on target Android device and it is undetectable.
The Features of FamiGuard Pro for Android
Full Cloning: All call logs, contacts, videos, pictures, apps data and browser logs etc. in the phone can be cloned completely

Undetectable Cloning: It disappears automatically after being installed on the target device. If you don't want others to know that you are cloning the target device. Then FamiGuard Pro for Android is the best choice.

Real-time Cloning: Once installed, FamiGuard Pro can clone a new file or data online in real time as soon as it is available on the target device. You do not need to perform the cloning operation again.

GPS Location Tracking: FamiGuard pro will clone the GPS route of the target Android device in real time, and will record the device's historical location.
User Guide of FamiGuard Pro for Android
Create a FamiGuard Pro account. Download and install the FamiGuard Pro app. Verify your configuration on the FamiGuard Pro web dashboard and begin monitoring. A thorough operation manual is provided below.
Step 1:Click "Monitor Now" button or vist the FamiGuard offical website to sign up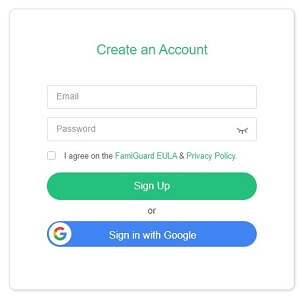 Step 2: Click the "Setup Guide" to download and install FamiGuard Pro for Android on the target android phones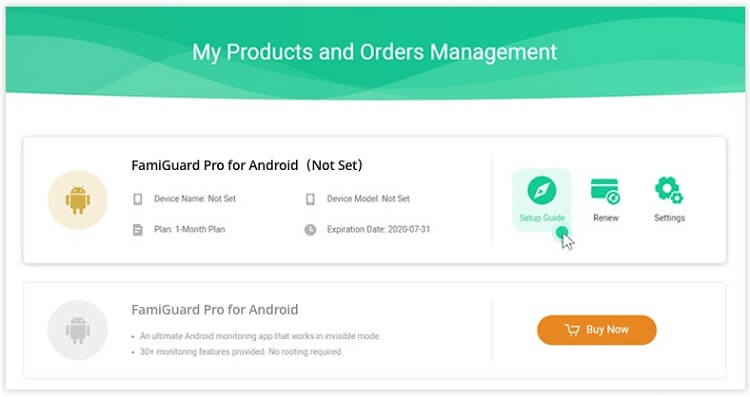 Step 3: Log into your FamiGuard Pro account on FamiGuard website and click "dashboard" to view the cloned phone files.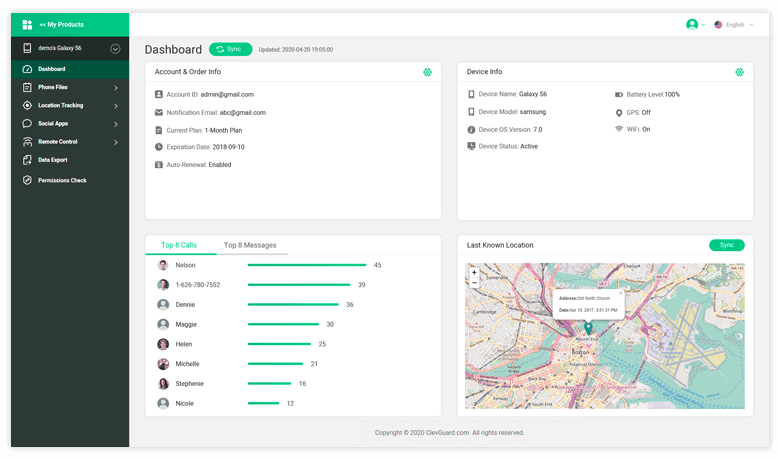 Method 2. How to Clone Android Phone via Google Drive
Google Drive is a popular method for backing up and restoring data on Android devices. You can use it to help you move Android phones. It transmits data via wireless technology. However, it has a limited amount of free storage space. If your files are larger than 15GB, you will need to upgrade to a higher storage plan.
1. On your old Android phone, go to Settings > Select the Backup & Reset option > Select Back up my data.
2. Remember the account from which you are backing up your data because you will need to login in with the same account on a new Android phone to transfer data.
3. After the backup is complete, open your new Android phone and begin the setup procedure.
4. Sign in to your old Android phone's Google account. The data you previously backed up will then be synced to the account > Select the most recent backup > Choose the data to be transferred to the new device > To clone the files to the new Android phone, select the Restore option.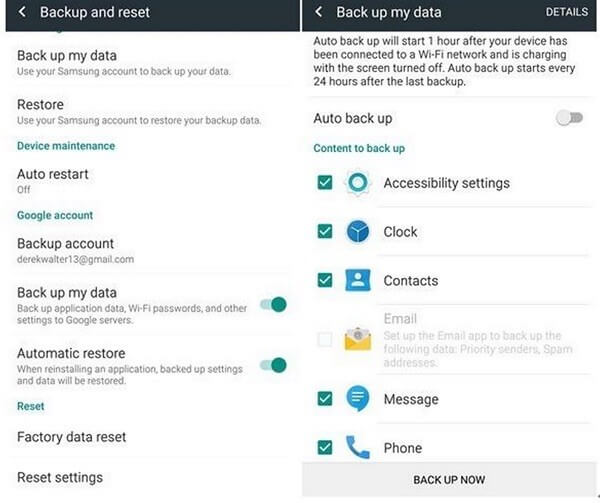 Method 3. How to Clone Android Phone via Bluetooth
Bluetooth is another option for cloning Android phones. It allows two Android phones to be wirelessly connected and data transferred between the two devices. However, the process is not as simple or time-saving as the previous two techniques, and you must monitor it constantly to avoid privacy leaks. It is also incompatible with apps.
1. Turn Bluetooth On (NOTE: Make sure the target phone is in discoverable mode).
2. Choose the new Android phone as the target device on your old Android phone > Enter the key that appears on both devices and begins pairing.
3. You can now transfer data between the two devices when they have been successfully paired and linked.
4. Go to the Files Manager on your old Android smartphone and select the data you want to move to the new device > press the Menu button, select the Share option > and select Bluetooth to transmit the data.
5. Set the associated phone as the destination device, and a request window will show on your new device. Click the Accept button to begin the transfer process.
Hot FAQs about How to Clone Android Phone
Q 1: How to clone android phone secretly?
How to clone android phone secretly? As previously said, FamiGuard Pro for Android is available for Android phones and is easy to use. Let's go over the simplest technique to clone an Android phone secretly without knowing in 3-5 minutes.
Q 2: How to clone an android phone to an iPhone?
If you want to transfer data from android phone to iphone, I would recommend Apple's official App - Move to iOS. Download Move to iOS on Google Play.
1. Place your iPhone next to that Android device
2. Tap Move Data from Android
3. Open the Move to iOS app
4. Wait for a code and enter the code on your Android device.
5. Connect to a temporary Wi -Fi network
6. Set up your iOS device
Conclusion
How to clone an android phone? That's all there is to it when it comes to cloning an Android phone. You can try all three ways before deciding which to use to migrate Android phones. Finally, as shown above, Part 1 - FamiGuard Pro for Android may be the best aid for cloning an Android phone. So, don't be afraid to give it a shot right now.
You may also be interested in:

By Tata Davis
professional in software and app technology, skilled in blogging on internet
Thank you for your feedback!