As a parent, it's natural to want to keep tabs on your child's phone usage. After all, you want to make sure they're not being bullied or engaging in other harmful activities.
Today, the rise of smartphones and the internet has led to new dangers for children. With a few clicks, they can easily stumble upon inappropriate content or make contact with strangers.
That's why it has become such an important necessity for parents to find the best apps to monitor their kids' phones and make sure they're not up to anything they shouldn't be doing.
In this article, we'll review four of the best apps for parents to use for monitoring their kids' phones in 2022. We'll also highlight key features that make each app more effective than the others.
1. FamiGuard Pro for Android
Not every parent is tech-savvy enough to understand how to use sophisticated phone monitoring apps. Many of these apps are confusing and require users to jailbreak or root their child's phone - something many parents aren't comfortable doing.
But you don't have to trouble yourself with all that - just download FamiGuard Pro for Android and you'll be able to do it without any fuss.
FamiGuard Pro for Android is a mobile phone monitoring app designed to help parents keep track of their kids' phone usage. It combines multiple monitoring features into one streamlined and easy-to-use dashboard that makes it a breeze to monitor your kids' activities.
Once the app has been installed on your child's phone, it will record the target person's activity and transfer the data to your own device. You can then view the information remotely and discreetly without them knowing.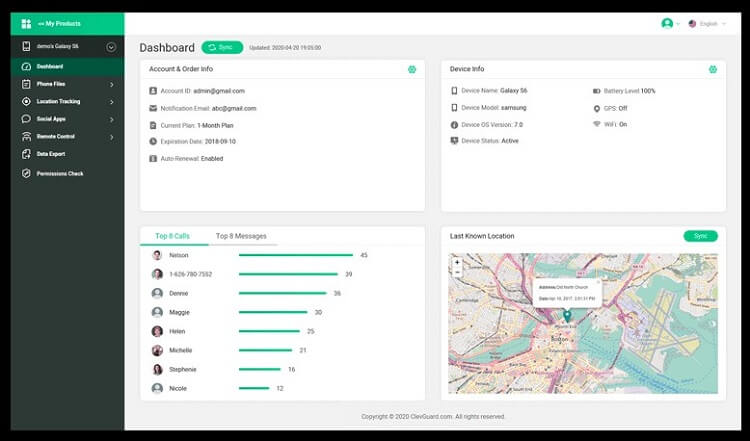 Supported Features of FamiGuard Pro for Android
FamiGuard Pro for Android offers a host of features designed to keep parents informed about their children's phone usage. Some of the app's key features include:
GPS Tracking: Track the current location of your child or view where they have been in the past. Set the app to send you alerts when they arrive or leave a certain location.

Apps Monitoring: Monitor your child's social media activity, check which apps are installed on their phone, and see how much time they spend using each app.

Call Recording: Remotely record phone calls made or received by your child. You can then listen to the recording at your convenience.

Internet Usage: Check out your child's web activity and see which websites they visit most often.

Calls & Messages: Monitor all incoming and outgoing calls, text messages, and contacts list of your child.
If you want a more comprehensive phone monitoring solution that not only lets you see how your kids are using the phone but also allows you to block inappropriate sites or apps, then mSpy is the app for you.
mSpy has been on the market for quite some time now, but its features have continued to evolve and improve, making it one of our top picks for parents to recommend as a phone monitoring app.
The app offers a variety of helpful monitoring features that will keep parents informed about their children's phone usage and make it easy for them to take the right action to ensure the safety of their children.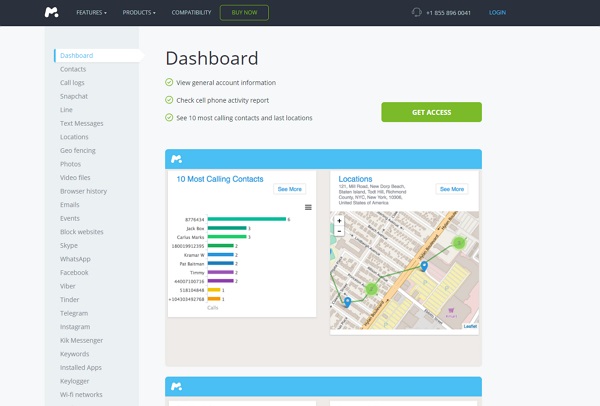 Supported Features of mSpy
This spy app has several useful features, including:
Remote Blocking: Remotely block specific apps or websites - all you have to do is push a button.

Screen Recording: Record the screen of your child's phone to see exactly what they're doing.

Social Media Tracking: Check out your child's social media activity, including their posts, messages, and contacts.

Location Tracking: Track your child's location with an easy-to-read map, or view their location history.

Emails Reading: Monitor the emails with attachments that your child sends and receives - even if they're deleted.
3. uMobix
uMobix is a brand-new player in the market for phone monitoring apps but has quickly made a name for itself thanks to a long list of its innovative and reliable features.
With the uMobix app, you can track your child's digital life without them knowing. It works with both iOS and Android devices and has several key features that parents will find useful.
uMobix is designed to provide parents with every bit of information about their child's phone activity under one roof. Plus, it has many unique features that no other app in its class can match.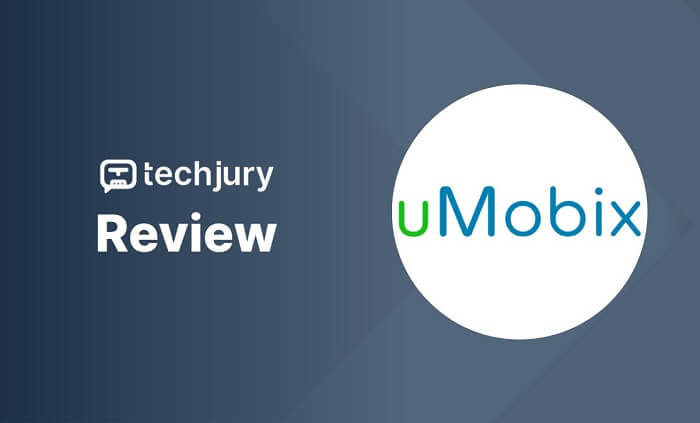 Supported Features of uMobix
Here are some of the features that make uMobix unique:
Control Settings Remotely: Control the application settings on your child's device from anywhere and anytime.

Apps Time Recording: Know how much time your child spends using a specific app on their phone.

Delete or Restrict Apps: Remotely remove or restrict unwanted apps on your child's phone.

Emergency Device Block: In case of an emergency, remotely block your child's device with a single click.

Deleted Calls & Messages: Even if your child deletes their calls and messages, you can still view them with uMobix.
4.Spyzie
For those who don't want to spend hours brainstorming complicated and advanced phone monitoring features, Spyzie is the app to recommend.
Spyzie is yet another phone tracking app that provides limited but all the essential features to help you monitor your kid's online activities on their favourite devices.
The app syncs data from your target's device in real time, so you can always stay up-to-date on their latest phone activities. Plus, you can rest assured that your data is safe as your child's activity is encrypted by world-class security measures.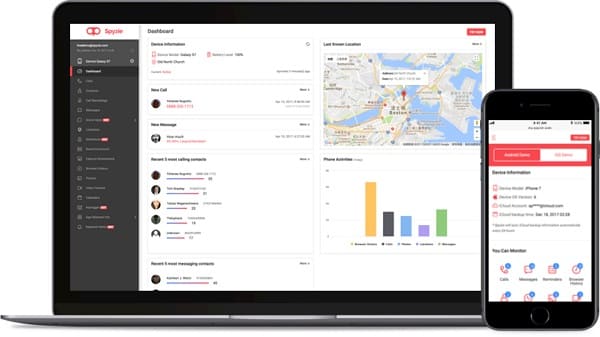 Supported Features of Spyzie
A few of the basic but essential features offered by Spyzie are:
View Call History: Check the call history of your target device to see who they've been talking to and for how long.

Screenshot Viewing: Take regular screenshots of your target device to get a visual overview of their activities.

Keyboard Logging: Spyzie will log all the keystrokes made on your target device, so you can see everything they type.

SIM Location Tracking: Get instant alerts about any changes in your target device's SIM card location.

Gallery Viewer: Check out all the photos, videos and other files stored on your target device and download them if you want.
Conclusion
Today's children are growing up in an era of digital technology, and with it comes new threats. This makes the job of parenting a lot harder, but also more important than ever.
However, thanks to the proliferation of advanced monitoring apps, parents can now keep track of their kids' online and offline activities for a safer experience.
The apps we have discussed in this article are excellent options for monitoring your child's phone activity. However, FamiGuard Pro for Android is our top pick thanks to its combination of powerful spying features, ease of use, and affordability.
You may also be interested in:

By Tata Davis
professional in software and app technology, skilled in blogging on internet
Thank you for your feedback!