Tracking a phone if lost is a real hassle, but it is more of a security risk. So if you want to track your phone and want to protect your phone from getting hacked, here are some quick yet simple methods to know how to track Samsung Phone from iPhone. While it is easy to track phones, most of you don't know which way is the best. So, stick around to find out more about it.
Method1: Using "Find My Device" to Track My Android Phone
"Find My Device" is an app on the Google Play Store, making it easier for users to track their phone locations with its simple and easy-to-use interface. Even so, some of the most basic features are missing, yet it is of great use. You will need to follow the steps below to download and use the Find My Device app on your Android device.
Step 1:
Firstly, on your Samsung Phone, download and install the Find My Device from Google Play Store to track location online for free.
Step 2:
Once the installation is all done, you need to sign in to the app with your Google I'd on the phone you want to track. And click on the Next button.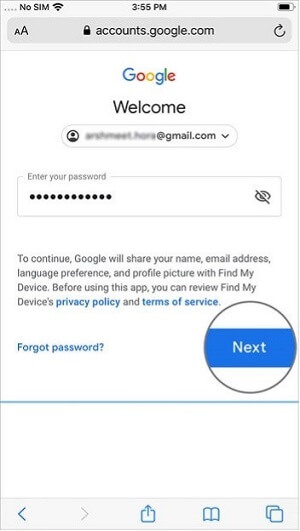 Step 3:
It will now redirect you to the "main page device." And here, you'll see the required information of your device for tracking.
Step 4:
Click on the "Location tag" button on the map and a new window will popup containing info about your device.
Step 5:
Now, you can track and locate your Samsung phone from your iPhone.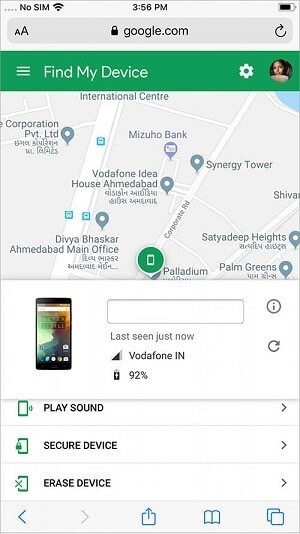 But, there are some limitations to using "Find My Device" to track an Android phone.
Method2: Using the "Find My Mobile" Feature
Samsung offers a great way to track lost or stolen devices with its "Find My Mobile" feature. It allows users to track the location of their phones in an instant. This feature is free to use, erases all the data remotely, and has much more to do. The best part is it works even if the phone is offline. So, here's how to track a Samsung phone from an iPhone with this feature.
Step 1:
Firstly, open a browser and go to Samsung's "Find My Mobile" page. And key in with your Samsung account linked with your phone.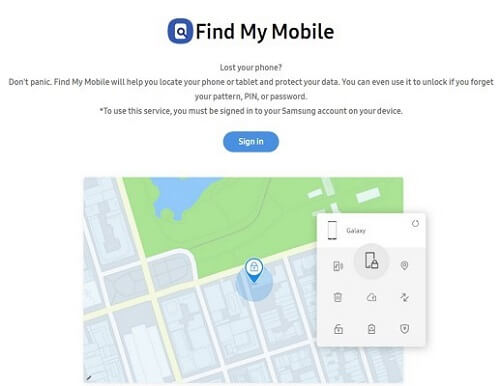 Step 2:
From the left-hand menu on the screen, click on your phone device.
Step 3:
On the right-handed side of the screen, hit on the "Lock My Device" and here, you've to put a temporary password for your device in the given text box.
Step 4:
Lastly, press the lock button again. And wait until your phone gets offline, and then hit the "Locate My Device" button.
And it is all done! Your phone's location must be on a map at the bottom of a page.
Method3: Track lost Android Phones with FamiGuard Pro for Android
Famiguard Pro for Android is the best app to track your phone without any hassle. Using this app, you can track your phone remotely in real-time. With its easy-to-use interface and free updates, you can start working in minutes!
So, to find out how to track Samsung Phone from iPhone with FamiGuard Pro, you need to follow these steps.
Step 1:
With your Google account, register a FamiGuard Pro account by tapping a "Monitor Now" button. And here you can pick a plan as per your need.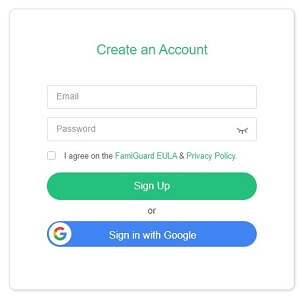 Step 2:
Now, it will take you to the new window where you can tap on "Setup Guide." Then carefully follow the steps to complete the required configuration on the device.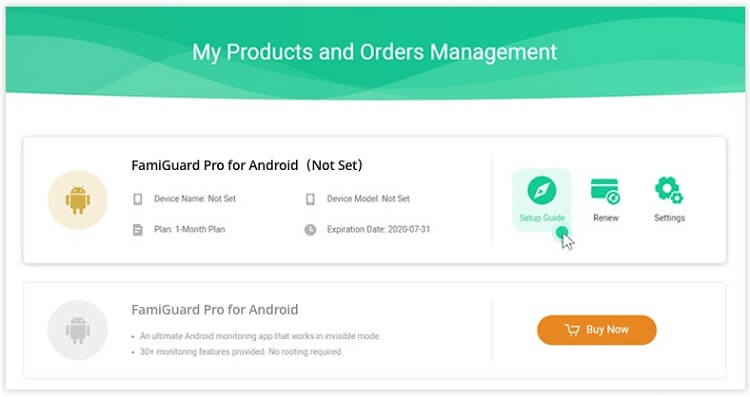 Step 3:
After that, allow the target device to run for five minutes. And then, you will need to confirm the download of the FamiGuard Pro assistant.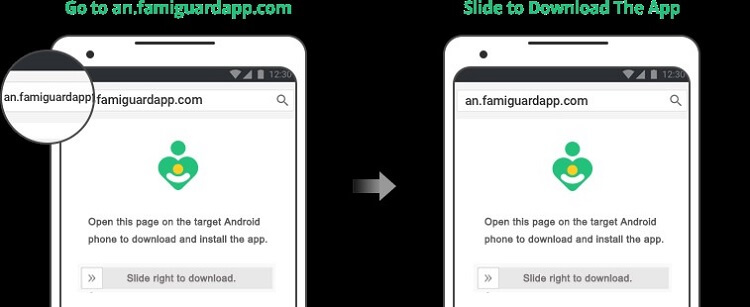 Step 4:
Lastly, navigate the dashboard on the device and log into your Google account. And you can now monitor the target Android device's activities.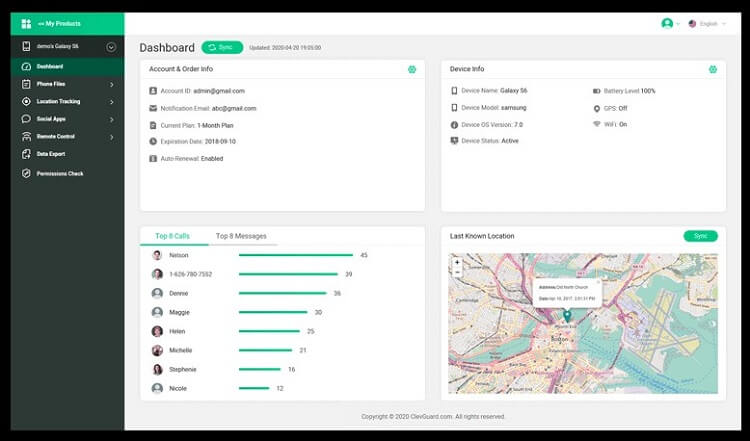 Method4: How to Find My iPhone Android with Buddy Locator
Another tip to track Samsung Phone with an iPhone is Buddy Locator. It's an online website offering location tracking services. The key feature of this app is that it helps you track device location simply by entering its mobile number. Also, it allows the user to track the Samsung phone from an iPhone for free. And here is how you can use it.
Step 1:
Firstly, go to the web browser on your iPhone and search for https://buddy-locator.com/.
Step 2:
Now, you'll see the homepage of the Buddy Locator. And here, on the right side of the screen, you'll find the device's location.                   
Step 3:
After that, pick the country from the list and put in the mobile number of the target device.
Step 4:
Then click on the "Locate Mobile Phone" button.
Step 5:
Lastly, wait for a while until the target device location appears. And once it completes the searches, you'll see the target device on the map.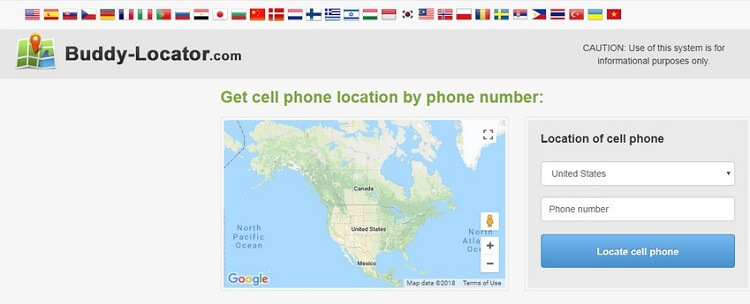 Method5: Find lost Android with Life360
The Life360 app is a location-tracking app that helps you locate lost Android phones quickly. Thanks to its location-sharing feature, it offers you to stay connected with family and friends. So, here's how to track a Samsung phone from an iPhone with this app.
Step 1:
From an Apple or Google Play Store, download the Life360 app. It is available for Android and iOS (Free and in-app subscription).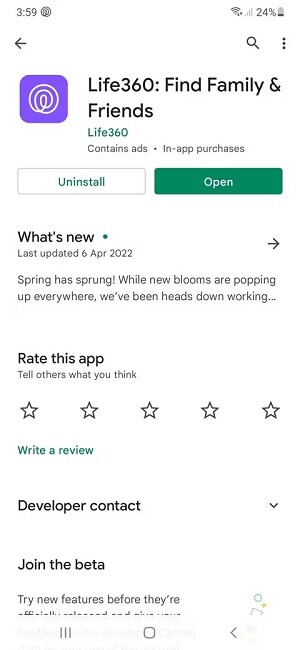 Step 2:
Once the download is complete, you'll see two options right away. So, click on the "Get Started" button to create an account using your mobile number or log in if you've already an account there.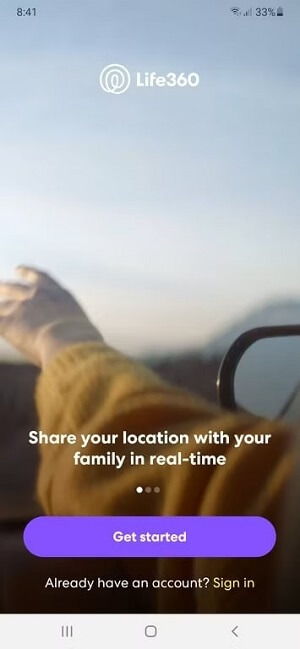 Step 3:
Now, the app will ask you to share your location through physical tracking using your phone's sensor or GPS. So, press and continue to allow the functions to run.
Step 4:
Grant permissions, enable the necessary features, and create a circle on the app.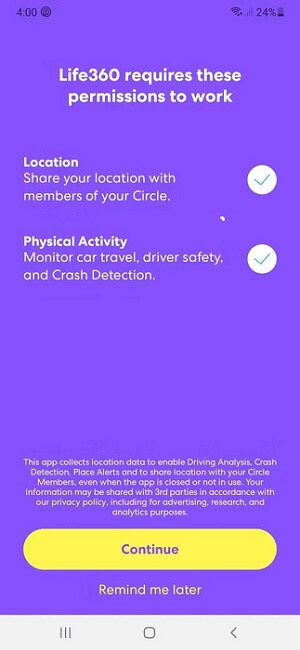 Step 5:
And lastly, you'll see the location of your device.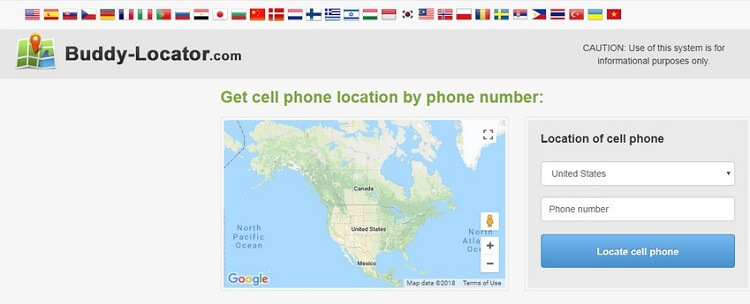 Conclusion
Thanks to the availability of many tracking ways, it is now easy to track Android phones. So, you can track your phone device if it goes missing by using our effective solutions. However, if you turn off the GPS location on the target phone, it'll be a little hassle to track it. But in that case, you can use apps like "Famiguard Pro for Android " to instantly track the phone. We hope that these five simple methods will help you know how to track a Samsung phone with an iPhone.
You may also be interested in:

By Tata Davis
professional in software and app technology, skilled in blogging on internet
Thank you for your feedback!