The idea of location sharing is very useful. It helps to keep a careful watch on your family and friends due to the safety aspect. The world has become a very dangerous place and sending them your ETA or just the travel plans can greatly reassure us. If something ever goes wrong, you will at least know that the help is on the way.
But the problem is, most of the users do not know how to share location on Android. Well, don't worry, we have discussed 3 best ways to do it in the article below.
Table of Contents
Way 1: Share Location on Android with Google Maps
If you want to share location with friends, one of the easiest ways is to do it via Google Maps. The use of Google Maps will be very convenient for you as you can not only share location between Android devices but you can also share location from Android to iPhone as well. Considering the iPhone has Google Maps installed.
Here's how Android share location with friends using Google Maps;
Step 1: Launch Google Maps on your smartphone.
Step 2: Then, tap on the "Hamburger Menu", visible at the top left corner of the device and select "Share Location" option.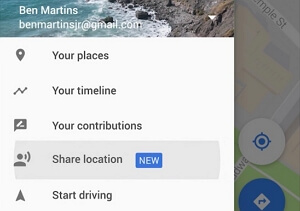 Step 3: After that, tap on "Get Started".
Step 4: Then you have to use the "+" icon just select the period of time you will be sharing the location.
Step 5: Now, it is time to select the people with you will be sharing the location. Tap "Select People".
Step 6: After tapping on that option, you will see a list of contacts whom you contact very frequently. You can choose the contacts by tapping on their names.
Step 7: After choosing the contacts you need to tap on "Share" in order to share the location.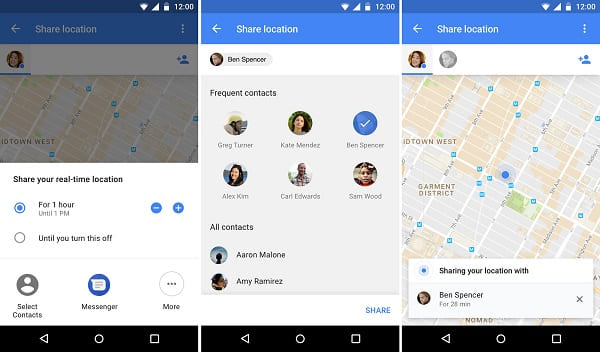 After tapping on that "Share" option you will receive a notification stating that the selected contact can now view your location. This is the simplest way to share your locationbut there are also other ways and other apps you can use for location sharing.
Way 2: Android Location Sharing with 3rd Party Apps
Keeping aside Google Maps, there are several other 3rd party applications designed for convenient location sharing. These are all exceptional apps and has a huge follower base. So, besides Google Maps, these apps really are genuine options for location sharing and tracking.
Let's have a look into the top 5 independent apps selected by us.
1. Glympse
Glympse is a great location sharing app. It is available on both Android and iOS devices. You can use this app to share location between Android and iPhone and it is very convenient. The location sharing happens in real-time but after a certain time the location sharing will be turned off automatically. It never gets posted permanently.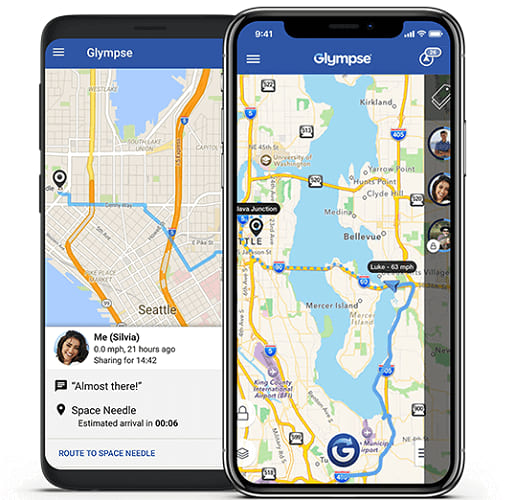 2. Foursquare's Swarm
Foursquare's Swarm was launched in the year 2010 and back then it was the best location sharing app available. But since then, the app has changed a lot. The main version of the app is still available for grabs but the new version of the app is called "Swarm" and it is designed with social networking properties in order to discover notable places around you. But the original version still is one of the best location sharing apps.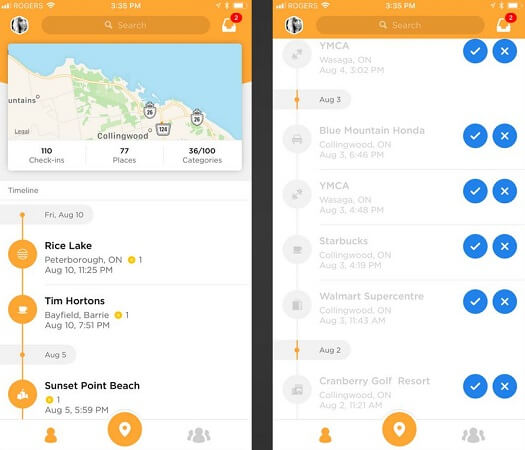 3. Find My Friends
Find My Friends is another top independent location sharing app. There is an app with the same name for iOS devices but they are developed by different companies. So, don't get confused! This app offers numerous features including location sharing. There is a free and a paid Premium version of the app available.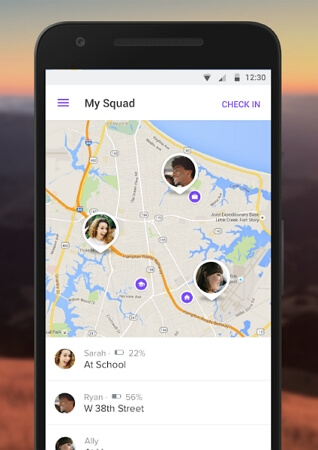 4. Life360
Life360 is kind of similar to Find My Friends. It is all about location sharing with your friend and family members. You can sync your family or friends into private separate circles which can be managed easily. There is a messaging service available as well which is very convenient. You also get smart notifications feature which notifies you if your family members visit a common place or someone's battery is low etc.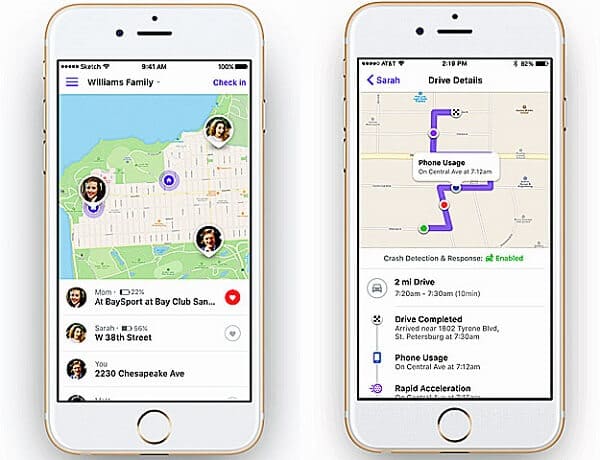 5. Pathshare
Pathshare is an excellent app that lets you share your current path in real-time. It has a simple and elegant design that makes the location sharing experience safe and easy. You can control how long you want to be seen by other people but it also automatically stops showing location after the allocated time is finished.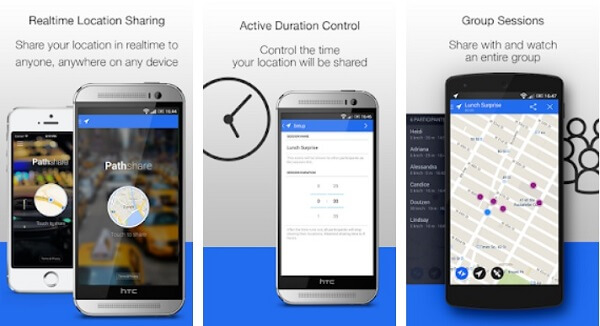 So, if you were concerned and asking "how to share my location?" then you don't have to worry anymore. All these discussed apps are very effective location sharing apps and you can use any one of them in order to share it.
Way 3: Share Your Location in Facebook Messenger
Another way to share your location with friends is via Facebook Messenger. Basically, when you are sharing your live location, only the people in that conversation will be able to view it. The live location sharing gets turned off automatically after the partner stops sharing. The procedure use share your location via Facebook Messenger is very simple.
Step 1: So, open Facebook and go to Chat.
Step 2: Open a conversation with whom you want to share your location.
Step 3: After that, tap on "Location" followed by a tap on "Share Live Location".
Your location will be shared immediately with that person. But if you want to stop sharing location, then you have to do the following;
Step 4: Open Facebook and go to "Conversations".
Step 5: Scroll and look for the message where you shared your location.
Step 6: Just tap on "Stop Sharing".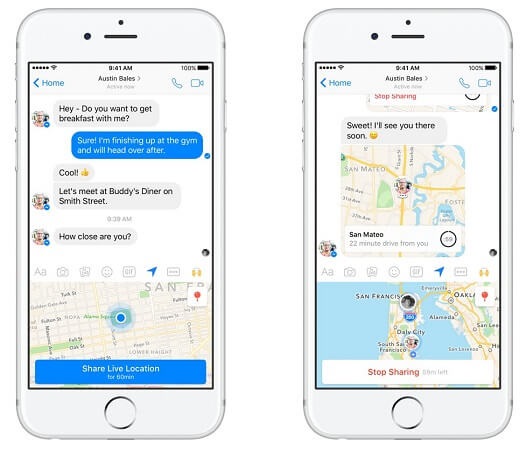 This is another simple but effective way to share your location on Android
Extra Tip: How to Track Location on Android
The discussed methods and even the listed apps are excellent for location sharing but these apps are not equipped with the features to deal with a situation where the owner of the target device is unwilling to share their location. So, in this case, you will need a proper location tracking app rather than an Android location sharing app.
And if you are wondering which one to go for, we are here to help. The best tracking app for this job is FamiGuard Pro for Android. It is exceptionally powerful and provides with accurate coordinates of the target device.
FamiGuard Pro for Android is a powerful Android location tracking app, it does not work with iOS devices currently. Here are a few advantages of using FamiGuard Pro for Android as your tracking app:
The location information provided by the app is very accurate and the tracking is done in real-time.

FamiGuard Pro for Android tracks the location every few minutes so the location history is also available alongside the real-time location.

This app takes advantage of the built-in GPS. It uses state of the art algorithm and 100% safe to use

As a top tier product, FamiGuard is also equipped with Geofence. You can create virtual fences and you will be notified if they are crossed.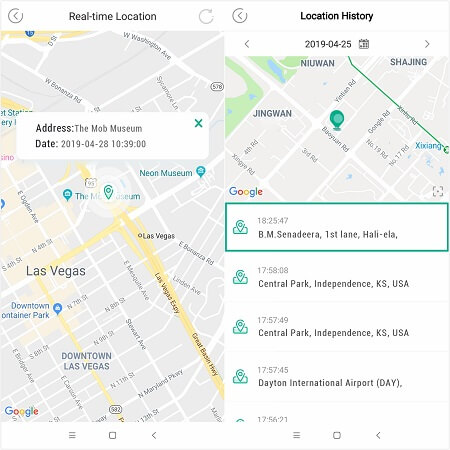 Conclusion
Sharing your location to your close ones is a great idea. Most of the users have no idea how to do it. Thankfully, we have discussed the 3 most effective ways to do it. The Google Maps and the Facebook Messenger options are excellent; if you are still looking for a better option then you may find it in the 5 listed apps on the article.
And on the other hand, if you want the best way to track location of Android devices, go forFamiGuard Pro for Android . Even if the other person is not sharing their location detail, you can still have a constant eye on their locations with this app.
You may also be interested in:

By Tata Davis
professional in software and app technology, skilled in blogging on internet
Thank you for your feedback!