Ever find yourself wondering where someone is or if they've arrived at their destination safely? Or maybe you want to track the location of a family member for peace of mind?
In any case, you can easily track and monitor a person's movements with the help of Google Maps. The app allows you to see where your friend or loved one is at any given moment.
In this guide, we'll walk you through the steps of how to see someone's location on Google Maps. We will also share with you a few of our favourite apps for tracking someone on Google Maps without the other person knowing.
Table of Contents
Part 1: How to Track Someone on Google Maps after They Share Their Location With You
Google Maps gives you the option to share your location with others by enabling the "Location Sharing" feature. You can also set a time frame for sharing that information, as well as limit who will receive your updates.
You can also use this feature to track someone else's location on Google Maps. All you need is for the other person to enable this feature on their phone and allow you to see their location.
1. How to Enable Location Sharing on Google Maps
Setting up location sharing on Google Maps is simple. Just make sure that the other person you want to track has the Google Maps installed and is signed into their Google account.
Next, you need to access their device and follow the steps below to turn on location sharing. Once done, you can see where they are at any time from your own device.
Step 1: Open the Google Maps on target's device and tap their profile pic (top right corner).
Step 2: Select "Location Sharing" from the menu, then tap "Share Location" on the next screen.
Step 3: Select how long you want to share your location and who you want to share it with.
Step 4: Tap on the "Share" button to start sharing the location.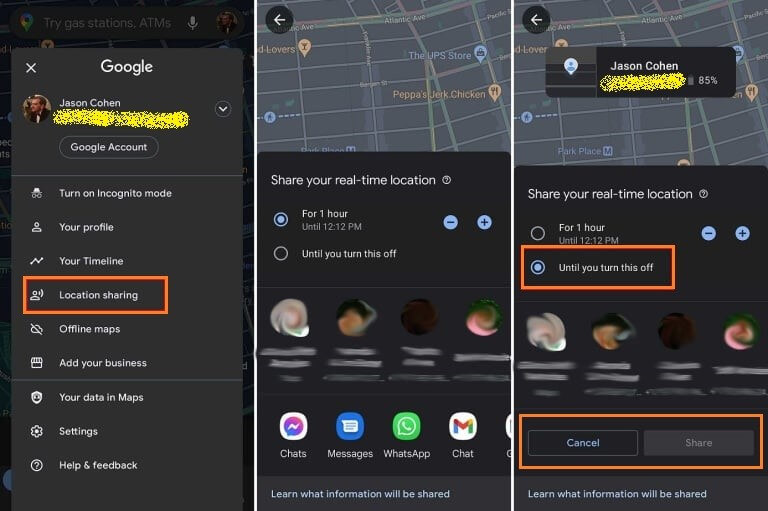 2. How to Track Someone on Google Maps
Now that you have enabled location sharing on the target's phone and allowed yourself to see their location, you can track their movements by opening the Google Maps app on your own device.
Here's how you can do that:
Step 1: Open Google Maps on your own device and tap your profile picture.
Step 2: Select "Location Sharing" from the menu.
Step 3: Select the person whose location you want to track from the available list.
Step 4: The map will now show the real-time location of the person you're tracking.
Part 2: How to Track Someone on Google Maps Without Them Knowing
Unfortunately, Google Maps doesn't have a feature that would allow you to track someone without them knowing. Every time a user shares their location with someone else, they will receive a notification letting them know that their location is being shared.
But if you really want to keep track of someone's location without them even knowing, there are a few workarounds that can be used. In the next section, we will share with you some of the best apps that make it possible to track someone's location without their knowledge.
1. FamiGuard Pro for Android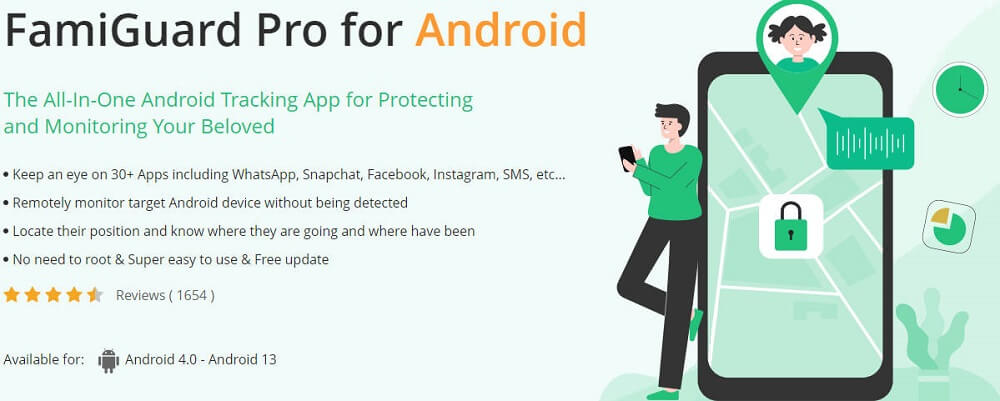 FamiGuard Pro for Android provides you with the easiest way to track someone on Google Maps without worrying about being caught. This app is specifically designed to help parents keep tabs on their kids' whereabouts from anywhere and anytime.
FamiGuard Pro gives users a complete overview of the device's location and coordinates, along with a map of its location, complete address, and time stamp. It can also be used to set a safe zone around the target device and get alerts whenever the device enters or exits that zone.
Best Features:
The app icon remains hidden to avoid detection
Real-time GPS & Wi-Fi location tracking system
Accurate report of the target device's location history
Geo-fencing to set up safe and dangerous zones
Monitor the target's device status and usage habits
2. pcTattletale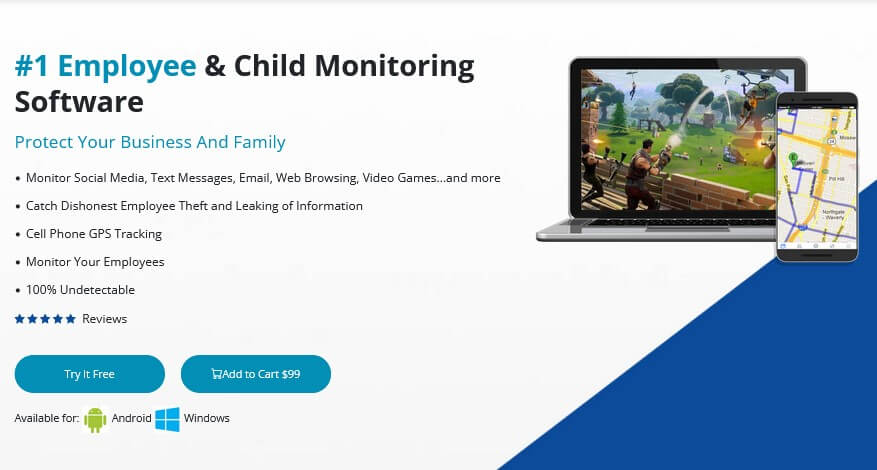 PC-Tattletale is a very basic yet effective app that can be installed on the computer or Android device of your loved one and used to monitor their activity. The best part about this app is its ability to record videos and screenshots remotely.
With the help of PC-Tattletale, you can view the location history of a target device and its current location in either Map or satellite mode. The app will log the phone's current location every 15 minutes and allow you to view it later from your online dashboard.
Best Features:
Track the location In both a map and satellite view
Get real-time location updates on the target device
Daily phone usage activity report & video playback
Live recording of your target device's screen usage
3. TiSPY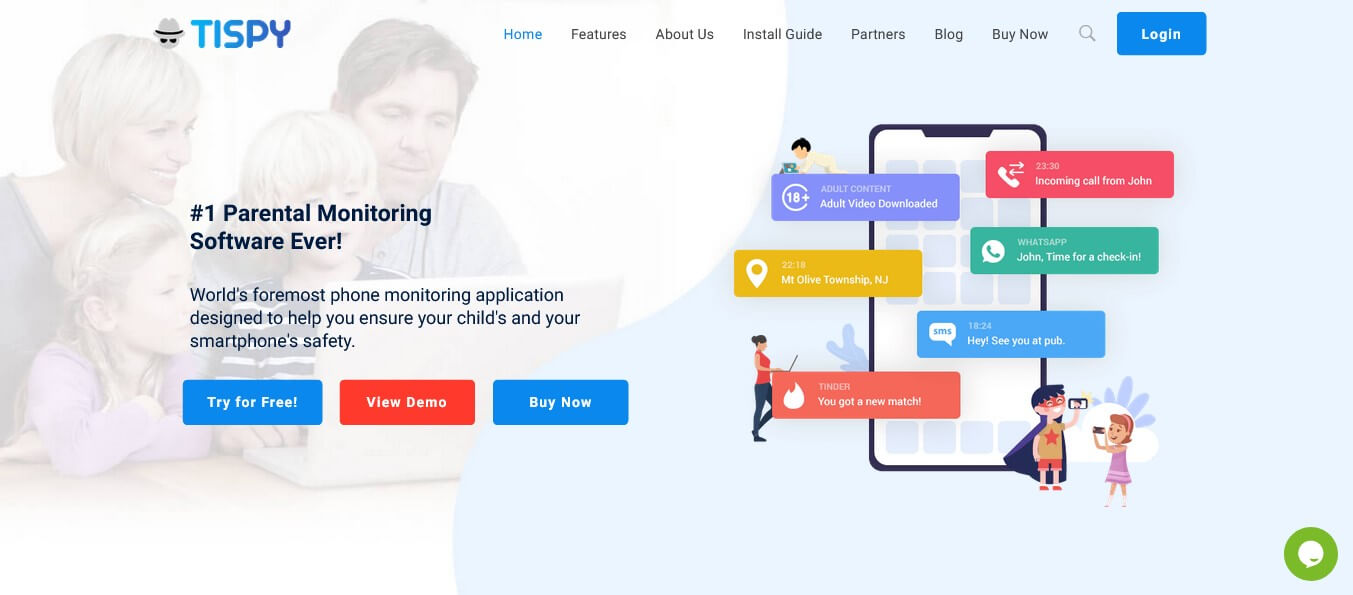 TiSPY is a powerful monitoring app that allows you to discreetly watch all the online and offline activities of your family and friends. It comes loaded with a number of advanced tracking features that make it easy for you to stay up to date with everything happening on the target device.
Another great thing about TiSPY is that it has a live location tracking facility that shows you the device's current location on a map. You can use this feature to see if your kids are being honest about where they are or if they're hiding something.
Best Features:
Filters out all locations visited with actual dates
Check out the previously visited routes & locations
Set geo-fencing & get alerts directly to your Email
Get notified whenever the target switches SIM card
4. CocoSpy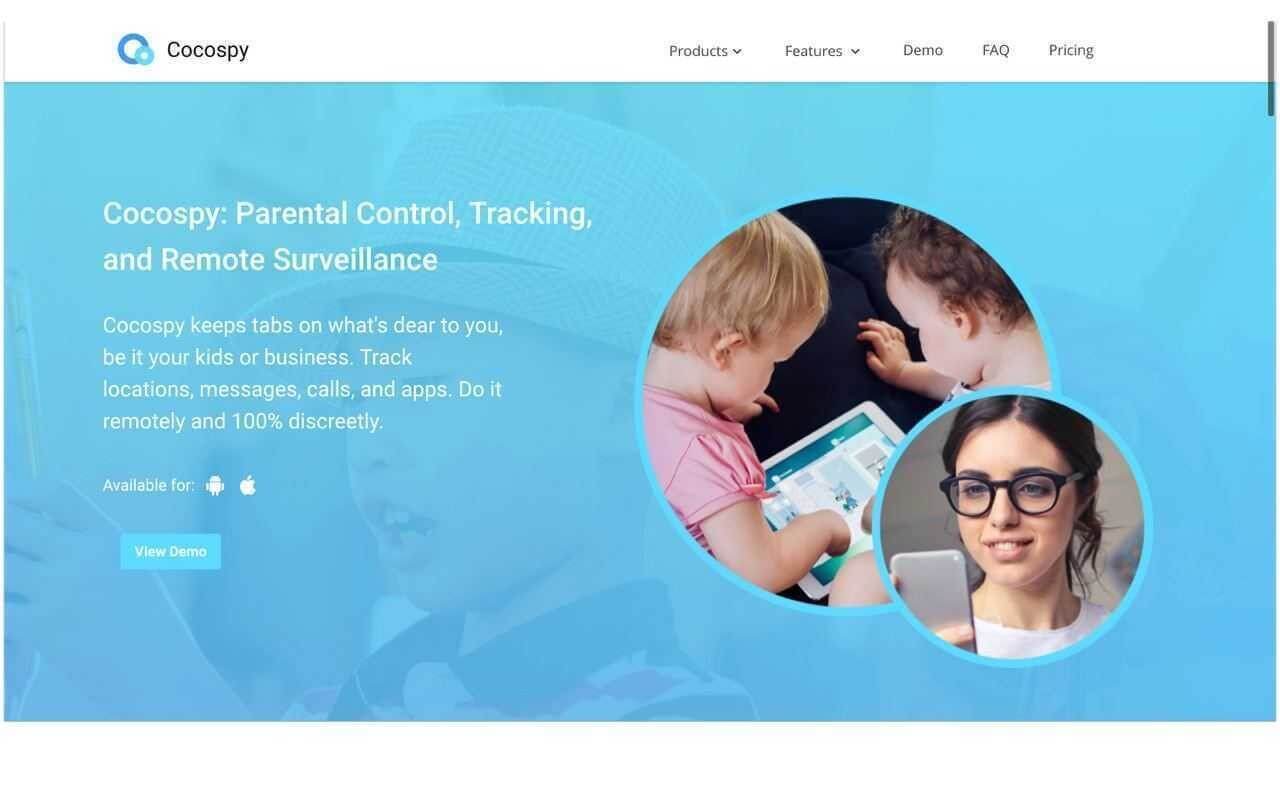 CocoSpy is a well-known phone tracker app that gives you the ultimate power to spy on your employees or family member's phone activity. You can see where they are, who they're talking to, and what they're doing at any given time.
This app is designed to work remotely and in complete stealth mode. You can receive real-time updates about your target's location, activity, and phone usage. These updates are sent directly to your online dashboard, where you can view them anytime, anywhere.
Best Features:
Get SIM Card status, location and change alerts
View the target's location based on GPS & Wi-Fi
See the time of each location's entry and exit
Details about addresses & geographical coordinates
Part 3: FAQ
Q1: How to stop tracking someone on Google Maps on your phone?
You can stop tracking someone's location on your map by asking them to turn off location sharing, or by hiding their location from your map.
To hide their location on your map:
Step 1: Go to the "Location Sharing" settings.
Step 2: Select the person whose location you want to hide.
Step 3: Tap the three vertical lines, then select "Hide [name] from map."
Q2: Why can't I see someone's location on google maps?
Sometimes, even when the other person has given you permission to track their location, you can't see it. The reason for this could be anything from:
Poor internet or data connection
Outdated version of Google Maps
Not having an accurate date & time
Haven't allowed Google Maps to use location
The other person has turned off location sharing
Make sure to check these things. If the issue still exists, try rebooting your phone and clearing the app's cache. You can also try to reinstall the app.
Conclusion
Even though Google Maps presents a very convenient way to track someone's location, it is important to remember that this can only be done if the person has allowed location sharing.
If you're looking for a more comprehensive way to track and monitor someone's location without the target knowing, consider using a tool like FamiGuard Pro for Android. It lets you track the target's location in real time, see where they've been in the past, and set geo-fencing alerts.
Try it out today for ultimate peace of mind!
You may also be interested in:

By Tata Davis
professional in software and app technology, skilled in blogging on internet
Thank you for your feedback!