Losing phone is a nightmare indeed, as it contains a lot of personal and other important data. Luckily, tracking a Google cell phone is quite easier than any other phones, as Google provides an inbuilt Google phone tracker. That is Find My Device known by many. With this feature on, your cell phone location is constantly be uploaded to Google's Server so that Google knows where your device is. Besides, you can also track Google phone using other apps available one the Play Store. Below we will discuss all possible ways one by one.
Table of Contents
How to Track a Lost Google Cell Phone
Tracking a lost Google phone is easier with the inbuilt tools that come with the smartphone. These features are provided by Google and at no cost, so that you can find the missing phone and protect your data in the first time.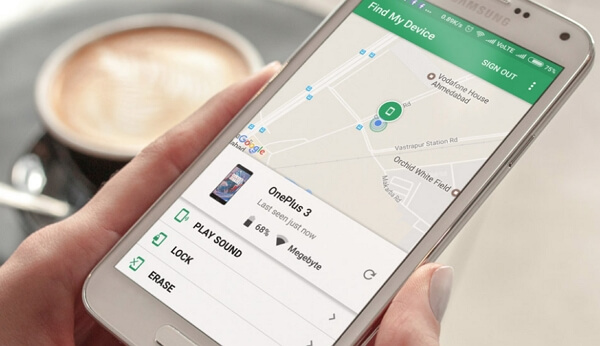 Way 1: Track Google Cell Phone Using Find My Device/Android Device Manager
One of the easiest solutions is Find My Device app (previously known as Android Device Manager). You can see the location of your Google phone after logging in. In case the location service on the missing device has been turned off, then the app will show the last location. The additional features like playing a sound and navigating to your device with Google Maps will all increase the possibility of finding your lost phone.
Requirements for Find my Device app
You need to have the app installed in the phone and signed in the Google account.

Your lost device should have location services turned on.

Your lost device should be turned on for location tracking.

There should be a steady network, either mobile data or Wi-Fi, to send signals.
Steps to follow:
Step 1: First, install the Find my Device app on another Android device.
Step 2: Open the app.
Step 3: Log in the Google account that you have used in the lost phone.
Step 4: Hit continue.
Step 5: Enter password and then do sign in.
Step 6: Give the location access to the app.
Step 7: Then select your device.
Step 8: Get the approximate location of your lost device.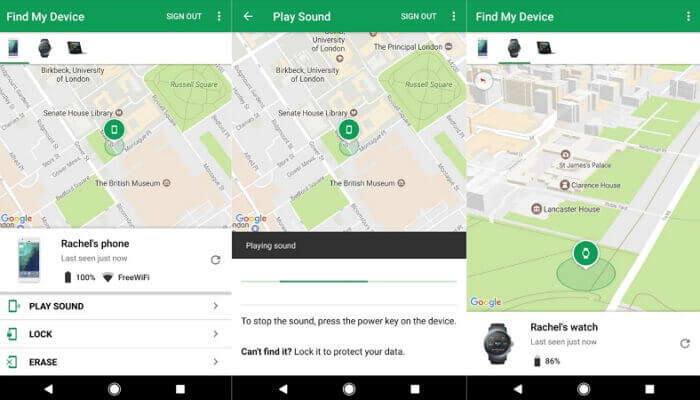 If you don't have any extra Android phones, you can go to android.com/find on any browser of your computer or tablet. Then sign in to your Google account and track the location from the map. But, in case, the target device doesn't have a steady internet connection or its GPS is turned off or it's switched off, then you can only visit the last known location provided by Google Find My Device. And in the worst case, if you are unable to find your device, then you may consider erasing your data from the lost device so that no one can access your data. This is one of the ways in which you can perform the Google cell phone tracking.
Way 2: Track Google Phone with Timeline
Google Maps Timeline is another feature that comes handy. If you can use it to the right way, it helps a lot. As the name suggests, the Timeline will show where your phone has reached. By following this technique it will give the names of the places, through which it had gone. In one word, it will show you the history of the place through which the phone had gone right on the map itself and you can use this information to find the lost Google phone. This Google phone locator is of great help if the above method doesn't work.
Steps to Follow:
Step 1: Take another Android phone.
Step 2: Open the Google Maps app and sign in your account.
Step 3: Go to menu and select Timeline.
Step 4: Tap on calendar and swipe either left or right to switch to the day when you lost the device.
Step 5: Then swipe either left or right.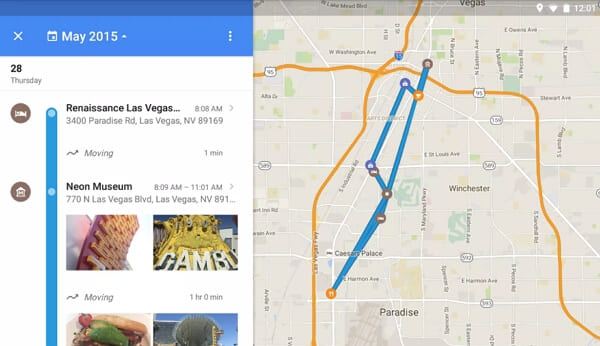 Certainly, the ways mentioned here have some limitations. So, it's not certain that you will get your lost device back. You can just hope for the best and prepare for the worst. Don't forget to inform police and your service provider as soon as possible. They can also help you to track Google phone.
How to Keep Tracking Google Cell Phone in Real-time
The above mentioned apps do give the location of a Google phone. But not in the exact way that might have wanted. As these just shows the location based on the history or locations services. If you really want to track the real-time location of your kids, friends or partners, you need to use better Google phone tracker apps. The ways for real time Google cell phone tracking are mentioned below.
Way 1: Share Real Time Location on Google Cell Phone
Google Maps allow users to share the live location with a contact and decide for how long the location sharing can be used, which means, you can ask the target device to share the real-time location with you, or you can simply send a request asking for their location.
Steps to follow:
Step 1: Open the Google Maps.
Step 2: Go to Menu and select Location sharing.
Step 3: Tap Add people and decide how long for the real-time location sharing.
Step 4: Tap Select People (here, it should be yourself from if you want to track the location).
Step 5: Give access to Google Maps if asked.
Step 6: At last, tap share and you will be able to see the location of this Google phone on your own device.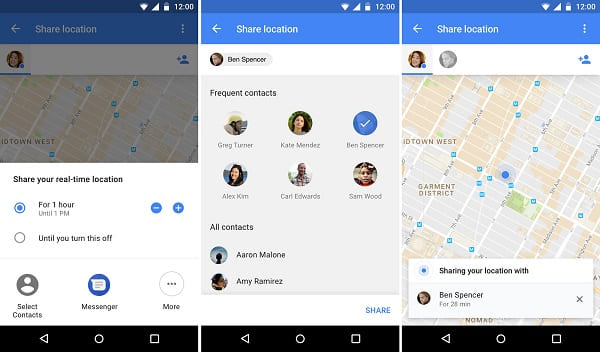 Attention: Important Information about Google Location Sharing
Thus, you have known how to do Google cell phone tracking in real-time. But this method has some certain disadvantages as well.
1. The target will be notified as there will be a notification on both devices.
2. The location sharing can be stopped at any time.
3. They can choose ignore your request or even block you. And you cannot ask for their location anymore.
Way 2: Locate Google Phone Using A 3rd Party Tracker App
If you think the above techniques are not that efficient for you to track the live location of Google phone, we got your another solution. This is by using one of the best tracker apps, known as FamiGuard Pro for Android. It exactly tracks down the location and provides you the whereabouts of the device on digital map. It also has special geofencing integration that allows you circle a place and get direct notification when the phone location appears in it.
Why choose FamiGuard Pro for Android instead of Google Location Sharing
It Will Not Notify the Target Device that you are tracking their location.

Once installed, it's protected with password. Unless you agree to uninstall, it's hard to get it removed.

The location is updated in Real Time, and you can also check a full list of location history.

If you set up Geofence Feature, it will automatically notice you when the target device appears in a location you specified.

Map view provided with clear date and time stamp as well.

No Rooting Process is required for app to work. The installation and setup are quite easy to follow.
Steps to follow:
Step 1: First you need to register for a FamiGuard account from the website or by on the phone where you have already downloaded the FamiGuard Pro for Android.
Step 2: Then on the Google phone that you want to track, download the FamiGuard Pro for Android and log into your account. A proper configuration is required for this app to work, just follow through the instructions displayed on the app interface.

Step 3: Finally, open the FamiGuard Pro for Android downloaded on your phone or simply visit the web dashboard. Then you can start monitoring the location of the target device. You can also check the location history of the target device from the left control panel.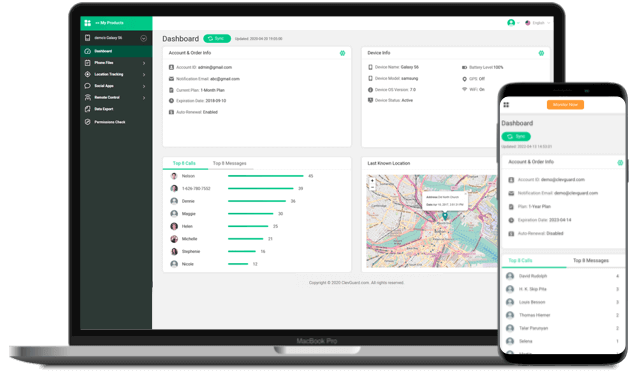 Conclusion
Tracking a Google phone is easy if you know the right techniques of using most of the inbuilt features. But it is not that effective as you might have thought of it. Among all the mentioned ways, FamiGuard Pro for Android provides real time as well as the most accurate location data. Thus it can be an ideal Google cell phone tracker app. So after reading this article, you can be 100% sure that Google Cell Phone Tracking isn't very hard anymore. If you have any quesitions, leave you comment below.
You may also be interested in:

By Tata Davis
professional in software and app technology, skilled in blogging on internet
Thank you for your feedback!