Tired of constantly calling or texting to check on your loved ones? Say hello to android phone tracker apps! We've scoured the internet and compiled a list of the Top 12 android phone tracking apps for 2023. With these apps, you can easily track your loved ones' location in real-time, no matter where they are. Stay connected and worry-free with these reliable and highly-rated apps!
FamiGuard Pro for Android tops the list of real-time location tracking apps and is widely regarded as the best phone tracking app for Android users. The app uses a built-in GPS and Wi-Fi location tracking technology that is updated whenever the target device connects to a network. The location readings are updated within a few minutes and with incredible precision, making it an excellent option for those who need accurate location tracking.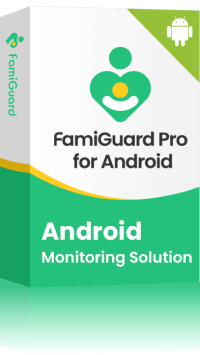 Amazing Features of FamiGuard Pro for Android
Track GPS Location: It allows you to view other's  real-time GPS location without them knowing. and it also records historical locations.

Records Historical Locations: FamiGuard can record and display location history, including address, longitude, latitude, location time, and map view.

Set Geofence: You can set up geofences and it will send you an alert if the target goes outside the range you set.

Monitor App: It will monitor the apps on the target device, including Facebook, WhatsApp, Snapchat, Instagram, etc.

View Files: It allows you to view files and data of the target device, including call logs, contacts, photo albums, Keylogger, browsing history, etc.
Pros

This app is totally undetectable! No concerns about being caught.

The history of locations covered by the target device is available. You can always know the route history travelled.

You can easily specify a location and set up Geofence to know the entry as well as the exit points.

Remote tracking can be done from any smartphone or computers.

The app also provides many other tracking options, such as app activity tracking, screen time tracking, and web history tracking.

The price is affordable for most users.
Cons

This app is not available for iOS devices.
2. Life 360
No need to worry for your love one's whereabouts, the most awaited free tracking app for Android and iOS – Life 360 will allow you to create a circle of your friends and family, and then you can use the circle to track them together.
The app is successful in providing the user with the real-time location of their phones. Life 360 has been successful in turning quite some heads in the market, due to the user-friendly interface and efficient tracking of the target device. It uses a built-in GPS location technology to efficiently locate you and your loved ones. When the circle member arrives or leaves certain places, you will also get instant notifications.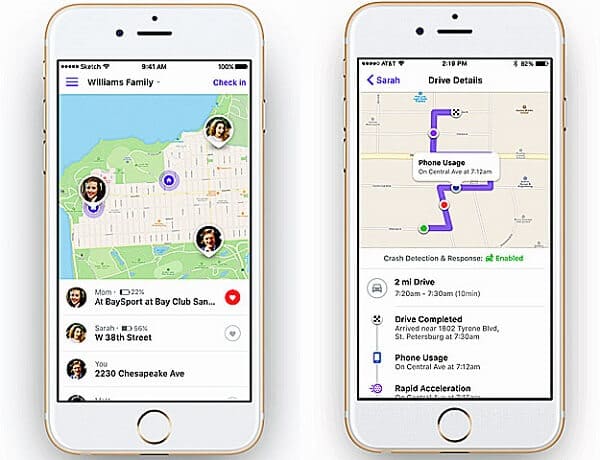 Pros

This app is free and its premium version is really cheap.

The circle system is really easy to handle and it allows you to track more than 1 person at a time even the whole circle.

Car crash notification available and asks for immediate help from circle.
Cons

Free version doesn't have too many important features.
3. mSPY
This is one of the top-rated android phone tracker apps in 2020. It also allows a user to track the locations of the target, with a history of the records or rather locations provided. This Android tacking app comes third in the list as it is mainly advertised as a parental control app. However, the tracking feature of the app is also great. Some other noticeable features include access to the call logs and messages of the target, access to the browser history and many more. The app is quite convenient and user-friendly. However the same is not quite pocket-friendly for the users.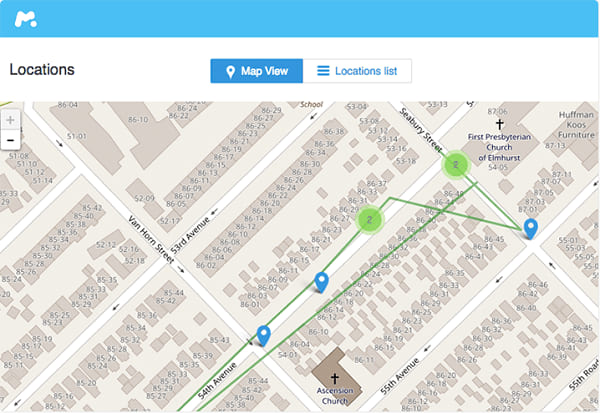 Pros

The app is successful in providing quite accurate locations.

This application is compatible with many platforms.

Many other features like text monitoring, keylogger, and call logger.
Cons

The price is very high.

You need to root your Android device or jailbreak iOS device to use this app.
4. MobileSpy
This Android phone tracker app provides the user with the necessary information and feeds of the different locations of the target device. It is also a background app, which cannot be detected by the user. MobileSpy has been quite effective in providing the user with the required location information of the target device. It alerts the user when the target is leaving or rather entering a certain location.
The app comes with several monitoring features apart from the real-time location. However, though efficient, this app can only provide the locations of the target using the GPS based signal, and the multi-platform support, which is mostly available on all the other tracking apps is missing in this application. These are the reasons this app is placed at the bottom of the list. The pros and cons form the discussion are quite clear, however, an elaborate view of the same is given below.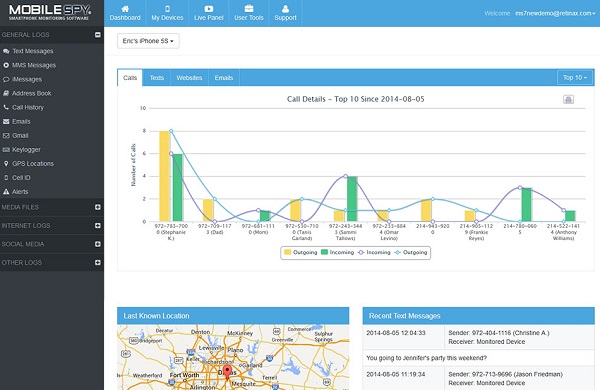 Pros

A simple user interface, and easy to use

The application is quite successful in providing a real-time location of the target device

The application sends alerts, whenever the target leaves or enters a certain location

Some other monitoring features as well
Cons

The application is limited to Android devices

It does not support multiple platforms

The application is effective only when GPS is turned on
5. Safe 365
Safe 365 is one of the most simple and easy-to-use Android tracking apps. It can perfectly provide the current location of your family or friends. It also provide you the journey routes and battery levels of that device. There is a panic button for the target device that will allow the user to send distress signal with the details of their current situation and location details for help.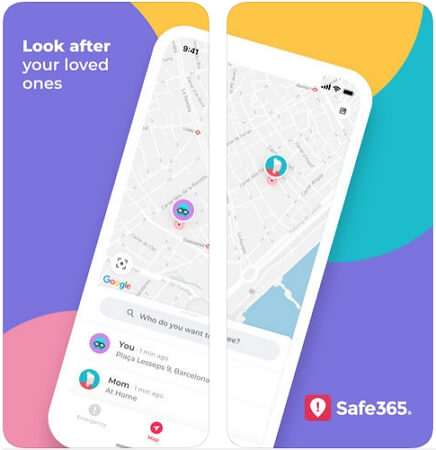 Pros

It's totally free of cost

It has a simple user interface

Easy to use process for new users
Cons

It doesn't provide exact and accurate tracking details all the time

App may show glitches sometimes
6. Glympse
Glympse offers simple tracking solutions for your business, like deliver tracking, tracking employees, and food delivery. The app can track multiple devices and even displays their routes and ETAs. Glympse can be integrated with smart watches and other wearables. Moreover, it can be customized to fit one's needs. Glympse has been the perfect android GPS tracking app for business users for the bunch of features that it provides.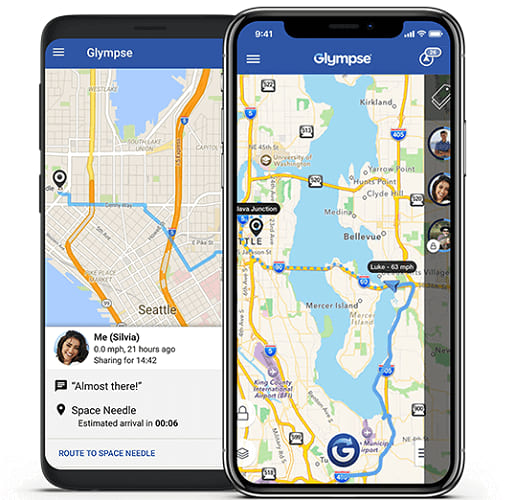 Pros

Displays dynamic ETA and live routes

Can be integrated with smart watches and wearables

Can be customized for personalized tracking
Cons

It stresses mostly on business solutions rather than on personal ones
7. Find My Friends
Find My Friends is a simple GPS mobile tracker that is preferred by all the Android users due to its simplicity. It displays the ETA to the current location and even the directions, as it is based on the map by Google Maps. This also makes the location and directions very accurate and reliable. Find My Friends can be used to constantly monitor patients. Moreover, the app is available for free, with a premium version at a minimal monthly cost with some added features.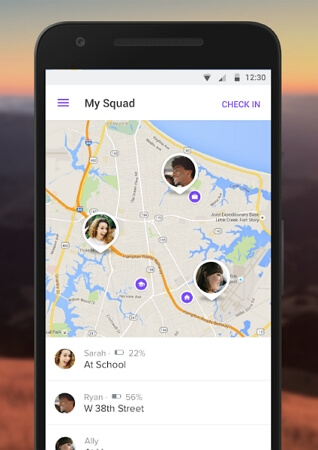 Price: A free version and a premium version at $5/month
Pros

Well priced. Free version also available

Very easy user interface

Premium version also works on phones that are not smartphones
Cons

Not many features available
8. FollowMee
Like other GPS trackers, FollowMee GPS tracker can track live locations too, but it has the ability to track multiple devices of other platforms like iOS, Windows etc. This feature makes the app an ideal choice for families and friend groups. Another interesting thing about this app is that, by default, its tracking mechanism updates itself in every 10 mins. You can literally adjust the tracking interval to get more accurate real-time tracking.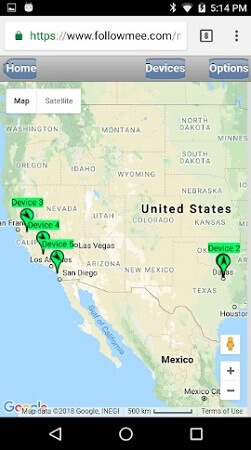 Price: The app service is free
Pros

Ability to track multiple devices and cross platform

You can group your devices

Available for iOS and Android
Cons

Reports on bugs

Some complaints on features not working
9. Spyic
Spyic is a popular phone location tracking app that can be used on Android devices. It is known for its user-friendly interface and powerful features. With Spyic, you can track the real-time location of the target device, view location history, and set up geofencing alerts.
One of the unique features of Spyic is its stealth mode, which allows the app to run in the background without being detected. This means that the target device's user will not know that they are being tracked.Overall, Spyic is a reliable and powerful Android phone location tracking app that is worth considering if you are in need of such a service.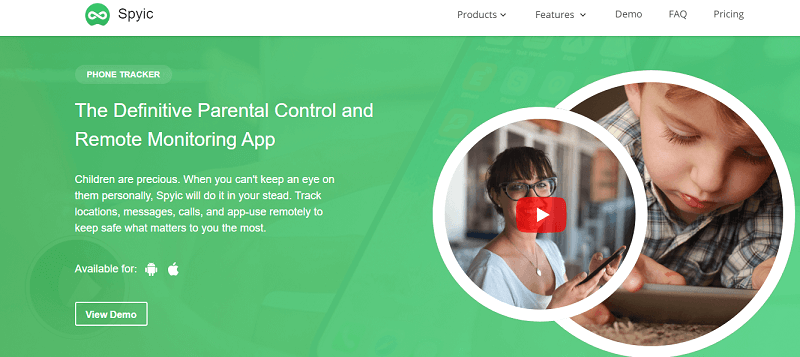 Pros

Highly reliable app with a good reputation in the market

The app is easy to use and has a user-friendly interface

It provides accurate and real-time location tracking data of the target device
Cons

Spyic can be expensive for some users, especially if they opt for the premium version

It may not work on older Android versions or non-rooted devices
10. Hoverwatch
Hoverwatch is a phone location tracking app that works on Android devices. It allows users to monitor the location of their device in real-time, and also provides a history of the device's location. Hoverwatch records the GPS location of the device and stores it in its database, which can be accessed by the user through their online account. In addition to location tracking, Hoverwatch also offers a range of other monitoring features, such as call and SMS tracking, social media monitoring, keylogging, and more. These features make Hoverwatch a comprehensive solution for parents or employers who want to keep an eye on their children or employees.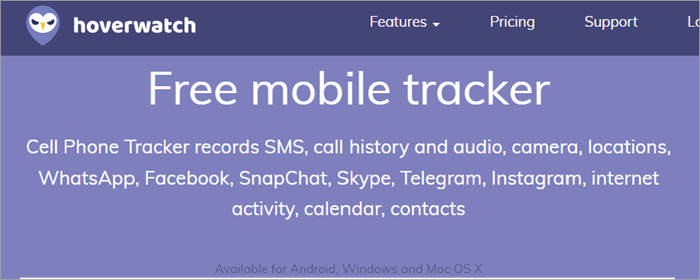 Pros

A User-friendly interface that makes it easy to track phone location and activity

Provides detailed reports on all tracked activity

Supports multiple languages
Cons

Only available for Android devices

Some features require root access to the target device
11. Cocospy
Cocospy is a powerful and reliable Android phone location tracking app. It allows you to track the real-time location of a target device, view location history, and set up geofencing alerts. With Cocospy, you can access the target device's GPS coordinates and location details remotely from your own device, and you can view the data in a user-friendly dashboard.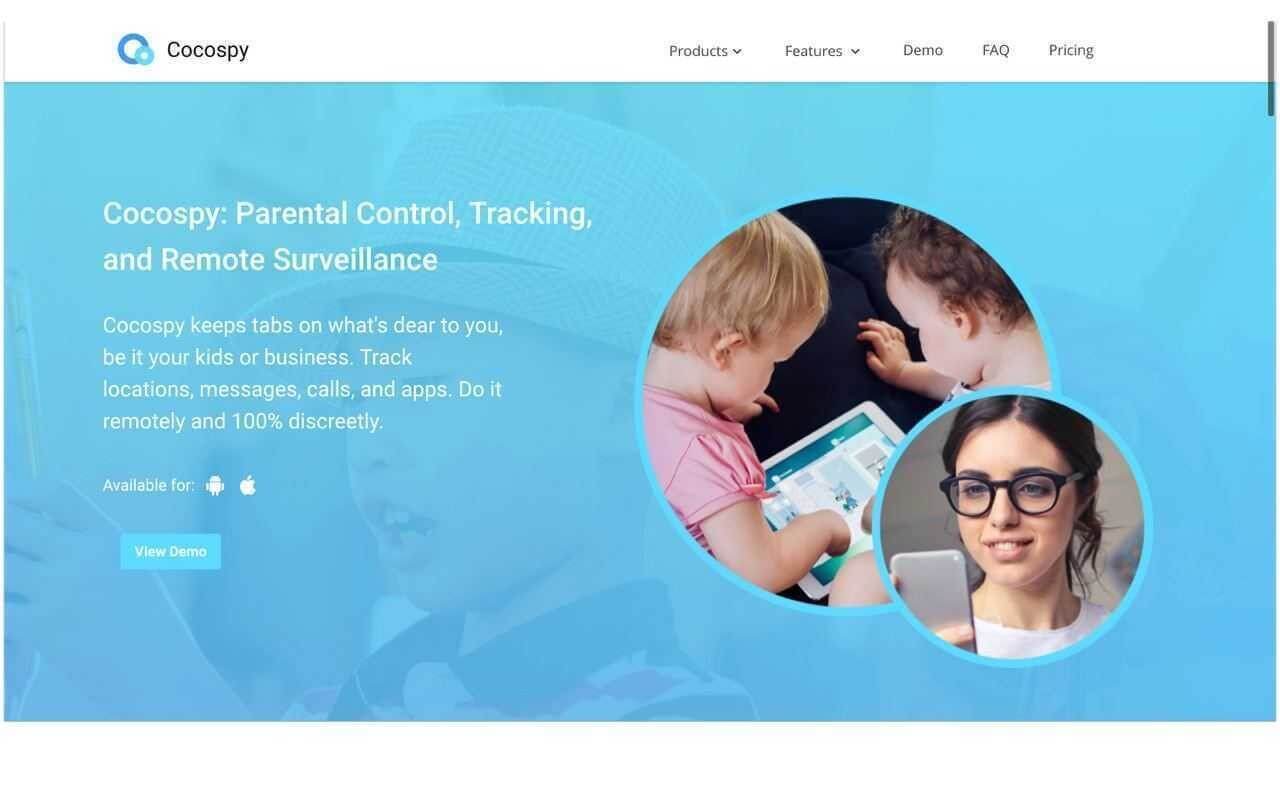 Pros

Cocospy is a reliable and reputable app with millions of satisfied users

Available for iOS and Android
Cons

Cocospy can be expensive for some users, especially if they opt for the premium version
12. eyeZy
eyeZy is an Android phone location tracking app that is designed to help individuals keep track of their loved ones' whereabouts. One of the main features of eyeZy is real-time GPS tracking. This means that you can track the location of anyone in real-time and get instant updates on their whereabouts. Additionally, the app can also record the location history of the target device, allowing you to see where the device has been over a specific period of time.
Another feature of eyeZy is geofencing. This feature allows you to set up virtual boundaries around specific locations, such as your home or workplace. Whenever the target device enters or exits one of these boundaries, you will receive an alert.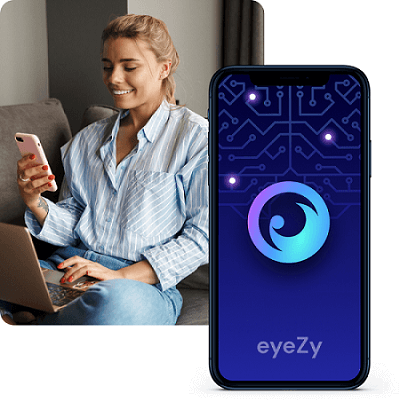 Pros

Offers a discreet and non-intrusive tracking experience
Cons

Only available for Android devices

The app's free version is limited and has some basic features
Conclusion
Still wondering about the possible ways of tracking a phone without permission? No need to waste time on such thoughts as the article has provided with some of the applications, which has been most effective in providing the real-time locations of the target. The article provides anyone, with quite some options along with all the features and other relevant details of the best phone tracking apps for Android. The best option amongst these 12 best Android phone tracker apps is definitely FamiGuard Pro for Android, as it is a complete package of all the required features.
You may also be interested in:

By Tata Davis
professional in software and app technology, skilled in blogging on internet
Thank you for your feedback!