How to Install, Setup and Use FamiGuard Pro for Android
Step 1: Create your account for FamiGuard Pro. More>>
Step 2: Download the FamiGuard Pro app from the given address and set it up. More>>
Step 3: Verify your setup on FamiGuard Pro online dashboard and start monitoring. More>>
The following is a detailed operation guide, also includes a video tutorial.
Step 1

Create your account for FamiGuard Pro

Click on Sign Up/Monitor Now button to register for FamiGuard Pro account with your valid email address. Thereafter, you need to purchase a premium plan in order to use all advanced monitoring features. You can choose 1-month plan, 3-month plan or 1-year plan. The pricing will vary accordingly.
Step 2

Download the FamiGuard Pro app and set it up

After purchasing our Android monitoring tool successfully, you will be navigated to My Products and Orders Management page. Here you can check and manage the corresponding order you have created earlier. Next you should click the Setup Guide button and follow the instructions carefully to complete some necessary configurations on the target Android device.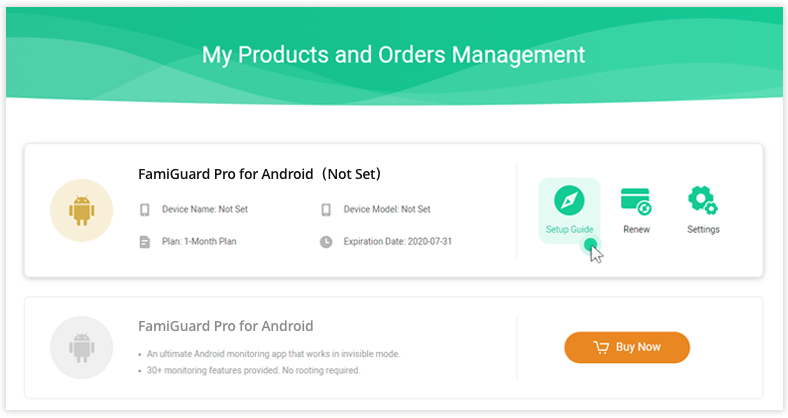 Video Tutorial: How to Install FamiGuard Pro for Android
Coming Soon...
In addition to the video guide, below are the simple steps you can follow:
2.1. Download FamiGuard Pro assistant on the target Android device.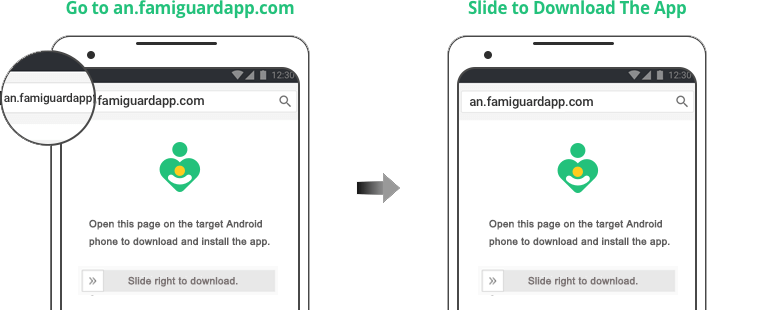 2.2. Install FamiGuard Pro & Complete some necessary settings on the target phone.

Step 3

Verify your setup and start monitoring from your account

After completing the app installation and configuration on the target phone, log into your FamiGuard Pro account on our website. If everything is set up correctly, you will see the device name and related information.Click on Dashboard to check the phone activities and data. Kindly note it will take some time if it's the first time to sync data from the phone to the dashboard.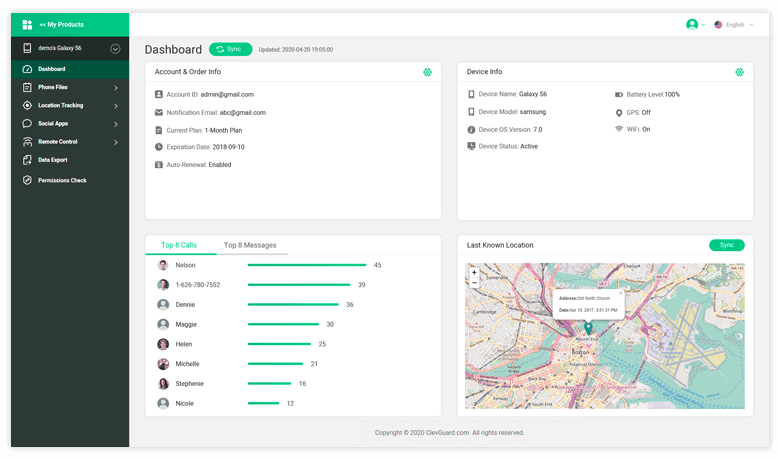 What can you do on the dashboard?
Check phone files: You can access all phone files including Messages, Call Logs, Contacts, Keylogger, Photos, Video Thumbnails, App Activities, Browser History, and Calendar.

Track social apps: With its premium features, you can access all social media applications like WhatsApp, Facebook, Messenger, Snapchat, Instagram, Tinder, Telegram, Line, andd Viber.

Location tracking: Our inbuilt GPS and Wifi location tracking system enables you to keep monitoring the location of someone. Moreover, it gives you the option of setting up Geo-Fence.

Remote control: Without any hassle, you can record calls of the target phone, take screenshots, and capture secret photos.